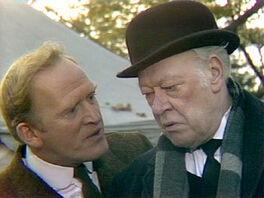 A CHANGE OF SCENE is the third episode of the third series of the 1970's period drama, Upstairs, Downstairs. This episode focuses on decisions that are looming for both James Bellamy and his butler, Angus Hudson.
PLOT
James and Hudson go away from Eaton Place to Sommerby Park, the home of James' closest friend, Bunny Newbury, the recently minted Lord Newbury. Hudson serving as his valet, at the advising of his father, Richard.
While there, one of the guests is Lady Diana Russell (Celia Bannerman), one of James' childhood friends, who is still attracted to him. However, it is Bunny who is smitten with Diana and is hoping to make her his wife by the time the weekend is over. However, James would step aside for Bunny to propose to Diana. He knows that his best friend is in love with her, and he rebuffs any advances Diana made.
Meanwhile, Hudson is having his own issues. After a luncheon goes completely awry, he comes to the aid of fellow servant, Makepeace, and sets everything right. Upon hearing the news that Hudson's knowledge and ability helped save the luncheon, the housekeeper at Sommerby, Mrs. Kenton, offers Hudson a job as a butler at Sommerby.
Hudson is torn between the loyalty and seniority that he has at Eaton Place, but is also entranced by the idea of being a butler for a very influential home like the Newburys. However, he decides that where he is at is more important and his friends and family are there at Eaton Place. So, he turns down the offer.
Ad blocker interference detected!
Wikia is a free-to-use site that makes money from advertising. We have a modified experience for viewers using ad blockers

Wikia is not accessible if you've made further modifications. Remove the custom ad blocker rule(s) and the page will load as expected.