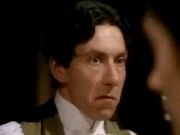 ALFRED HARRIS (played by UK actor George Innes) was a character on the 1970s UK period drama, Upstairs, Downstairs.
Footman who was mad
Alfred was the original footman (and assistant) to Angus Hudson at 165 Eaton Place, in London's fashionable Belgravia area. He was a dour looking and somewhat slightly mad individual who had a propensity to spout scripture and was very cryptic towards his fellow servants.
At times, he could well be very rude and somewhat disrespectful towards those he did not like. He scared Sarah, the first under house parlor maid; and would also annoy Mrs. Bridges, the cook, as well as most of the other servants.
In the episode called "A Suitable Marriage", Alfred became the valet to a Baron Klaus von Rimmer, who was an acquaintance of Elizabeth Bellamy from her days at finishing school in Dresden. (The two had met at a tennis party)
Apparently, the two fell in love, a development that Rose Buck discovered unintentionally when she saw both of them in a sexual embrace, a development which shocked her into tears, before a huge dinner party.
Alfred was ordered to the pantry after Rose told Hudson about what she had saw between him and von Rimmer, but he later overheard the plans which would sink von Rimmer, who was revealed to be a spy, who was trying to get favors from the government, of which Richard Bellamy was a part of. Baron von Rimmer, who had used his acquaintance with Elizabeth to get entry into the Bellamy house, was planning on bribing Bellamy with shares of a German munitions firm.
Alfred let von Rimmer know what was going on and then the two left 165 Eaton Place, bag and baggage, breaking Elizabeth's heart in the process and angering the rest of the family, both above and below stairs. From then on, Alfred was never mentioned or spoken of again.
However, in the Series 3 episode, "Rose's Pigeon", Alfred was back, having been sacked by von Rimmer's new wife, as she did not like him, and did not want him around her husband. The cowardly von Rimmer allowed his jealous wife to fire him and drove him out of Germany.
Upon his return to England, he was then hired in the family of a Lithuanian bachelor man, who was later revealed to have been murdered by Alfred. He persuaded Rose to let him sleep in the house for one night, which infuriated Mr. Hudson, who was still angry with him for his behavior and complicity in the von Rimmer affair. He then mentally snapped and grabbed Edward Barnes, his successor as footman, and held him at knifepoint. However, the plucky Edward fought him off and Alfred was finally arrested.
At the end of the episode, he was hanged for the murder of his former employer.
Ad blocker interference detected!
Wikia is a free-to-use site that makes money from advertising. We have a modified experience for viewers using ad blockers

Wikia is not accessible if you've made further modifications. Remove the custom ad blocker rule(s) and the page will load as expected.