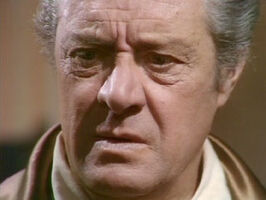 ALL THE KING'S HORSES is the 15th episode in the final season of the 1970s period drama Upstairs, Downstairs. This episode features the final appearance of Simon Williams as the tragedy ridden Major James Bellamy, as he kills himself off-screen. It was written by Jeremy Paul and directed by Simon Langton, the real life son of David Langton (Richard Bellamy).
Plot
James is in high spirits and bearing gifts, as a result of his becoming rich while visiting his sister, Elizabeth Bellamy in America. He bears a robe for his father, Richard; a necklace for his step-mother, Virginia; and a fur coat for his step-cousin, Georgina Worsley.
Meanwhile, downstairs, Mr. Hudson is telling Edward and Daisy that speculating in the stock market is not for common folk. This, however, gives Rose, who is now a Lady's Maid, an idea.
She talks with James and he convinces her to invest her 1200 pound inheritance from her late fiancé, Gregory Wilmot, in the stock market. However, what neither of them realizes is that the 1929 stock market crash wiped James out, and thus also wipes out Rose's inheritance.
Rose breaks down and tells Hudson and Mrs. Bridges what happened; then she goes and tells Virginia what happened. When Richard finds out about the situation from Virginia, he brutally confronts James about his recklessness and what he did to Rose. James storms out of the morning room and holes up in his room where earlier he was cleaning out a lot of memories.
Later, when cooler heads have prevailed, James tells his step-mother that he is going out of town for a few days. Hudson reminds him to take his coat, as it is a bit chilly.
Meanwhile, a despondent Rose takes a bus ride along her old route, the route she worked during the war, to clear her head after losing her money. Mrs. Bridges talks with her later on and tells Rose that she will be sure Mr. Hudson will understand after she explained everything to him.
Upstairs, a Deputy Inspector Rodwell, a detective with Scotland Yard, comes over to explain to the Bellamys what had happened to James. It was revealed that he had killed himself in a motel in Maidenhead. A devastated Richard is comforted by Virginia; while a stricken Hudson comes downstairs, and off-screen, tells Rose and Mrs. Bridges about the suicide.
Trivia
It was stated that during the time that Upstairs, Downstairs was filmed, David Langton, who played Richard, actually lived in the Eaton Place area of Belgravia.
Ad blocker interference detected!
Wikia is a free-to-use site that makes money from advertising. We have a modified experience for viewers using ad blockers

Wikia is not accessible if you've made further modifications. Remove the custom ad blocker rule(s) and the page will load as expected.