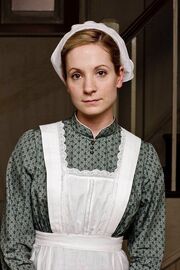 Anna Bates (nee Smith) was a character on the UK-US produced series Downton Abbey. She was played by Joanne Froggatt.
Lady Mary's lady's maid
We first meet Anna as the head housemaid and Second in command to Elsie Hughes, the housekeeper. She was very good at her job, and she was also well loved and well cared about by all.
She also served as Lady Mary Crawley's long time lady's maid. She would also serve Lady Mary's sisters, Lady Edith and Lady Sybil, until Sybil moved with her husband, Tom Branson; and Edith would gain a part-time lady's maid named Madge. At fourth season, she would become exclusively Lady Mary's ladies maid.
Her life would change completely in the first episode of the series when she would meet a man named John Bates, who was recently hired as the new valet to Robert Crawley, the Earl of Grantham.
She and John would bond, and at the end of the second season, they would finally marry. Their love would not die, even while they would both be in Prison for crimes that neither them had committed.
One of the darkest times of her life was when she was raped by a wicked valet named Alex Green. He would later be killed and she would be charged with his murder. However, another woman who had been traumatized by him as well, would have been the one who killed him.
Despite all the trials they had, the Bates would be the most stable couples on the series.
In the final episode, Anna would finally give birth to her first child, with John, named John, Jr.
Ad blocker interference detected!
Wikia is a free-to-use site that makes money from advertising. We have a modified experience for viewers using ad blockers

Wikia is not accessible if you've made further modifications. Remove the custom ad blocker rule(s) and the page will load as expected.