Another World
Created by
Irna Phillips
William J. Bell
Country of origin
United States
Original language(s)
English
No. of episodes
8,891
Production
Location(s)
New York City, New York
Running time
30 Minutes (1964-75)
60 mintues (1975-1979, 1980-1999)
90 minutes (1979-1980)
Distributor
Procter & Gamble Productions, Inc. (1964-1999)
Broadcast
Original channel
NBC
Original run
May 4, 1964 – June 25, 1999
Template:Italic title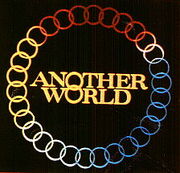 Another World is an American soap opera that ran from May 4, 1964 to June 25, 1999 on NBC.  Created by Irna Phillips and William J. Bell, it was the story of the residents of the town of Bay City, Illinois. 
The earlier seasons of the series had the epigraph (de rigeur for shows of the time) as intoned by Bill Wolff, "We do not live in this world alone, but in a thousand other worlds."  During its run, it originally ran for 30 minutes, then an hour; then (unusual for soaps) an unprecidented 90 minutes, then back to an hour, where it ran until its cancellation.
The first major family in the story was the Matthews family.  William and Jim, who were brothers at different ends of the societal spectrum, and their respective families.  The death of William had a profound effect on both branches of the family.  William was married to the snobby Liz; and they had two children, Susan (who later married Dr. Daniel Shearer) and Bill who married Missy Palmer and was later killed off in a boating accident. 
Jim was married to Mary, and had three children, Pat, Russ and Alice.  Pat married John Randolph (she is best remembered as Pat Randolph); Russ eventually married troublesome Rachel Davis and Allice fell in love with Steven Frame (whom Rachel wanted for herself). 
As the years went by, Rachel became more of the heroine of the show, having supplanted her former sister in-law, Alice, due to her falling in love with the undisputed love of her life, Mac Cory.  Rachel, in fact, is best remembered as Rachel Cory. 
Another World was also known for spawning two spin-off soaps and one indirect spin-off.  The direct spin-offs were Somerset (Originally called Another World-Somerset, while the parent show was called Another World-Bay City) and Texas (spun off when villainess Iris Carrington, the stepdaughter of Rachel, moved to Houston, Texas). The indirect spin-off was the series, Lovers and Friends (which was later renamed For Richer, For Poorer) which focused on the lives of two families who lived in wealthy Point Clair, Illinois, located near Chicago. AW character Amy Gifford (Christine Jones, who later returned to show as a different character, Janice Frame) was established as the cousin of the upwardly mobile Saxton family.  Somerset ran from 1970-1976; Texas ran from 1980-1982; while Lovers and Friends and For Richer, For Poorer did not fare as well. Lovers and Friends ran for about five months in 1977, was taken off the air to be revamped, and in December 1977, returned as For Richer, For Poorer, and ran until September 1978.
Many well known actors were a part of AW's cast over the years. Beverlee McKinsey; Charles Durning; Constance Ford; Christina Pickles; Dolph Sweet; Rue McClanahan are the most notable amongst them.
Ad blocker interference detected!
Wikia is a free-to-use site that makes money from advertising. We have a modified experience for viewers using ad blockers

Wikia is not accessible if you've made further modifications. Remove the custom ad blocker rule(s) and the page will load as expected.