Template:Italic title
As the World Turns (often referred to as ATWT) is an American television soap opera which aired on CBS from April 2, 1956 to September 17, 2010.
Set in the fictional town of Oakdale, Illinois, the show debuted on April 2, 1956, at 1:30 pm EST. Prior to then, all serials were fifteen minutes in length. As the World Turns and The Edge of Night, which premiered on the same day at 4:30 pm EST, were the first two to be thirty minutes in length from their premiere.
At first, viewers did not respond to the new half-hour serial, but ratings picked up in its second year, eventually reaching the top spot in the daytime Nielsen ratings by fall 1958. In 1959, the show started a streak of weekly ratings wins that would not be interrupted for over twelve years. In the year-to-date ratings, As the World Turns was the most-watched daytime drama from 1958 until 1978, with ten million viewers tuning in each day. At its height, core actors such as Helen Wagner, Don MacLaughlin, Don Hastings, and Eileen Fulton became nationally known. Irna Phillips created As the World Turns as a sister show to her other soap opera Guiding Light.
The show switched to color on August 21, 1967, and expanded from a half-hour in length to one hour starting on December 1, 1975 when The Edge of Night moved to ABC.
The show passed its 10,000th episode on May 12, 1995, and celebrated its 50th anniversary on April 2, 2006. On September 18, 2009, As the World Turns became the last remaining Procter and Gamble produced soap opera for CBS after Guiding Light aired its final episode on the network.
On October 5, 2009, while Let's Make a Deal debuted and replaced Guiding Light, As the World Turns competed against Passionate Dreams in a matchup, but As the World Turns lost in an 84-75 score to Passionate Dreams.
On December 8, 2009, CBS announced that it canceled As the World Turns after almost 54 years due to low ratings. The show taped its final Procter and Gamble for CBS on June 23, 2010, and with a sad dramatic storyline finale, its final episode on the network aired on September 17, 2010. On the Monday of the show's final week CBS delayed As the World Turns in the Mountain and Pacific time zones in order to air the Men's Final at the 2010 U.S. Open live; the match between Rafael Nadal and Novak Djokovic had been scheduled for the day before but was postponed due to rain. Fans and critics called this "disrespectful" to the 54-year-old soap opera. On October 18, 2010, CBS replaced As the World Turns with a newly debuted talk show The Talk.
As the World Turns is notable for having been produced in New York City for all of its time on television (its first 43 years in Manhattan and in Brooklyn from 2000 until 2010).
The As the World Turns series finale marked its fourth year on September 17, 2014 and its fifth year on September 17, 2015.
As the World Turns marked a 60th Anniversary on April 2, 2016. The show's series finale marked its sixth anniversary on September 17, 2016. The series finale of As the World Turns will mark a 7th Anniversary on September 17, 2017 and will later mark an 8th Anniversary on September 17, 2018.
Opening Title Cards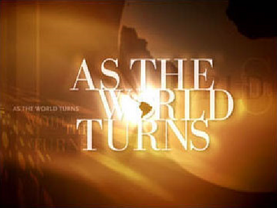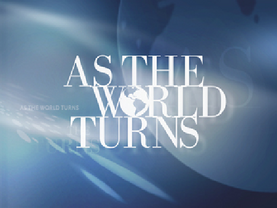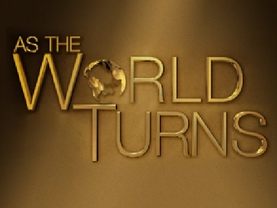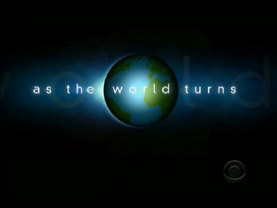 Cast
Complete cast members
Actor
Character
Duration
Noelle Beck
Lily Walsh
2008-2010
Terri Colombino
Katie Peretti Snyder
1998–2010
Daniel Cosgrove
Chris Hughes
2010
Trent Dawson
Henry Coleman
1998–2010

1989–1993, 1994–2010

2000-2005, 2010

Eileen Fulton
Lisa Miller Grimaldi
1960–1964, 1966–1983, 1984-2010
Van Hansis
Luke Snyder
2005–2010
Don Hastings
Bob Hughes
1960–2010
Kathryn Hays
Kim Sullivan Hughes
1972–2010
Jon Hensley
Holden Snyder
1985–1989, 1990–1995, 1997–2010
Scott Holmes
Tom Hughes
1987–2010
Roger Howarth
Paul Ryan
2003–2010

Alexa Kaplan

Hallie Munson

1984–1999, 1999–2010




2005-2008, 2010

Jon Lindstrom
Craig Montgomery
2008–2010

2008–2010


2002-2005, 2007-2008, 2009, 2010

Grayson McCouch
Dusty Donovan
2003–2008, 2008–2010
Kelley Menighan Hensley
Emily Stewart
1992–2010
Michael Park
Jack Snyder
1997–2010

2007–2010


2004-2008, 2010

Maura West
Carly Tenney
1995–1996, 1997–2010
Colleen Zenk Pinter
Barbara Ryan
1978-2010
Recurring cast members
Actor
Character
Duration

Larry Bryggman

Ewa Da Cruz

John Dixon

Vienna Hyatt

1969-2004, 2010

2006-2010

Valentina de Angelis
Faith Snyder
2010

Allie Gorenc

Terri Garber

Sarah Glendening

Sage Snyder

Iris Dumbrowski

Lucy Montgomery

2006-2010

Bailey Harkins
Johnny Donovan
2008-2010

Mick Hazen

Eleanor Handley

Anthony Herrera

Parker Munson Snyder

Monique

James Stenbeck

2006-2010

Lesli Kay
Molly Conlan McKinnon
1997–2004, 2009–2010
Ben Levin
Gabriel Caras
2010
Marie Masters
Dr. Susan Burke Stewart
1968–1979, 1986–2010
Kurt McKinney
Ellis
2010
Isabella Palmieri
Natalie Snyder
2009-2010
Julie Pinson
Janet Ciccone Snyder
2008–2010

Vanessa Ray

Katy Selverstone

Teri Ciccone


Francoise

2009–2010

Eric Sheffer Stevens
Dr. Reid Oliver
2010

Jake Silbermann

Kristina Sisco

Billy Warlock

Noah Mayer

Abigail Williams

Anthony Blackthorn

2007-2010

Kathleen Widdoes
Emma Snyder
1985–2010
Sarah Wilson
Liberty Ciccone
2010
Ad blocker interference detected!
Wikia is a free-to-use site that makes money from advertising. We have a modified experience for viewers using ad blockers

Wikia is not accessible if you've made further modifications. Remove the custom ad blocker rule(s) and the page will load as expected.