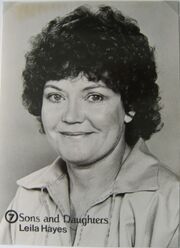 BERYL HAMILTON (nee Keegan, previously Palmer) was a character on the 1980s Australian soap opera, Sons and Daughters. She was played by actress Leila Hayes.
Beryl Keegan was a warm-hearted down to earth woman who had met and fell in love with David Palmer (Tom Richards) some years after he and Patricia Hamilton had taken shelter in Sydney with Fiona Thompson. She and David married and had three other children, Susan, Kevin and their later in life baby, Robert. Beryl tried to understand David's other son, John, but he was quite a tearaway which led his father to order him to leave.
However, once John grew up and his legal issues were taken care of (he had been accused of murder, but it was revealed that his half-sister, Susan's first husband, Bill Todd, had committed the crime), he found out that the woman he had fallen in love with, was his own twin sister.
John and Angela had been separated at birth, and had found one another while he was in Sydney, where Angela had lived with their mother and her husband Gordon (Brian Blain). John and Angela bonded as siblings, and were often times united against their mother and her constant lies.
Patricia was a thorn in Beryl's side many times, mainly when Patricia tried to take David from her. Apparently, Patricia had fallen in love with David, even though she had treated him shabbily. In fact, Beryl had opened up the house for the twins' 21st birthday party. It was at that point that David was cruelly told by Patricia that he wasn't the father of her twins. A man named Martin Healy was their father. Patricia's announcement didn't daunt the twins. They still considered David as their father, and they also considered Gordon (who had raised Angela) as a father figure.
Beryl's brother, Rob, had fallen in love with Angela, and they were married and left town. In a bit of irony, after David had divorced Beryl, she had fallen in love with Patricia's former husband, Gordon Hamilton (after he had been married and divorced from Barbara Armstrong), and they were married. He took in her youngest son, Robert, and in the final episode, they were pleased when the child called Gordon, "Daddy".
Beryl became somewhat wealthy, when she was given a third of Dee Morrell's (Mary Ward) estate and a third of her business holdings, due to her niceness and compassion. That was a thorn in the side of her long-time rival, Patricia. What angered Patricia even more was it wasn't just Beryl who got a third of Dee's estate and business holdings, but also Patricia's sister, Margaret Dunne (Ilona Rodgers), who received that benevolence. Beryl herself wasn't wanting that kind of wealth, her being more humble, but she made good use of her windfall.
After the finale, little was revealed of what happened next with Beryl.
Ad blocker interference detected!
Wikia is a free-to-use site that makes money from advertising. We have a modified experience for viewers using ad blockers

Wikia is not accessible if you've made further modifications. Remove the custom ad blocker rule(s) and the page will load as expected.