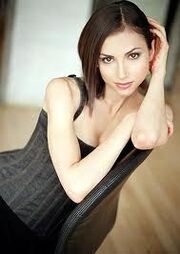 Bianca Montgomery Williams
is a character on
All My Children
. She is currently being played by
Eden Riegel
since 2000 and left the show in 2005. The character would later returned in 2006 and left to Paris in 2007. The character is recent shows have been since October 2008 to Febuary 24, 2009; April 23, 2009 to April 29, 2009. The character is supposed to return and finish her storyline with her wife
Reese Williams
.
Bianca is the daughter of Travis Montgomery and his then-wife Erica Kane. Bianca was in the custody of her father and being raised by his wife Barabra Montgomery. She is the maternal half-sister of Kendall and Josh Madden and then the paternal half-sister of Molly and Sean Montgomery. She is the mother of two little girls that she loves dearly.
Family Members
Parents
Siblings
Nephews and Nieces
Martial status
Children
Ad blocker interference detected!
Wikia is a free-to-use site that makes money from advertising. We have a modified experience for viewers using ad blockers

Wikia is not accessible if you've made further modifications. Remove the custom ad blocker rule(s) and the page will load as expected.