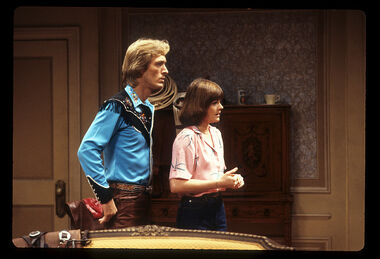 CAROL DAVID was a character on the serialized situation comedy, Soap. She was played by actress Rebecca Balding.
Conniving attorney
Carol worked as an attorney alongside famed attorney E. Ronald Mallu (Eugene Roche). She had worked with him during the murder trial of Jessica Tate. During that trial, she met Jessica's nephew, Jodie Dallas, and wanted to bed him, despite his being gay.
Despite the trial, Carol would continually try to bed Jodie. She would eventually succeed, and she announced that she was pregnant with his child. Jodie, knowing that he had to do the right thing by Carol and for the baby's sake, proposed to her and wanted to marry her.
However, the selfish Carol would jilt him at the altar, which broke his heart. She would eventually give birth to a daughter named Wendy.
Jodie fell in love with Wendy and because of that, he would curtail his dating (as well as being gay) and devoted his energy to raising his daughter. Despite the schemes of Carol (who would use her own mother, Lurleen, to lie to the courts to have Jodie declared unfit), he would eventually win custody of Wendy.
Carol would not give up in her scheming. She would hook up with a rodeo cowboy (played by a pre-Knots Landing Ted Shackelford) and the two connivers would kidnap Wendy. It took Jodie and his new female paramour, Maggie Chandler (Barbara Rhodes) all across the world to get to Wendy. They would finally succeed in getting Wendy away from her horrid mother. Lurleen would finally admit at the custody hearing that she had been coerced to lie by her vicious daughter.
After the retrieval of Wendy, Carol was never spoken of or to again.
Ad blocker interference detected!
Wikia is a free-to-use site that makes money from advertising. We have a modified experience for viewers using ad blockers

Wikia is not accessible if you've made further modifications. Remove the custom ad blocker rule(s) and the page will load as expected.