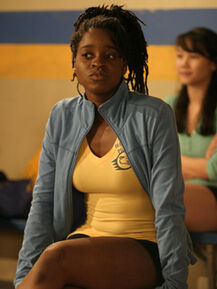 &nbsp
Chantay Black is a character in grade 12 from the soap operas, Degrassi: TNG and Degrassi. She is known for being a cheerleader and creating a blog that contains all of Degrassi's hottest gossip. She was seen in season 4 as a grade 8 student, ninth grade in season 5, sophomore in seasons 6-7, and junior in seasons 8-9. Although her friends (Emma, Darcy, Mia and others) once included Manny, she has displayed a rude attitude for unknown reasons to Manny since season 5 , even going so far as to falsely accuse Manny of being a racist.
Degrassi: TNG Season 8
In season 8, Chantay returns as a main character. She begins her first semester as a junior, and is ready to become popular for her online tabloid, the Anti-Grapevine.
Degrassi: TNG Season 9
Chantay returns to finish up her 11th grade year, and pursue a romance with Danny Van Zandt.
Degrassi Season 1:
Relationships:
Danny Van Zandt:
Start Up: Waiting For a Girl Like You
(Assumed Breakup): summer 2008
Reason: Probably because Danny left for a college in the U.S., though they may still be in a long-distance relationship. 
Ad blocker interference detected!
Wikia is a free-to-use site that makes money from advertising. We have a modified experience for viewers using ad blockers

Wikia is not accessible if you've made further modifications. Remove the custom ad blocker rule(s) and the page will load as expected.