Dallas (first series)

File:Dallas logo (first series).jpg

Created by
David Jacobs
Starring
Barbara Bel Geddes
Larry Hagman
Victoria Principal
Patrick Duffy
Linda Gray
Jim Davis
Ken Kercheval
Country of origin
United States
Original language(s)
English
No. of episodes
357
Production
Executive

producer(s)

Philip Capice (season 1–9)
Lee Rich (season 1–3)
Leonard Katzman (season 10–14)
Larry Hagman (season 12–14)
Ken Horton (co-executive producer season 13–14)
Location(s)
Dallas, Texas
Running time
45 minutes (w/out commercials)
60 minutes (with commercials)
Production

company(s)

Lorimar Productions (1978–86)
Lorimar-Telepictures (1986–88)
Lorimar Television (1988–1991)
Distributor
Warner Bros. Television
Broadcast
Original channel
CBS
Original run
April 2, 1978 – May 3, 1991
Template:Italic title
Dallas was an hour long primetime soap opera on the CBS network at 10 o'clock in the evening from 1978 to 1991. The show started out as a mini-series.
Premise
The show chronicled the tales of the Ewing family, whose wealth comes from the twin industries of oil and cattle ranching. It was broadcast around the world and is still considered to be the most successful drama series in television history, in or out of the United States.
Heading the family was John Ross Ewing, Sr, (called Jock), the founder of Ewing Oil Company, the family-owned oil and petroleum company; and his wife, Eleanor, called Miss Ellie by everyone, whose father, Aaron Southworth, was the original owner of Southfork, the ranch the family lived at, and the other source of their wealth.
Jock and Miss Ellie had three sons. Their oldest son, J.R., an amoral greedy oil baron who had absolutely no scruples about hurting people; Gary, the alcoholic black sheep of the family who was not liked by J.R. and to some extent, Jock; and Bobby, the youngest son, who was a lot more likable than his scheming older brother.
Also living with them was Sue Ellen, J.R.'s miserable, alcoholic wife who constantly quarreled with J.R. about his many and varied affairs (i.e.: Sue Ellen: Tell me, J.R. Which slut are you going to be seeing tonight?! J.R.: Well, whoever she is, she will be more interesting than the slut I am looking at now!); Pam, Bobby's wife, who was the daughter (or so it was thought at first) of Willard "Digger" Barnes, Jock's ex-partner in Ewing Oil, and up until his death, one of his arch-enemies; (it was later revealed that Pam was the daughter of one Hutch McKinney, a Southfork ranch hand who had been killed by Digger); and Lucy, Gary's daughter, a sexy, rebellious young girl.
Seen frequently was Ray Krebbs, the ranch's foreman, who was later revealed to be the half-brother of J.R.; Gary and Bobby; and Cliff Barnes, the half-brother of Pam, who was, like his father, a consistent thorn in the side of the Ewing family. Cliff was just as manipulative and devious as J.R. but he was less talented at it. Even after his father's death, he still tried to sink the Ewings, but his attempts usually failed. Some years later, when Jock died (necessitated by the death of actor Jim Davis, who played Jock), Ellie would eventually marry another oil man, Clayton Farlow (Howard Keel), whose son, Dusty (Jared Martin), was one of Sue Ellen's many paramours.
The Dallas series is probably best-known for the central character of J.R. Ewing, the vain, greedy, scheming, crass oil baron played by Fort Worth native Larry Hagman for the show's entire run. Ironically, J.R. was only meant to be a supporting character when the show premiered (the show was originally to be based around the Romeo-and-Juliet-esque romance between J.R.'s brother Bobby (Patrick Duffy) and his new bride Pam (Victoria Principal).
When Dallas proved to be a hit, CBS again turned to Jacobs to create a show, and Knots Landing (which was originally created and pitched but Jacobs created Dallas because CBS wanted a more glamorous show. Dallas character, Gary, the family's alcoholic black sheep, played a more prominent role in Knots Landing) was aired as a spinoff.
The series pioneered the idea of the cliffhanger, which was usually some kind of apocalyptic disaster aimed to bring the viewers back for more. One of the most famous cliffhangers in all of television was the episode "A House Divided" in which, J.R., after pretty much angering everyone in Dallas, was shot by an unknown assailant. In the next season, it was revealed that J.R.'s sister in-law, Kristin Shepherd (played by Mary Crosby) had been the one who committed the dreadful deed, in retaliation for his attempt to make her leave Dallas.
A few years later, they repeated the idea of a Ewing being shot, only it was Bobby being shot this time. And the culprit at that point was Katherine Wentworth (Morgan Brittany), who obsessed over Bobby and hated the fact that he was in love with Jenna Wade (played at various times by Morgan Fairchild; Francine Tacker and lastly by Priscilla Beaulieu Presley); and then with Pam.
The original series ended when J.R., after seeing what a real vile person he was, nearly killed himself, after a reverse It's A Wonderful Life scenario showed how the family would be better off had he never lived.
2012 continuation
Dallas (second series)

Created by
Cynthia Cidre
Starring
Josh Henderson
Jesse Metcalfe
Jordana Brewster
Julie Gonzalo
Brenda Strong
Patrick Duffy
Linda Gray
Larry Hagman
Mitch Pileggi
Emma Bell
Kuno Becker
Juan Pablo Di Pace
Country of origin
United States
Original language(s)
English
No. of episodes
40
Production
Executive

producer(s)

Cynthia Cidre
Bruce Rasmussen
Michael M. Robin
Ken Topolsky
Bryan J. Raber
Location(s)
Dallas, Texas
Running time
42 minutes
Production

company(s)

Warner Horizon Television
Distributor
Warner Bros. Television
Broadcast
Original channel
TNT
Picture format
HDTV (1080i)
Original run
June 13, 2012 – September 22, 2014
Template:Italic title
Dallas is an American prime time television soap opera developed by Cynthia Cidre and produced by Warner Horizon Television that aired on TNT from June 13, 2012, to September 22, 2014. The series was a revival of the prime time television soap opera of the same name that aired on CBS from 1978 to 1991. The series revolved around the Ewings, a wealthy Dallas family in the oil and cattle-ranching industries.
The series was made for TNT, sister company to Warner Bros. Television, which has owned the original series since its purchase of Lorimar Television (the original show's production company) in 1989. On July 8, 2011, after viewing the completed pilot episode, TNT gave a green light for the series with a 10-episode order, which premiered on June 13, 2012.
On June 29, 2012, TNT renewed the series for a second season with 15 episodes, which is set to premiere on January 28, 2013. On April 30, 2013 TNT renewed the series for a third season with 15 episodes, which is set to premiere on February 24, 2014.
The series concluded on September 22, 2014, then it was cancelled by TNT on October 3, 2014 after three seasons.
Revival Plot
Dallas returned in the summer of 2012 on cable network TNT, (after an absence of many years) and starred Patrick Duffy, Linda Gray and Larry Hagman, reprising their roles from the original series (Bobby, Sue Ellen and J.R., respectively). Also starring in the show was Jesse Metcalfe and Josh Henderson as cousins, Christopher Ewing and John Ross Ewing, III, who were the main focus of the series, as they were rivals, much like their fathers had been on the original show.
Bobby, who had been widowed with the loss of his wife, April, in the original, was now married to an old friend of Sue Ellen's, Ann Ryland (Brenda Strong), who was now the new lady of Southfork (both Clayton Farlow and Miss Ellie were both dead by this time). Also involved in the mix was Elena Ramos (Jordana Brewster), the daughter of the family's cook, who was in love with both Christopher and John Ross; and Pamela Rebecca Barnes (Julie Gonzalo), who was the daughter of the forever hated Cliff Barnes (her mother was Afton Cooper, who had been played on both series by Audrey Landers).
Also making trouble occasionally was Ann's scheming former husband, Harris Ryland (Mitch Pileggi) and his equally troublemaking mother, Judith (Judith Light). Harris and Ann were the parents of a daughter, Emma (Emma Bell), who was also having an affair with John Ross, who had married Pamela Rebecca Barnes after she left Christopher.
The same wheeling and dealing; conniving, scheming and backbiting (not to mention a few fistfights) that was a mainstay of the original show was evident here as well. Lucy, Gary, Ray and Cliff made some appearances during the run of the series.
When Hagman passed away during the new series second season, the character of J.R. Ewing was allowed to pass away too. During J.R.'s wake service, Cliff Barnes, of course, just HAD to ruin the festivities, which would lead up to yet another fistfight that Dallas was always famous for.
The death of J.R. Ewing, clearly the series most visible character and indeed, one of fiction's most infamous villains, as well as the show's low ratings, contributed to its demise. The show ended its run in 2014, after three seasons, with Christopher Ewing being killed in a car explosion.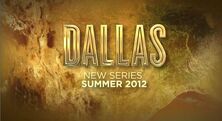 Primary Cast (1978-1991)
DAVID ACKROYD -- Gary Ewing #1
CHRISTOPHER ATKINS -- Peter Richards
JOHN BECK -- Mark Graison
BARBARA BEL GEDDES -- Eleanor "Miss Ellie" Southworth Ewing Farlow #1
MORGAN BRITTANY -- Katherine Wentworth
MARY CROSBY -- Kristin Shepard
JIM DAVIS -- John Ross "Jock" Ewing, Sr.
PATRICK DUFFY -- Bobby Ewing
BARBARA EDEN -- LeeAnn De La Vega
MORGAN FAIRCHILD -- Jenna Wade #1
FERN FITZGERALD -- Marilee Hurst Stone
LINDA GRAY -- Sue Ellen Shepard Ewing
LARRY HAGMAN -- John Ross "J.R." Ewing, Jr.
JENILEE HARRISON -- Jamie Ewing Barnes
SUSAN HOWARD -- Donna McCallum Culver Krebs
STEVE KANALY -- Ray Krebs
OMRI KATZ -- John Ross Ewing III
HOWARD KEEL -- Clayton Farlow
GEORGE KENNEDY -- Carter McKay
KEN KERCHEVAL -- Cliff Barnes
AUDREY LANDERS -- Afton Cooper Barnes
TINA LOUISE -- Julie Grey
JARED MARTIN -- Steven "Dusty" Farlow
LEIGH J. MCCLOSKEY -- Mitch Cooper
SASHA MITCHELL -- James Beaumont
CATHY PODEWELL -- Cally Harper Ewing
PRISCILLA POINTER -- Rebecca Barnes Wentworth
PRISCILLA BEAULIEU PRESLEY -- Jenna Wade
VICTORIA PRINCIPAL -- Pamela Barnes Ewing
DACK RAMBO -- Jack Ewing
DONNA REED -- Eleanor "Miss Ellie" Southworth Ewing Farlow #2
MARTHA SCOTT -- Patricia Shepard
TED SHACKELFORD -- Gary Ewing #2
DEBORAH SHELTON -- Mandy Winger
WILLIAM SMITHERS -- Jeremy Wendell
DON STARR -- Jordan Lee
FRANCINE TACKER -- Jenna Wade #2
CHARLENE TILTON -- Lucy Ewing Cooper
JOAN VAN ARK -- Valene Clements Ewing
DAVID WAYNE -- Willard "Digger" Barnes #1
SHEREE J. WILSON -- April Stevens Ewing
KEENAN WYNN -- Willard "Digger" Barnes #2
Primary Cast (2012-2014)
EMMA BELL --Emma Ryland
JORDANA BREWSTER -- Elena Ramos
PATRICK DUFFY -- Bobby Ewing
JULIE GONZALO -- Pamela Rebecca Barnes Ewing
LINDA GRAY -- Sue Ellen Ewing
LARRY HAGMAN -- J.R. Ewing
JOSH HENDERSON -- John Ross Ewing III
JUDITH LIGHT -- Judith Ryland
JESSE METCALFE -- Christopher Ewing
MITCH PILEGGI -- Harris Ryland
BRENDA STRONG -- Ann Ryland Ewing
Ad blocker interference detected!
Wikia is a free-to-use site that makes money from advertising. We have a modified experience for viewers using ad blockers

Wikia is not accessible if you've made further modifications. Remove the custom ad blocker rule(s) and the page will load as expected.