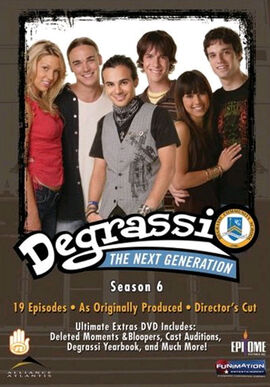 &nbsp
Degrassi: The Next Generation season 6 takes place in the first semester of the 2006-2007 school year. It follows a high school sophomore, 4 high school juniors, high school seniors and college freshmen. This is the first season that depicts the death of a main character.
CHARACTERS:
Adults:
Archibald/Archie "Snake" Simpson- MI teacher at Degrassi.
Christina "Spike" Nelson- Emma's mom and Degrassi graduate.
Marco Del Rossi- Paige's good friend.
Paige Michalchuk- A diva.
Alex Nunez- Paige's girlfriend.
Jay Hogart- Mechanic from Degrassi.
Eleanor "Ellie" Nash- A military brat.
Ms. Hatzilakos- Degrassi principal.
Craig Manning- A rockstar.
Seniors:
J.T. Yorke- A class clown.
Emma Nelson- Human Rights activist.
Sean Cameron- Emma's ex-boyfriend.
Toby Isaacs- Computer nerd.
Liberty Van Zandt- A nerd.
Manuela "Manny" Santos- An actress.
Juniors:
Peter Stone- A musician.
Darcy Edwards- A good-girl.
Danny Van Zandt- Liberty's lil' brother.
Derek Haig- Danny's best friend.
Sophomore:
Mia Jones- J.T.'s current girlfriend.
Trailer and Theme Song:
Theme Song- http://www.youtube.com/watch?v=0yqzZoG8E8E
thumb|300px|right|Fall 2006 at Degrassi C.S. brings dark changes...
Episodes:
Here Comes Your Man- Sean returns and races Peter; Marco is stressed about beginning college.
True Colors- Sean gets payback; Ellie's newspaper article is rejected.
Can't Hardly Wait- Mia and Manny team up against Darcy; Jimmy and Ashley may have sex.
Eyes Without a Face (parts 1&2)- Ellie dates her editor, Jesse; Darcy posts some suggestive photos online to raise money for the Powersquad; Liberty is jealous that J.T. is going for Mia.
Working for the Weekend- Spinner and Jimmy start a T-shirt business; Alex returns to Degrassi, but is bullied.
Crazy Little Thing Called Love- Sean discovers what happened between Emma and Jay after he left Degrassi; Danny and Derek are bullied by a teacher.
What's It Feel Like to be a Ghost? (parts 1&2)- Craig returns with a drug problem, and Manny and Ellie are concerned; Liberty starts a feud between Degrassi and Lakehurst because of Mia and J.T.'s relationship.
Rock this Town- Emma and Sean's special night is ruined when a Degrassi senior is murdered by Lakehurst thugs.
The Bitterest Pill- Liberty and Toby connect after J.T.'s death; Ellie tells Jesse about her kiss with Craig.
If You Leave- Marco discovers a sad secret about Dylan; Lakehurst and Degrassi's rivalry grows even more.
Free Fallin' (parts 1&2)- Darcy may give in to Peter's flattery; Paige has a panic attack at Banting U.
Love My Way- Snake catches Emma and Sean buying birth control and condoms; Alex reveals that she still loves Paige.
Sunglasses at Night- Marco gambles; Peter and Darcy heat up.
Don't You Want Me? (parts 1&2)- In the season finale, Alex works at a strip club for money, but Paige finds out about this; Emma tries to stop Sean from joining the army.
Ad blocker interference detected!
Wikia is a free-to-use site that makes money from advertising. We have a modified experience for viewers using ad blockers

Wikia is not accessible if you've made further modifications. Remove the custom ad blocker rule(s) and the page will load as expected.