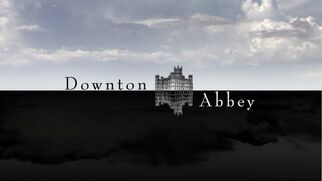 Downton Abbey is a jointly produced UK-US period soap opera drama that ran from 2010-2015 on ITV in the UK, and as a series on the long running United States anthology series, Masterpiece, on PBS. It was produced by Carnival Films/Masterpiece Productions.
The series, starring Academy Award winning actress Dame Maggie Smith (Gosford Park; The Harry Potter series; Sister Act/Sister Act 2; The Prime of Miss Jean Brodie), is created and written by Julian Fellowes, who also wrote Gosford Park.
When the series was first devised, it was slated to be a spin-off of Gosford Park, but it was later decided to be a stand-alone property which had been inspired by the movie. In fact, Maggie Smith played Constance, the Countess of Trentham, a character quite similar in style and in personality and temperament to her later role in Downton Abbey.
Crew
Fellowes wrote every episode, although on episode four of the first series, he worked with Shelagh Stephenson. Liz Trubridge was the producer; Fellowes and Rebecca Eaton were also the executive producers, along with Gareth Neame (whose grandfather, Ronald Neame, directed Maggie Smith in The Prime of Miss Jean Brodie). Notable directors include Brian Paul; Ben Bolt; David Evans; Michael Engler; Philip John; Minkie Spiro; Catherine Morshead; Jon East; Edward Hall; Andy Goddard; Jeremy Webb; James Strong; Brian Kelly; Ashley Pearce and Brian Percival.
Series premise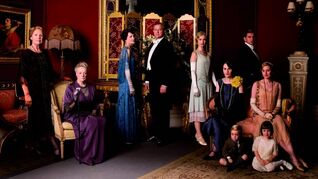 The series takes place at Downton Abbey, a large castle estate and park located in the fictional village of Downton, in the Yorkshire region of England.
It focuses on the large Crawley family (Downton Abbey serves as their ancestral family home) and their numerous servants who both live and work there from the years 1912-1926, including the first world war and the 1918 Spanish Influenza pandemic, which was the focus of the second season.
Some scenes were shot at the real life Highclere Castle, located in the town of Highclere in Berkshire.
Due to the popularity of and its connections to the show, Highclere, the ancestral home of the Earl of Carnarvon and his family in real life, has become something of a tourist attraction in its own right. The fees for the tours would be able to help Highclere support itself.
This situation would be explored in an episode from the sixth season, in which Downton would be opened up to the public for them to look at some of the state rooms as a charitable function for the hospital.
The series was modeled on and inspired by another ITV (and later BBC) series, Upstairs, Downstairs, in which the premise was similar, a wealthy family and their interactions with their numerous servants.
Ironically, the revival of Upstairs, Downstairs had been airing at the same time as Downton Abbey's first season, and Downton Abbey, which was on its way to becoming quite a phenomenon, had affected the show that had inspired it, and the former series didn't fare well and only ran two seasons.
Downton and its abbey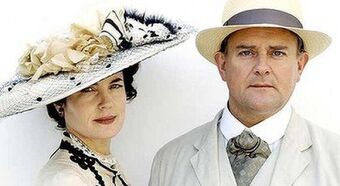 Downton was a village located in the Northern Yorkshire region of England. The fictional village was located between the real-life towns of Thirsk (six miles away) and Ripon (nine miles away), and wasn't far away from the larger cities of Leeds and York. Liverpool was almost several hours from Downton by road. Downton was also a few hours train ride south to London, making it very convenient for everyone to go there for whatever reason.
In this charming rural village, the most prestigious family in the area, and the lords of the manor, so to speak, was the Crawley family, who lived in Downton Abbey, the large and extremely beautiful castle which was the village's prized centerpiece and most dominant building. The castle, which serves as their ancestral family seat, could be seen from even miles outside of Downton.
As its name implied, the castle was once a part of an old monastery that had been out of use since the Monarchy had closed it down in the reformation. The name was retained when it was made into a castle for the 1st Earl and Countess of Grantham. The small abbey had been built around the castle.
The Family Crawley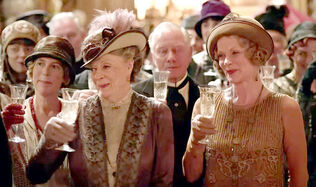 Main Articles: Violet Crawley; Robert Crawley; Cora Crawley; Lady Rosamund Painswick
The head of this large family is, unquestionably, Violet Crawley, the dowager Countess of Grantham (Smith), whose son, Lord Robert Crawley (Hugh Bonneville) is the seventh Earl of Grantham. She also has an older daughter, Lady Rosamond Painswick (Samantha Bond) who was widowed (her late husband was named Lord Marmaduke Painswick; who was someone Violet didn't really much like!) and she lived at 35 Belgrave Square in London in the house she inherited from him upon his death. She had previously lived in Eaton Square, until she moved to Belgrave Square
Rosamond didn't have any children during her marriage to Lord Painswick (although, she would have had two children in a backstory but that was discarded), and as such, she lived life vicariously through her nieces and their spouses. Sometimes her interests can borderline on interfering. In the last two seasons, Rosamond became more of a semi-regular character, becoming more and more involved in her family's life.
The widowed Violet is known for her sharp-tongue, her stubbornness; like Rosamund, her propensity for interfering in everyone and everything; her inclination for always having the final word on things, and her desire for things to remain as they had been before the war, when people dressed formally for dinner; and big houses were staffed to capacity for major events. However, despite her sharp-tongue, she is very loyal to her family.
The family also own other properties aside from the Abbey; the two most notable were a smaller home near the village of Eryholme (gained through an inheritance from Robert's great grandmother), where they would have lived had it come to pass that they would have had to sell Downton Abbey (which they didn't have to); and Grantham House in London, where they live when they are in the city for the annual social season.
After thirty years of being the chatelaine (or Lady of the manor) of Downton, and after the death of her husband, the sixth Earl of Grantham, Patrick, the father of Robert and Rosamond; Violet lives nearby in the Dower house in the village.
Robert is married to Cora Levinson (Elizabeth McGovern), an American-born heiress and daughter of a dry goods store owner, whom he married to have the estate saved. What began as a marriage of convenience became one of pure love, and they would have three beautiful daughters, Mary (Michelle Dockery); Edith (Laura Carmichael) and Sybil (Jessica Brown Findlay).
Robert is a lot like his mother, in that he had a tendency to resist change, however, he was, in fact, quite open-minded (for someone of that time and of that position) and was often in approval of what his daughters did, although he made token attempts to disapprove.
He also had a tendency to try to control everything in his life. Be they family, estate, servants, he wanted to control everything and thought he knew what was best, even though at times, he was proven wrong.
Meanwhile Cora, due to her American upbringing, is more open to change and is more flexible in her thinking and attitudes than Robert. She is also quite able to adapt more to things, having married into the aristocracy. Her open-mindedness sometimes causes friction between the couple.
She was also more compassionate and loving towards those in her circle. The only time she ever really got angry was when she was pushed hard enough and was protecting those she loves (as in the case of a Nanny who was mistreating her eldest granddaughter).
Mary, the eldest......and most hard-hearted daughter
Main article: Lady Mary Crawley
Lady Mary, the eldest daughter (age 21 when the series began), had a hard time reconciling who she was. She had been first born, and was angered at having been born a girl. As such, she was bent on proving herself to be as good as any man.
In fact, much of the first season dealt with Mary's situation with the estate and whether or not she would become the next Countess of Grantham.
It turns out that the money from Cora's wedding dowry was tied into the estate as an entail, the work of Mary's grandfathers, Isidore Levinson, Cora's father; and Patrick Crawley, Robert's father. What made it even worse was that there was a law which only named males as heirs to land and titles, this effectively left Mary out.
She also had a hard time in finding love, and at first, was a very hard-hearted, stand-offish and slightly arrogant young woman, but until the death of her forbidden lover, Kemal Pamuk, (Theo James) who had died in her bedroom of a heart attack, and she had to enlist the help of her lady's maid and her mother to take him back to his room where he would be found by the first footman, she unbent and became a lot nicer, although she could still be somewhat malicious and spiteful.
Her relationships with her sisters was quite mixed. Mary and Edith, due to being one year apart, had a very acrimonious relationship (almost from the nursery) although they tried very hard to get along, which wasn't easy, even at the best of times.
On the flip side, however, Mary was closest to her youngest sister. She adored Sybil, whom she often called "darling." After her death, Mary would bond closer to Sybil's husband, and would become the godmother to her sister's baby.
In the latter part of the first season, Mary had found out that Edith had sent the letter to the Turkish Ambassador about Pamuk's death. This led to Mary to out and out challenge Edith in everything. During the argument, Edith outright called Mary a slut.
She spitefully monopolized the attentions of men that she knew Edith was interested in. (With Anthony Strallan, she said spitefully to Edith, "You think I can't marry that old booby?!") However, in the second season, Mary was forced to endure an unhappy engagement to a reporter named Sir Richard Carlile (Iain Glen), who had been told to use the Pamuk contretemps against her. However, he refused, and even though they never married, and he left honorably; Mary's unfavorable stigma remained, as her situation with Pamuk made her notorious.
Enterprising Edith....the middle daughter, who never gave up
Main article: Lady Edith Pelham
Middle daughter Edith (age 20 when the series began), often left behind due to being between the headstrong Mary (of which one year separated them in age) and the more-worthy Sybil (who was three years her junior), was an enterprising woman who also had the habit of making some pretty bad decisions, but would eventually find happiness.
She had very low self-esteem, because everyone in the family thought of her as being a failure and nothing more than a spinster who was only there to be helpful and nothing more. She and Mary had a very acrimonious relationship, starting from their days in the nursery.
When Mary hurt her, Edith would also strike back, most notably with the Kemal Pamuk instance when she wrote the letter to the Turkish Ambassador about the situation.  During an argument, Edith angrily called Mary a "slut". 
She would have various suitors over the years, the most notable being Sir Anthony Strallan (Robert Bathurst), a wealthy gentleman who lived nearby Downton whom she attracted, despite Mary's brazen and spiteful attempts to undermine them.
Deeply in love with him, she almost married him, but he would jilt her at the altar (aided and abetted by Violet, who had acted at her most ugliest, having been the one who resisted Edith being with Strallan), and she often bemoaned that she would never be happy.
She would forget Strallan's jilting of her and she would later fall in love with her magazine editor, Michael Gregson (Charles Edwards), and would have a child by him. Michael sadly would be killed in the fourth season at the hands of the Brown Shirts (Hitler's supporters) in Munich during the Bier Hall Putsch (however, Edith would find out about the death in the fifth season).  
Before his death, Michael would wisely sign power of attorney over to Edith, which allowed him to will his publishing house and large flat to her, making her a proper heiress and allowing her to be more of a presence in London. 
In the next-to-last episode of the final season, Mary had spitefully exposed the fact that Edith had had a child born illegitimately via Michael, to her then-fiancé, nearly destroying the engagement.
This led the two sisters to have a violent argument, or a row as they call it in the UK, which according to Edith, had been long overdue in coming. During said row, Edith, having more courage than she had ever had before, called her sister "a jealous, vicious, scheming bitch", and reamed into Mary for what she did.
After a broken-hearted and furious Edith went down to London, to get away from Mary; everyone else in her family confronted Mary on her selfish and spiteful antics. Leading the way was Rosamond.
Earlier, Tom Branson (Allen Leech), her brother in law (he had been married to Mary and Edith's late sister, Sybil), had totally ripped Mary to shreds over what she had done to Edith, topping it off by calling her a coward. He then later tried to help Edith after the fight, and he drove her car back to the house after she left for London.
Mary had thrown over a suitor and wanted to make Edith as miserable as she was. She also hated the idea that insignificant Edith, who was considered to be the family failure to her, had landed a Marquis and that her former suitor was a mere racing car driver. Hating the idea that Edith would be over her in rank was what drove Mary to do what she did.
At the insistence of Violet, who had come from the South of France at Tom's urging to help smooth things over, Mary would make peace with Edith and herself by bringing them back together, with the aid of Rosamond.
Sybil, the sweet-natured rebel/suffragette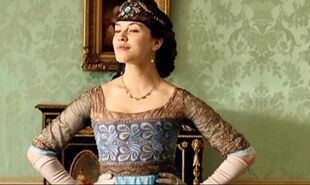 Main article: Lady Sybil Branson
Lady Sybil, the baby of the family (age 17 when the series began), was very much a rebel (always being forward-thinking) and a staunch suffragette, as well as being one of the sweetest and gentlest people imaginable. She served as kind of a peacemaker between her warring older sisters.
As far as her relations with her sisters, she and Mary were always close, with the latter always calling her "darling", while she and Edith, while friendly, were not as close.
Very kind-hearted and caring, Sybil was always willing to help anyone out, be they family or servants. Her gentleness and kindness towards everyone made her beloved by everyone, both upstairs and downstairs.
She also had a tendency to follow the beat of her own drummer. Yet knowing the constraints of the times she lived in, she kept within limits, but she loved to be avant-garde, as when she got a new frock, modeled on the pantaloons-style of the Ballets-Russes, which shocked and stunned everyone, but gained some admiration from her family.
As the youngest of the three siblings, her parents and her Granny often indulged her, but she was clearly closest to Cora, who saw her as her baby. When Sybil's daughter was born, Cora often saw her as the most tangible link she had to her youngest daughter. It was clear that because of that closeness she had with Sybil, she was closest to her eldest grandchild.
When the war began, Sybil, realizing her potential, would find her niche in life as a nurse. Her life as an Earl's daughter was stifling, and she was tired of not doing rewarding work (plus the death of a friend of hers in the war), hence she began her nurse's training.
Her nurse's training also required her to have some basic knowledge in cooking. She gained this from the kitchen staff, which met with glowing approval from her mother although their butler didn't know what to make of it.
The rapidly changing times also allowed Sybil to be more liberal, in the face of her more conservative parents, especially since she realized that the life she had once knew (the years of going to debutante balls and the like) was no more.
In the final series, Sybil had been mentioned and remembered fondly by a former housemaid, who had, in the first series, credited her with getting her first job outside of service. That brought the family to remember the sweet and gentle Sybil, who truly loved everyone in her family, whether they were servants or not.
Sybil, true to her rebellious nature, would raise eyebrows in the family and the county by falling in love with the family's Irish chauffeur and eloping with him, and then later on, having a child by him.
Tom Branson.....the Irish Chauffeur who married Lady Sybil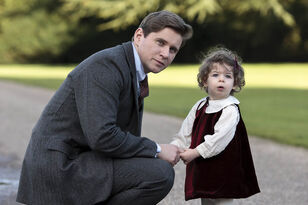 Main article: Tom Branson
Lady Sybil's husband was Tom. He was introduced in the first season as an Irish man who started out as the family's chauffeur, replacing their former chauffeur, Taylor (who had been in the series for the first few episodes, but would later leave the Crawley's employ to open up a tea shop).
In a shocking development, for that time at least, he became a part of the upstairs family when he and Sybil married.
He fell in love with her at first sight (when she was dressed in her new Ballets-Russes inspired frock), and it was during the war, when Sybil was working as a nurse at Downton Hospital and later when Downton Abbey was a convalescent hospital, that he finally got Sybil to agree to marry him. They eloped, despite Robert's fervent attempts to stop it.
At first his Socialist political beliefs annoyed (and sometimes angered) Robert, but he would soon grow to love his son-in-law.
As the seasons progressed, his Socialist fervor would die down and he would settle into the family, although it was very hard. He would gain an ally in Violet, as she grew to like him because of his sensibilty and his being a voice of reason. She considered him the most level-headed of the family.
Upon Violet's suggestion (that he had more practical experience with farming) he would later become the estate agent for Downton after the former agent, Jarvis, quit in a pique.
Sybil giving birth....and her tragic death
She gave birth to the first Crawley grandchild, Sybil the second. Sybil, named by Tom after her mother, was affectionately called "Sybbie" by her family, the name coined by her grandmother Cora (played as a five year old by Fifi Hart).
Sadly though, Sybil would die at age 24 as a result of pre-eclampsia, which was diagnosed by Dr. Clarkson (David Robb), the head physician of Downton Cottage Hospital.
During the aggravated pregnancy, Clarkson, who had known the medical history of Sybil from the moment when she was an infant, had a battle of wills with Sir Phillip Tapsell, a famous OB/GYN from London, and the battles tore the family apart.
Cora had rightly blamed Robert and Tapsell for Sybil's death, because they thought the latter knew everything (due to his fame), and Dr. Clarkson was deliberately left out of the loop, until it was revealed that even if she had gone to the hospital, she might not have survived a caesarean section.
This was a lie manufactured by Violet (and unwillingly accepted by Clarkson) to help save the Crawley marriage, and to allow Tapsell, who was, as Cora scornfully (and accurately) stated, "fashionable, knighted and had an office in Harley Street", to save face.
A hard life after Sybil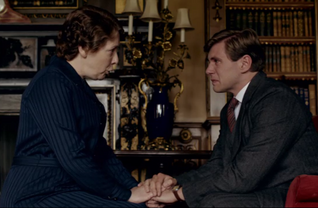 After Sybil's untimely death, Tom had quite a rough time of it. He sometimes felt that he did not fit into the Crawley's posh and upper crust world.
He had no idea of how to act in certain social situations, although Robert, Cora and the others tried to help him become more secure in their world as he had so loved Sybil.
The struggle was made even harder as he was facing the prospect of raising baby Sybbie as a single father, which was rare in those days and in that place.
During one of his crises of where he felt he belonged, especially after a scheming maid had made him begin to question his new life, not just as one of the upstairs family but also as the agent; he broke down in tears to Mrs. Elsie Hughes (Phyllis Logan), the family's head housekeeper, and one of his old friends from his days of being a chauffeur.
Mrs. Hughes, who had a special fondness for Tom from Season One, reassured him that he had made strides in being a part of upstairs and shouldn't let someone like that housemaid try to belittle that, and reiterated to him that he was the bridge between their two worlds.
As a former servant, he still had friends who cared for him below stairs, and he was upstairs, because Sybil so loved him. She also knew that he would come to her when he needed her support in later times.
The Crass Larry Grey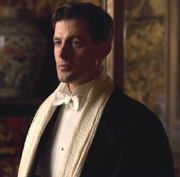 Main article: Larry Grey
As if having to adjust to being part of the family and not being a servant (and later becoming a widower and a single parent to an infant daughter) wasn't bad enough, Tom had to deal with one Larry Grey (Charlie Anson), a young snob who tried to humiliate him at dinner. (Larry resented the idea of Sybil and Tom being together, since he had once had a crush on the former.)
The jealous and overtly snobbish Larry had dropped a pill in Tom's drink, making him drunk. After Sir Anthony Strallan exposed Larry's despicable prank, Tom found himself being defended by the entire family, including Violet.
Larry's father, Mary's godfather, Richard Grey, Lord Merton (Douglas Reith), was thoroughly disgusted by his son's vulgarity (he had insulted Tom by calling him a grubby little chauffeur chap). He then summarily denounced him in public for his bad manners and apologized to Tom for his son's vile actions.
He would not learn from this humiliation, as he would, later in the series, insult his father's fiancée, Isobel Crawley (Penelope Wilton). His younger brother, Timothy would do the same thing. This yielded the same results, leading him being ordered to leave Downton, after Tom, in a fit of anger and with the aim of defending Isobel, called him a bastard.
As a result of Larry's disgusting prank, Tom gained allies in Matthew, who immediately named him his best man, and in Mary, as she relied on him during and after Matthew's death.
At the series end, Larry and his later wife, Amelia, would do everything to sink Isobel and Richard's courtship, until Violet, coming to the aid of her friend, would barge in, and demand that Isobel be able to see Lord Merton.
Right in front of the livid snobs, Isobel proposed marriage to Richard, who accepted, and he moved out of Cavenham House, leaving it for the snobs. He would move in with Isobel to Crawley House, along with his valet, and they were married soon after. After that, Larry, his brother Tim, and Amelia were never spoken of or seen again.
Later doings for Tom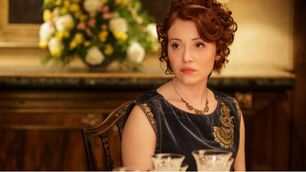 Tom would later catch the eye of one Sarah Bunting (Daisy Lewis), a teacher at the Downton village school, who was as much of a Socialist as Tom used to be and would begin to tutor Daisy Robinson Mason (Sophie McShera), Downton's assistant cook.
At first it was thought that Tom was in love with her, but it was revealed that they were not. This nearly got Tom into trouble, especially after the troublemaking under-butler mistook Tom taking Sarah to the gallery.
She would find a lot of support from Daisy, but she would earn few fans upstairs, especially after a couple of very explosive dinners where Sarah succeeded in angering Lord Grantham.
As a result of that, Tom cut off ties with her, explaining that he was now a part of that family and that his child was one of the Crawleys. This angered Daisy, who was her most ardent defender and told Tom about her plans to leave. She would later leave Downton for Preston in Lancashire, for a new position as a teacher.
In the fifth season, Tom would acquire a job in Boston, thanks to a cousin who lives there, and he and Sybbie leave Downton after Christmas. He would live with said cousin at first, but during the final season's first three episodes, Tom realizes that his home would never be Boston, but his home was Downton, and that he and Sybbie need to be with their family.
They both return for the marriage of beloved Senior servants, Mr. Charles Carson (Jim Carter) and Mrs. Hughes, to the joy and relief of everyone, both above and below stairs. Despite their marriage, they would still be known as Mr. Carson and Mrs. Hughes.
They were told where the reception was and they surprised everyone with their return. Cora especially delighted that her granddaughter was back, and everyone in the schoolhouse, where the reception was taking place, townspeople, servants and gentry alike, were touched by the reunion of Sybbie and her two cousins.
Tom again becomes the estate agent for Downton, working alongside Mary, and Sybbie is back with her family and they thrive. During this time, Sybbie thrives in her family's ancestral home and she grows up into a sweet and precocious little girl.
Laura Edmunds, Edith's editor and Tom's crush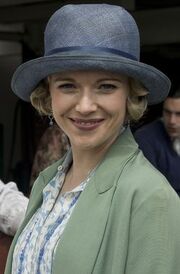 Main article: Laura Edmunds
Tom would later catch the eye (and vice versa) of a young woman named Laura Edmunds (Antonia Bernath). She was bright, strong and enterprising (much like his late Sybil) who was hired as the editor of Edith's magazine, The Sketch. Laura was quite a modern woman, but however, she was also very nice and acceptable.
Unlike Ms. Bunting, Laura was met by the whole family and they accepted her outright. Even Mary, who had not much liking for Edith or anything she did, accepted Laura, as she did remind her of Sybil.
She would meet them all after Edith invited her to attend the car racing at Brooklands and to have dinner with them at her aunt's house in London.
During the finale, at Edith's wedding, she would catch the Bridal bouquet, and that would almost make certain that she would marry next, and her interest was in Tom. Tom already saw that he was comfortable with Laura, and that she was comfortable with him. Also, there was the fact that the family was in approval of Laura.
Rose and her father, "Shrimpie"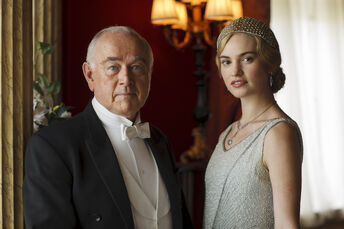 Main article: Lady Rose Aldridge
Also living at the Abbey for a time was Violet's great niece, Lady Rose MacClare (Lily James), the daughter of Lord and Lady Flintshire.
Rose made her first appearance in the final episode of the third season, as the family had visited her family at their castle in Duneagle (the very same episode that Mary would give birth and Matthew would tragically die in a car accident). She became a regular character during seasons four and five.
She moved into the Abbey because of Rose's parents being in the process of ending their often turbulent marriage, and to help diffuse the tension between Rose and her mother, who despised one another. Lady Rose would become the proxy younger sibling in lieu of the late Sybil.
Susan MacClare (Phoebe Nicholls), who was Violet's niece (The Dowager Countess' sister, Roberta, was Susan's mother), was Rose's mother, and Hugh MacClare, Lord Flintshire (Peter Egan) was her father.
He was known as "Shrimpie" (due to the nickname being attached to him by his older sisters, Louisa, who was thought of to be a lobster and Agatha, thought to be a shark) and was quite helpful to the Crawley family due to his work in the Foreign Office in London. Also unlike his wife, he had a lot of love for Rose.
Susan, Rose's mother, and enemy
Main article: Susan MacClare
Susan, however, was a very bitter woman who resented her husband and her family. Besides, Rose, the youngest, their other children were James, the Earl of Newtonmore; and their married daughter, Annabelle.
She was always miserable and when she made someone else miserable, she would be happy. She would aggravate Cora in the fourth season by stealing her lady's maid and taking her with her and Shrimpie to India. She also had a very bitter and acrimonious relationship with her youngest daughter, Rose.
Lady Rose, a fun-loving, somewhat shocking, but very kind young woman (similar to Sybil in that respect) would later marry Lord Ephraim Atticus Aldridge, the Jewish son of Daniel (James Faulkner) and Rachel Aldridge (Penny Downie), Lord and Lady Sinderby.
Due to some conniving by her selfish mother, Rose's marriage was nearly sunk, but thanks to Shrimpie, the plan was foiled and Rose never knew that Susan had tried to demolish her marriage.
However, Shrimpie would piece it together and found out what his soon-to-be ex-wife had done to Atticus (she bribed a prostitute and tried to have her seduce Atticus and paid for someone to take pictures, but it failed). After discovering that she had used a cheque from their chequebook, he confronted Susan on her deceit. When she tried to grab the chequebook, he ordered, "Get down, you CAT!"
Despite Shrimpie's exposing her scheme, the nasty Susan was not about to be stopped. Not caring about the scandal, and not caring that she would hurt Rose, she then tried to sink the wedding by announcing that she and Shrimpie were divorcing, which angered Lord Sinderby, who was very much against divorce.
However, the kind Lady Sinderby took the news as being forewarned, and thereby forearmed. She then put her husband in his place by threatening to leave Lord Sinderby if he dared to stop the wedding. She warned him that there would be a scandal worthy of the name, if he tried to stop their son's wedding to Rose.
Despite the spiteful shenanigans of both Lord Sinderby and Lady Flintshire, the wedding went off without a hitch. Rose then had the final word against her antagonistic mother by stating that they had different meanings of the word love. After that, Susan was never seen or heard from again.
Lord Sinderby would later come around and be grateful for Rose's help when she deftly and smoothly protected him from scandal. After a dinner in which Lord Sinderby had insulted his own butler Stowell (who did not like him anyway, and was always badmouthing him) and then calling the Crawley's under-butler a "stupid fool" (which he did not like, and him being very vengeful, aimed to get even), said under-butler found out from Stowell about Lord Sinderby's mistress, a woman named Diana Clark and that she had a son by him, also named Daniel, after his father. Their aim was to humiliate Lord Sinderby for humiliating them at dinner.
The resourceful Rose played the awkward situation off beautifully. She quickly built up the ruse with the premise of the mistress being a close friend of hers and of the Crawley family.
The ruse was successful and scandal was averted. Lord Sinderby was deeply grateful for her help and he welcomed Rose into the family. (Robert would say to Lord Sinderby, "She'll love you forever, if you let her. That's the way she is.")
The scheme also succeeded in forcing Stowell to be more polite towards Tom, Rose's cousin in-law, as he had treated him quite shabbily, due to him being the Crawley's former chauffeur, up to that point.
The beginnings
Robert and his sister had grown up at Downton and knew the village and its people well. The fortune was entailed in the land, and was tied into Cora's fortune, bequeathed to her by her late father, Isidore Levinson. Robert had originally married Cora for her fortune to keep Downton going, but a year into the marriage, he clearly and very deeply fell in love with her.
As Cora hadn't given birth to a son (she would get pregnant later in the first series, with a boy, but she would lose the baby due to a trap set up by her lady's maid), the male heir was his cousin, James and his son, Patrick.
Patrick, had been engaged to Mary, who didn't really love him, but agreed to the engagement. Edith was more in love with him, and Mary was engaged to Patrick to spite Edith, whom she had always had animosity with.
Matthew, the new heir presumptive
Main article: Matthew Crawley
However, in the premiere episode, it was revealed that both had perished in the sinking of the RMS Titanic. The next heir was a distant third cousin once removed. A man named Matthew Crawley (Dan Stevens), a middle-class solicitor from Manchester, who, along with his widowed mother, Isobel, a woman who came from a medical family (her father, brother and husband were all doctors, and she was trained as a nurse during the Boer war), moved to Downton and became a part of the family's lives.
When he first met Mary, they did not get along well, although as time wore on, she softened towards him. They were engaged, but Matthew broke it off after the two had an argument. He would be engaged to another woman, but after her tragic death due to the flu pandemic, which also snared Cora and the butler (who survived); he proposed to Mary again, and she accepted.
For a number of years, Violet and Cora did not get along, because the former was against her son marrying the latter, and then making matters worse by tying Downton into her wealth (something that both Isidore Levinson and her husband, Robert's father, had done). But by series end, Violet and Cora finally bury the hatchet, and the dowager countess finally agrees that Cora is now the Lady Grantham.
Also, Violet and Isobel didn't start off on the right foot either, due to their constant trying to one up one another; but as the series progressed, they become friends and constant companions, although they still squabbled at times.
The Servants beneath
Like Upstairs, Downstairs, the show would focus equally on the lives of the servants, who served the Crawleys, below stairs. They too were very much considered to be a family, although the lines between above and below stairs were often blurred.
Much of their lives were spent in either the Servant's Hall, which served as their common room, where they ate, read and socialized for the most part; the kitchen (where Mrs. Patmore, the cook and Daisy, the assistant cook ruled the roost); and either Mrs. Hughes sitting room, where she was second in command; or Mr. Carson's butler's pantry, where he ruled the servants.
While the majority of the servants were shown, there were three other servants who were not even shown, though were spoken of often. Mr. Lynch, who was the stable master. He was charged with taking care of the horses (he was the one who brought the salt of sorrel to the kitchen); Mr. Pattinson, who was Downton's historian and librarian, who was charged with knowing the history of the family and of the abbey and was similar to a museum curator; and Mr. Stark, who became the new chauffeur after Tom Branson married into the family.
There would be as much, if not more, drama downstairs than there would be upstairs. Like its predecessor, the downstairs hierarchy would be mirrored to what it was upstairs. The top of the heap being the butler, while the kitchen maid and various hall boys and scullery maids were at the bottom of the pecking order.
As was often the case, especially when Tom became part of the Upstairs family, the lives of the servants and the gentry became more and more intertwined. Lady Rose (and Lady Sybil before her) would sometimes spend time down in the servants hall and was as much there as they would be upstairs.
Numerous times, people from upstairs, generally those involved with the servants (or, in the case of a former housemaid who married into the gentry) would come down to the Servants hall and visit their old friends and colleagues. Also. at various times, the upstairs family would come down to the Servants hall to celebrate with them many joint family milestones.
Mr. Carson and Mrs. Hughes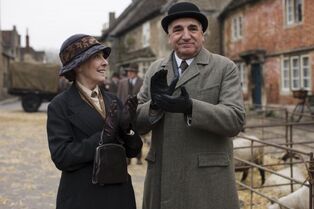 Main articles: Charles Carson and Elsie Hughes
The servant crew was headed by Mr. Carson and Mrs. Hughes, the butler and housekeeper respectively.
Mr. Carson was the brusque and often times humorless butler who wanted things as they used to be (life as it was before the war) and not as they were (similar in temperament to Violet, Robert and to a degree, Mary).
He had a hard time dealing with change and with new ideas, and was exceedingly loyal to the family. He had high standards for Downton and, like all butlers, hated it when standards fell. He also looked at the Crawleys as the only family he has, and would totally consider them as worthy of respect and worship, at times.
He had once been a stage performer, one half of a group called the "Cheerful Charlies" but after he fell out with his former stage partner, Charles Grigg (Nicky Henson) over a woman, and the latter's thievery from the till, he went into service, first as a footman, then working his way up to butler. He never looked back to being in performing.
However, his brusque and sometimes humorless and reserved exterior hid a heart of solid gold, as was evidenced when he comforted an infant Sybbie Branson after she was crying in the nursery. He even took the baby to the library calming her down, earning him the admiration of Mrs. Hughes.
The situation reminded him of her late mother, Sybil, when she was that age. Also, while he adored all the girls equally, he was clearly devoted to Mary, whom he considered his favorite.
The Scottish-born Mrs. Hughes (the Mrs. was a courtesy title given to all cooks and housekeepers), on the other hand, was a lot more pragmatic than Carson and was more amenable to change.
She also didn't utterly worship the family like Carson did (which came through in some of her remarks, like calling Violet an "old bat" and would also make some snide comments about some of the family's acquaintances), although she did respect them.
She was quite a bit more compassionate, and often was there to listen to people's problems (she helped Tom Branson through some of his crises of him being a part of the Upstairs family and comforted him when he broke down in tears), although she too could be tough when the need arose, such as when she confronted a housemaid-turned-lady's maid who tried to seduce Tom with a schemed pregnancy and an attempted blackmailing of him into marriage, and sacked her.
A proper courtship and a proper wedding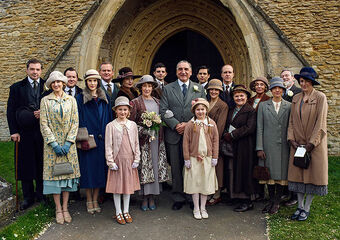 After a lengthy proper courtship, Mr. Carson proposed to Mrs. Hughes at the end of the fifth season, during the annual family Christmas Party, and were married in the third episode of the sixth season.
While Carson was away, Thomas was named acting butler, due to his position as under-butler. A situation that was mercifully temporary.
During the reception which was held at the village school, where everyone, gentry, villagers and servants alike attended, they would get a lovely surprise as Tom and Sybbie Branson return to Downton for good.
After realizing that Boston was not like Downton, and wouldn't ever be home to them, Tom and Sybbie surprise the entire group and announced, to the joy of everyone assembled, that they were returning home and would remain there.
This put the capper on a perfect day for everyone in the Downton family, and for once, peace reigned supreme over everyone.
Thomas Barrow, the complex footman/under-butler
Main article: Thomas Barrow
The most pre-eminent among the servants, aside from Mr. Carson and Mrs. Hughes, was Thomas Barrow (Robert James-Collier). Thomas was the original first footman who would become a valet and then would be named under-butler, and would become the head butler in the final episode.
He was, for most of the show's run, very duplicitous, scheming and vindictive and totally adept at causing trouble. The thing was that Thomas was a gay man which was quite unusual in that time and era.
He hid his pain (and deep hurt) about being unable to live as a gay man (at that time, homosexuality was a crime in the UK; that would change in 1967; and gay marriage would be legalized in 2014) beneath a cold façade and would often cause no end of trouble for the servants and the family.
He would steal things (which would have lead to immediate sacking and with no prospects for another job, not to mention a very bad reference), and would try to get others framed for his crimes (which often failed miserably).
He stole wine from the wine cellar, and tried to frame his arch-enemy, John Bates (Brendan Coyle), with whom he had a personal resentment towards because he (Bates) had been hired as a valet for Lord Grantham, and due to the hiring, caused Barrow to be demoted back down to First Footman.
He also stole a snuff box (something which Lord Grantham collected) and again attempted to pin it on Bates. Once again, he would fail miserably. It would be only be later on, when Mr. Joseph Molesley (Kevin Doyle), the butler/valet from Robert's cousin's household would catch Thomas in the act of stealing Mr. Carson's billfold from his overcoat, that he would be facing an inevitable dismissal. However, he would escape sacking.
Despite his vindictive and scheming nature, which lessened quite considerably in the final season, he did have some redeeming qualities. He had a truly sincere love and compassion for the children of the Crawley family. He was also quite loyal to the family, especially after saving Lady Edith from a fire in her bedroom in the fifth season.
Of the children, he was closest to Mary's son, George, whom the little boy loved very much and thought of him as his best friend and favorite servant, and Sybil's daughter, Sybbie. This was due to the closeness of his bonds with Sybil and Mary, their mothers.
When Marigold, Edith's daughter, came into the family, he took to her as well as to the other children. In Mary's words, he was "very sweet with the children", and it was one of the few times that his feelings towards anyone were sincere.
O'Brien, the scheming lady's maid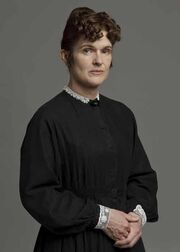 Main article: Sarah O'Brien
Another senior member of the staff was Ms. Sarah O'Brien (Siobhan Finneran), Cora's first lady's maid, who was, for the first two seasons at least, Thomas's partner in scheming.
The two were constantly in the back courtyard not far from the servant's entrance, where they would smoke (O'Brien and later character, Laura Edmunds would be known for smoking cigarettes, which women did not often do in those days) and scheme their latest plots.
Of the staff, Thomas and O'Brien were the most scheming and duplicitous of all. She was notorious for being the one who injured Cora and made her miscarry her baby by dropping a bar of soap near the bathtub.
She had misheard that there was a search for a new lady's maid. However, the new maid wasn't for Cora, it was for Violet. Even when it happened, she realized that her being malicious like that wasn't in her character, and when she called to prevent her from getting out of the tub, it was too late.
After causing Cora's miscarriage and then realizing that it was over a misunderstanding, O'Brien became quite overly protective and totally devoted towards Lady Grantham, and would not leave her side for one second, especially when she was stricken with the Spanish Flu in the second season.
In the third season, O'Brien would unmistakably turn against Thomas. Whatever friendship they had was gone, as the two, now arch enemies, would be going at one another mercilessly in every manner imaginable. Thomas resented her as she moved her favor, that she had once had for him, to the new footman, who just happened to be her own nephew.
In the premiere episode of Season Four, however, O'Brien would leave in the dark of night, having been hired out of Downton by the troublemaking Susan MacClare who took her with her when she and her soon-to-be ex husband moved to Mumbai, India.
This final betrayal annoyed and saddened Cora, as she had liked O'Brien, but Robert was glad to be rid of her, as he had never liked her. His feelings were summarized thusly: "Sneaking off like a thief in the night, that's O'Brien to a T!"
Edna, the scheming blackmailer
Main article: Edna Braithwaite
Succeeding O'Brien as Cora's lady's maid would be Edna Braithwaite (MyAnna Buring), who had worked at Downton previously as a general housemaid, and had a raging crush on Tom Branson.
Edna gained the job under false pretenses and Cora and Rose, not realizing what she had done before, hired her.
With her being re-hired, Edna would gain status as a senior maid, which temporarily put her above the head housemaid. As was usual, with the lady's maids, Thomas tried to win favor with her, so he could learn information about the family to use to his own advantage, but he failed.
She would be sacked from Downton once again, when she attempted to seduce and blackmail Tom into marriage and attempted to fake a pregnancy to keep him, but was stopped in this treachery by him and Mrs. Hughes.
She tried to wangle her way into his heart, by saying the night they were together, she got pregnant (which was not proven and wasn't even true), and began to alienate him by her bad-mouthing Sybil. He remonstrated at her to Don't you speak her name! when she snidely replied that If you were good enough for Lady Sybil Crawley, then you're good enough for me!
She then was involved in a confrontation with Tom and Mrs. Hughes, in which the housekeeper exposed her scheme by saying that she would have gotten someone else to get her pregnant, and she would have married Tom under false pretexts. She also threatened her with being forcibly disrobed by her so the doctor could see if she was pregnant. Mrs. Hughes also told her, If you want a reference, or another job for the rest of your natural life, you will not say anything to her ladyship! Needless to say, Edna agreed to the terms and left the office, with her copy of Marie Stopes' infamous book on contraception, Married Love.
As she was storming out of the abbey, Edna would end up getting some satisfaction from telling Thomas that he was sly and oily and smug as well as telling him that nobody trusted or even liked him. He gleefully retaliated by calling her a conniving little witch, whose schemes had come to nothing.
When asked if she would still be at Downton, she snapped, What's it to you?! She then gave her notice and then left Downton for good, Her reason for leaving was given as family trouble.
The beloved Phyllis Baxter, the only honest lady's maid
Main article: Phyllis Baxter
Succeeding Edna was Phyllis Baxter (Raquel Cassidy), who had been much older than Braithwaite. Baxter was a very pleasant woman who had been the friend of Thomas Barrow's sister.
She also had a criminal past. It had been revealed that while she had worked in London, she had stolen jewelry that had belonged to her former employer (she had been a lady's maid at that time as well) at the command of a crooked footman named Peter Coyle and was imprisoned for it. Coyle had gotten away with it.
She confessed her whole story, the stealing, the criminal past, the imprisonment, to Cora. After confessing and waiting for a time so she could decide, Cora gladly would retain her, because her work was excellent; although at first, she wasn't sure of Cora keeping her on.
Baxter first appeared in the middle of Season four, after the conniving (and vanquished) Edna Braithwaite left the abbey in fury (she had been foiled in her last ditch attempt to marry Tom Branson, by him and Mrs. Hughes). She was also very adept as a seamstress, using an electric sewing machine to help both upstairs and downstairs.
At first, she ran afoul of the cook, as she was not often too fond of modern equipment, but once Baxter helped fix her apron, the cook was more than appreciative.
She would later begin to taking to mending with regulation needle and thread, showing her adeptness at that as well. She would still use an electric machine, but it was presumed she went to the laundry to use her machine later in the series run (she had been using it in the servants hall).
She had been hired at the suggestion of Thomas, with the intent of using her to glean scraps of information about the family so he could use that information to his own advantage. Thomas did not tell Cora of her criminal past, and when he tried to use her past against Baxter, Cora shut him down harshly threatening to have him sacked, but she later relented after he saved Lady Edith, which restored him to her good graces.
However, she finally tired of Thomas' constant bullying, and being encouraged by her new friend, Mr. Molesley, (to whom he was attracted to) she would finally break free from his grip and settled down into a placid domestic situation.
Baxter, realizing her lady's American background, would often bring her a glass of fresh-squeezed Orange Juice with her breakfast on a tray. Unlike her predecessor, Braithwaite, she made a sincere effort to move on from her past and to forge herself a new beginning and a new future. To that end, she succeeded with flying colors. She would also become a well-respected member of staff, well loved by everyone, even Thomas at the latter end of the series. She would remain through the end of the series.
Alfred, O'Brien's nephew, and second target of Thomas' jealousy
Main article: Alfred Nugent
Alfred Nugent (Matt Milne) was a footman who was not well liked at all by Thomas, due to him being O'Brien's nephew (his mother was O'Brien's sister).
O'Brien favored Alfred, due to her blood ties with him, and because of that, she would try to destroy Thomas.
Alfred, in cahoots with his aunt, tried to have Thomas arrested for a supposed romantic advance that he thought he had made towards the recently-hired second footman. It took Lord Grantham to stave off the scandal.
He also had a difficult time in deciding on whether he loved the assistant cook, or the kitchen maid. Although he liked Daisy, he felt more in love with the kitchen maid. He also was liked by a girl called Reed (Lucille Sharp), the lady's maid of Cora's visiting mother.
His main ambition in life was to be a chef, himself, so he would spend a lot of time in the kitchen, showing his adeptness by cooking some sauces for a house party after the cook had a stress attack. He would later on make the savories for a family dinner, which impressed everyone upstairs.
After passing a test in cooking for a hotel (he had worked in one as a waiter, before coming to Downton) he would leave service to get a job as an assistant chef in one of London's finest hotels. He had proposed to the new kitchen maid, but she would turn him down.
He left with the best wishes of both families, upstairs AND downstairs. He returned one last time to attend his mother's funeral, and to patch things up with Daisy. After patching things up with her, he left Downton for good and returned to his life in London.
Mrs. Patmore and Daisy, the queens of the kitchen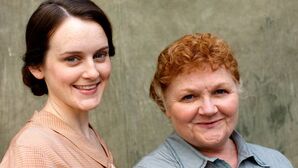 Main articles: Mrs. Beryl Patmore and Daisy Mason
Another senior member of the staff was Mrs. Beryl Patmore (Lesley Nicol); the long time cook who had a short temper and always looked frazzled, but as the series progressed, became kinder and a lot more caring (like Mrs. Hughes, she was called Mrs. as a courtesy title).
Like the rest of the servants, she too would indulge the Crawley children by allowing them to lick the spoon, when she was making cake.
She also helped in teaching Lady Sybil how to cook as a part of her nursing duties, although she didn't know how to speak to those upstairs. She also had a hand in encouraging the footman, Alfred, in his desire to work as a chef.
At first, she and Mrs. Hughes did not get along, because the latter held the keys to the store cupboards, and Mrs. Patmore felt that, as cook, she should have them. But after a cancer scare, that fight was forgotten, and she and Mrs. Hughes bonded and became close friends. This helped soften Mrs. Patmore.
In the first season, Mrs. Patmore had vision problems which was needed to be corrected with eye surgery in London. With that, she was able to work better and she softened more in the process.
Besides her role as the cook at Downton Abbey, Mrs. P. (as she was sometimes called) also owned a bed and breakfast in Haughton-le-Skerne, a nearby town in County Durham (today, Haughton-le-Skerne is a northeastern surburb of the larger community of Darlington).
Working with her there, was her niece, Lucy. She had another sister, who passed away, and also had a nephew, Archie Philpotts, who had been executed for desertion, but had also been revealed to have had shell shock (what would be called Post-traumatic stress disorder today) from war.
Her B&B had almost ran a cropper as the site of a divorce scandal. Her first two clients were adulterers, and the man who filed the divorce called it a house of ill-repute. The targeted person settled out of court, but the resultant scandal nearly brought down her business.
However, Robert, Cora and Rosamond, who wanted to help their long-time employee, helped squelch the ugly scandal by having a much publicized tea at the B&B and the scandal was stopped.
Of course, Carson was against (and was aghast at) the whole thing, not wanting Downton touched by scandal, but Mrs. Hughes insisted that it was good of the family to help Mrs. Patmore when she needed the help.
Giving her some much needed help in the kitchen was Daisy, who, at first, was the kitchen maid (and like most households, she was the lowest on the household hierarchy). At that point, Daisy was more the scullery maid, also lighting the fires in the upstairs rooms, and always being yelled at by Mrs. Patmore for something or other.
She would, in the third season, become the assistant cook, which helped Mrs. Patmore shoulder the heavy burden of running the kitchen. Now, she had gained status and rank and was now something of an equal with Mrs. Patmore.
The hard-working Daisy would also become a good friend of Mrs. Patmore, whom she loved and looked up to like a mother. Mrs. Patmore, although she would scold Daisy, especially earlier in the show's run, clearly adored her and wanted the best for her.
Daisy would also take some classes and would complete her exams with flying colors. As a result, she would become more able to stand on her feet to help those she loved. Daisy was a sweet and moral young woman, yet she was also quite naïve and could be easily manipulated by the more treacherous Thomas and O'Brien. She also has a harsh temper when she is fighting for those she loves.
Daisy was quite loyal to those she cared about and would fight, sometimes not very sensibly, and getting herself in trouble, for those she adored and cared about. She was so loyal to Mrs. Patmore that she would sabotage a visiting cook's meal out of loyalty to her.
Her loyalty to her father in-law would also cause her to lash out at the former owner of his farm, which caused him to lose his tenancy, but he would later get a tenancy near Downton, which he proudly proclaimed was due to the efforts of Daisy.
William Mason, Daisy's footman husband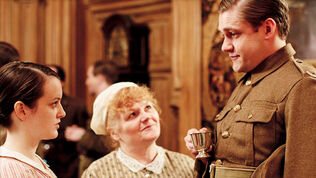 William Mason (Thomas Howes) was the second footman  who was attracted to and then fell in love with Daisy.
Feeling that he was not doing his part in the war (Violet had worked with Clarkson and his father to keep William from going to war), he served as Matthew Crawley's batman, and took an explosion for him.
He and Daisy would eventually marry, with Violet, Edith and the rest of the staff in attendance. Not one half-hour after they married, he would die from his war injuries, leaving her a very young war widow. In a later episode, Daisy would be weeping at his loss, and Violet would comfort her.
During the first season, William also ran afoul of the jealous and scheming Thomas, who loved to make him feel inferior, due to their positions in the domestic hierarchy. One of Thomas' vicious schemes was he played on Daisy's feelings, which led to Bates threatening him with getting beaten up if he did not quit harassing William.
In the final episode of the first season, Thomas goaded William into a fight, after the former made some nasty remarks about Cora and her miscarriage, as well as taunting him over the death of his mother.
His remarks disgusted the entire staff, including Daisy, who had, up until then, been Thomas' staunchest ally, aside from O'Brien (and who had a crush on him, which ended at that time), forcing Mrs. Hughes and Mr. Carson to order him to be quiet. These actions finally led to Thomas getting his comeuppance. He had been beaten up by a very angry William.
Albert Mason, Daisy's father in law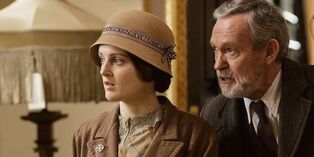 Also featured in a recurring capacity was Albert Mason (Paul Copley), William's widower father.
He was a tenant farmer who had originally lived on a neighboring estate, but, after his farm was sold due to the estate being auctioned off, he would later move to Downton at Yew Tree Farm.
After his son's death from his war wounds, Mr. Mason took his wife, Daisy, in like his own daughter, and cultivated a friendship with Mrs. Patmore, which bonded all of them even more.
At first, Daisy was very much against a pairing of the two, as she was afraid that she would lose either one or both of them. She never had a lot that she could say was hers and she didn't want to lose anyone she cared about.
The both of them would reassure her that just because they liked one another didn't mean she would be shut out, because they both loved her very much. In the final episode, Daisy would drop any objections she had, and heartily gave her stamp of approval to her father in-law pursuing a relationship with her superior and friend.
James, the ringer who nearly ended Thomas
Main article: Jimmy Kent
James "Jimmy" Kent (Ed Speleers), was William's replacement as second footman. When he first arrived, he was the target of a one-sided crush by Thomas, but the two would later on become good friends.
At first, the scheming O'Brien had tried to pit Alfred into reporting Thomas for a homosexual advance which he had supposedly put on James. This could have sent him to prison for many years, and had brought the house under scandal.
Carson confronted Thomas about it, and Alfred as well as James had wanted to see Thomas fired, but Lord Grantham wanted scandal squelched, and so convinced James not to say anything. After all that, James and Thomas settled to a decent friendship.
Interestingly, he was also the cause of a love triangle between Alfred, the new kitchen maid, Ivy Stuart (Cara Theobold) and Daisy.
He tried to put the move on Ivy, but she stopped him cold, which angered him. He would be sacked later on after being discovered in bed with his former employer, the Dowager Lady Anstruther, by Robert, while there was a fire at Downton Abbey, which damaged Edith's room.
Andy, the one who would capture Daisy's heart at last
Main article: Andy Parker
James would be replaced by a young man named Andrew Parker (Michael C. Fox), who was originally hired on a temporary basis to work at Grantham House for Rose's wedding, but once some money came in (due to Robert selling a very valuable Della Francesca painting), Carson hired him full time. He would become valuable both as a footman and also as a farm laborer at Mr. Mason's new farm, and would catch the eye, eventually, of the widowed Daisy.
Ivy, the kitchen maid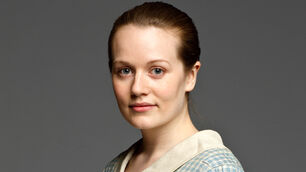 Main article: Ivy Stuart
Also in the kitchen was Ivy, who was Daisy's replacement as Kitchen/scullery maid when the former becomes Mrs. Patmore's assistant, and Daisy's some-what rival.
Ivy joined the cast in season three and was a regular in season four. She was the one the two footmen, Alfred and James were vying for. Alfred truly was interested in her, while James was only stringing her along, mainly to annoy Alfred. He would propose to her, but she would turn him down. Because of Alfred's interest in her, Daisy saw Ivy as a rival.
At the end of the fourth season, Ivy would leave to take a job as a cook for Cora's brother in America; she would be recommended for the job by Daisy, her former rival.
Ivy's place as a scullery maid would be taken by a village girl named Gertie. Even then, usually a hall boy or another scullery maid would do the work that Ivy had done. Despite the loss of the kitchen maid, Daisy and Mrs. Patmore ran the kitchen beautifully, and this bonded them.
Bates: the new valet and Anna, his lady's maid wife
Main articles: Anna Smith Bates and John Bates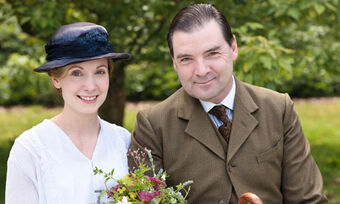 Arriving at Downton in the very first episode was John Bates. Bates, a really secretive person, was the former batman (personal assistant) of Robert Crawley, during his days in the Boer Wars, and the bane of Thomas's existence.
Bates would become Robert's valet, to Thomas' fury. Bates had replaced the former valet, Mr. Watson, whom Thomas took over for, when Bates arrived.
During much of the first season, the spiteful Thomas and O'Brien would do anything, no matter how unscrupulous, to undermine his job at Downton. O'Brien even going so far as to trip Bates when a Duke would come to Downton to visit, by kicking his cane out from underneath him.
His disability was at first thought to be a hindrance, as the staff were worried about doing not just their own work, but his too, but he told them that he could manage, and he did.
As time went on, he became an indispensable and quite beloved part of Downton and one of Carson's hardest working subordinates. He also became one of the more beloved friends of the staff.
He had been married before, to a spiteful woman named Vera (Maria Doyle Kennedy), who would later commit suicide after eating a pie made with arsenic.
He would be framed for murder (due to some manipulation by one of Vera's spiteful friends), but due to some new evidence, which was almost hidden by a corrupt guard and an equally corrupt prisoner, he would be cleared.
Another prominent member of the staff was Anna Smith (Joanne Froggatt), the head house maid and second in command to Mrs. Hughes (later she would officially become Lady Mary's lady's maid) who would fall in love with (at first glance) and eventually marry John Bates.
Just as her husband had, Anna would also have a lot thrown at her. She would be raped by Alex Green (Nigel Harman) the nasty valet of Anthony Foyle, Lord Gillingham (Tom Cullen), who would later be killed.
Anna would be charged with the murder, due to the flawed testimony of someone who thought they had seen her shove him, but it would be revealed that she wasn't the killer (another woman who had been traumatized by Green, would shove him into the street where he was killed).
Despite their innumerable trials, the Bates would be one of the more stable couples at Downton.
Gwen, a maid who made good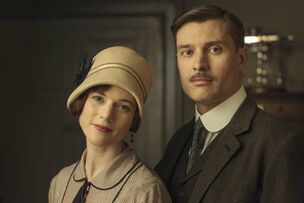 Main article: Gwen Dawson Harding
Gwen Dawson (Rose Leslie), was a first season housemaid who left service, became a secretary (with the aide of Sybil) and would later marry a successful businessman named John Harding (Philip Battley).
She would make a visit to the family in the final season, visiting her friends both above and below stairs.
At first, Thomas was annoyed that she would not visit downstairs, with Anna telling him, when had he ever been a friend of hers. He then tried to humiliate her at luncheon. This was during his time when he was substituting for Carson, who was on his honeymoon.
Despite Thomas' attempts to humiliate her, which earned him a scolding from Robert, Gwen would also reconnect with everyone, remembering her roots as a servant.
The family realized just how special and beloved Sybil was, when Gwen explained all the late youngest of the Crawley sisters did for her, helping her with interviews, getting her clothes, going with her to said interviews. For her, Sybil was one of her best friends.
After Gwen left, she kept in touch with Tom and Sybil, mainly through Christmas cards, and then of course, she heard about her death. Gwen showed the family just how wonderful and special Sybil really was.
Ethel, Gwen's troubled replacement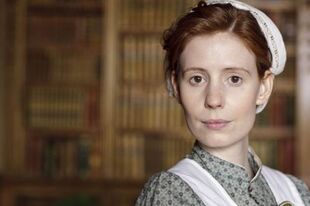 Ethel Parks (Amy Nuttall), a slightly haughty and worldly woman, was Gwen's replacement as maid. She saw herself as grander than she thought she was supposed to be, and that antagonized some of the staff.
However, she herself would be sacked, when she was caught in bed by Mrs. Hughes, with a wounded soldier, and had his baby, during the time Downton Abbey was a convalescent home for injured war soldiers.
After Ethel was sacked, Edna Braithwaite would become a maid, and then was let go before she came back as temporary lady's maid.
However, in the third season, Ethel had fallen on very hard times, and had become a prostitute after she had lost her baby's father, Major Charles Bryant (Daniel Pirrie); and his parents (Kevin R. McNally; Christine Mackie) had taken the baby, named Charlie, from her. She would later work as a cook for Isobel, which caused her former cook, Mrs. Bird (Christine Lohr) to hand in her notice.
Her first dinner, which she cooked for Isobel, Cora, Violet, Lady Mary and Lady Edith was well received, despite Robert coming over and berating Isobel for touching the family with scandal as she had been a prostitute. The women refused to leave (even the Dowager Countess didn't leave), and Robert, in a rage, stormed off back to the Abbey.
With the aid of Mrs. Patmore, which aggravated Carson, who did not want the house or his staff tainted by scandal, Ethel learned to be a good cook, enough of one so that she could gain a more respectable job nearby where the Bryants lived, so she could still be near her son.  She would never be spoken of again, although it is presumed that she got stuck in her new job and was happy to be near her son. 
The unsinkable Mr. Molesley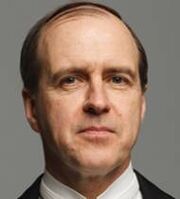 Main article: Joseph Molesley
Also prominent among the staff was Joseph Molesley, a local village man who lived with his father, William. His father was introduced in the first season as an adept gardener who had always grown beautiful roses, but was always denied recognition at the town's flower show, because Violet would always win.
During the first season, Violet, even though she was written as the winner, would announce the winner of the Grantham Cup for best rose. The honor went to William Molesley.
The younger Mr. Molesley was introduced in the second episode of the first season as Matthew's new butler and valet at Crowley House, but after his master died, he divided his time between the Abbey and Isobel's house, eventually becoming a footman at the Abbey, to his dismay.
He would later supplement his income at Downton by becoming a teacher at the village school and he would become attracted to Cora's lady's maid, Miss Baxter, who was also attracted to him. He also helped Daisy Mason get ready for her exams, which, with his help, she passed with flying colors.
While teaching his students, Molesley explained that he had also been a servant, which earned the kids their respect, and Daisy, noticing the recitation, was proud of her teacher. When she told him that the kids were spellbound by his story, the entire servants hall applauded his success.
He would later become a full time teacher (when one of the teachers retired and he gained his cottage and duties) but would still serve as footman during school breaks and holidays. He and Miss Baxter maintained their closeness even after he left service.
Denker and Spratt, the quarreling servants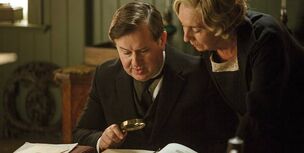 Main articles: Gladys Denker and Septimus Spratt
Making recurring appearances were Miss Gladys Denker (Sue Johnston) and Mr. Septimus Spratt (Jeremy Swift), who were the Lady's maid and butler, respectively of the Dowager Countess.
Denker and Spratt clearly did not get along at all (despite Spratt being the head of the servants, which, besides Denker and Spratt, included Mrs. Potter, the never-seen cook and Betty, a girl from the village who served as a maid). 
They would always quarrel (usually with barely concealed spite) with them engaged in continuous attempts to one-up each other.
Spratt made his first appearance in the fourth season of the show as he was jealous of Molesley helping him out at a luncheon, which he tried to humiliate him.
Like most butlers in establishments everywhere, Spratt had very high standards and hated it when they were compromised. He was also known for being snobbish (which earned him being scolded frequently by Violet) and also could get easily annoyed.
However, he wore many hats. Besides being Violet's butler, he worked as a columnist (using the pen name "Cassandra Jones") for Lady Edith at her magazine, The Sketch.
Denker, who made her debut in the middle part of the fifth season and replaced Violet's third lady's maid, Collins (Simmons and Smithers were the Dowager Countess' previous lady's maids), was, more or less, a scheming and conniving troublemaker. She was also exceedingly ungrateful.
She excelled in causing grief for everyone, for example taking young footman Andy to an illegal gambling joint, while in London for Lady Rose's wedding; or trying to pass off Daisy's chicken broth as her own (a scheme which was derailed by Spratt as she was a terrible cook).
Not too many people liked Denker; even the staff at Downton Abbey had no liking for her, as she tended to spread gossip and would often upset the staff with her shenanigans.
When Denker tried to get Spratt sacked for his moonlighting in the final episode of the series, the Dowager Countess, who was amused by (and really LOVED) his writing; thwarted Denker's scheme, and happily retained him as her butler, whilst allowing him to continue in his second career as a writer, stating that she would go to him in future for his advice on everything.
However, Denker's troublemaking did not come without consequences. She was nearly sacked when she insulted Dr. Clarkson in the village after he sided with Isobel, Cora and Lord Merton on the future of the hospital. So angry was he about her tirade which had been done in public and in full view of people, that he wrote a letter to Violet complaining about her disrespect towards him.
A furious Violet berated Denker for her insolence towards the doctor and told her she would get a tepid reference allowing her to get a new job, and then ordered her to leave the Dower House, as she said, forthwith!
Desperate to retain her job, Denker blackmailed Spratt into speaking up for her (she knew about his criminal nephew staying inside the potting shed, and she threatened to reveal that fact to Sgt. Willis, the local constable for Downton, which would have gotten Spratt in trouble for harboring a fugitive). Her blackmail had the desired effect of her retaining her place in the Dower House.
However, despite this, the ingrate would still manipulate Spratt whenever she wanted to and would cause the beleaguered butler continued annoyance.
Others involved in the family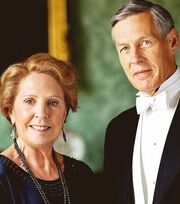 Main article: Isobel Crawley Grey
Richard Grey, Lord Merton, who was revealed to be Mary's godfather, also made quite a number of appearances, having to deal with his crass son, Larry, who it seemed had NO sense of manners and was hell-bent on making life troublesome for the Crawleys and their friends. In later seasons, he, like Lady Rosamund, would become a more semi-regular character.
Besides the one dinner, where he would humiliate Tom Branson, Larry would once more cause trouble for the Crawleys when he would insult Isobel (he called her a middle-class golddigger) after she had announced her engagement to his father. And, much later, in cahoots with his new wife, Amelia (Phoebe Sparrow), would try to break the two up for good.
They were stopped in this endeavor by the more than formidable Violet, who defended Isobel by literally barging into Cavenham Park, and demanding that Lord Merton be allowed to see Isobel. After that, to the young snobs' disgust, Isobel and Lord Merton would be married off-screen, and by the end of the series, Isobel would be known as Lady Merton.
In the third season, Matthew and Mary would finally get married; after his engagement, in the second season, to a woman named Lavinia Swire (Zoe Boyle), who died of Spanish Flu ended.
After her death, in the third season, Matthew would become very wealthy after being bequeathed the estate of Lavinia's late father. After Robert discovered that he had lost his wife's entire fortune due to a bad business investment, he convinced Matthew to have half-ownership of the estate.
Sadly, he would die himself in a terrible car accident. She gave birth to their son, George Crawley, which Matthew would only see once before he died, (played as a child by twins Oliver and Zac Barker) who would become the heir presumptive to Downton Abbey, and, when he grew up, would become the 8th Earl of Grantham.
At first, Mary was only content to let a nanny take care of her son, but after grieving her husband (crying in the arms of her father figure, Carson), she takes more of a hand in raising her son.
She also becomes the half-heir of Downton (thanks to Matthew's letter which was considered a will, to Robert's dismay, as he wanted to control the entire estate and eliminate all the improvements that Matthew had set up), and begins to work with Tom, bonding a solid friendship with her brother in-law (due to her closeness with the beloved Sybil).
After a season of trying to choose between Lord Gillingham and another man, Charles Blake (Julian Ovenden), she would later get married a second time. She would tie the knot with a young man named Henry Talbot (Matthew Goode), the nephew of family friend, Prudence, Lady Shackelton. Initially she loved him, but she would push him aside after a car crash opened all the bad memories of Matthew's death. After she went to see his grave, she would finally agree to marry him.
Henry would take kindly to little George and became a great father to him. Tom, who had been best man for Matthew at Mary's first wedding, was also best man for Henry at her second marriage.
Edith, due to her affair with Michael Gregson, who had perished in Germany at the hands of the infamous Brown Coats (members of the Nazi party), had a child named Marigold (played as a child by twins Eva and Karina Samms), who had been raised by one of the estate's tenant farmers, and would later join the family.
After the family left Downton, (following a failed kidnapping of Marigold by the disturbed wife of the farmer), Daisy's father in-law, Mr. Mason, who had lost his farm on a neighboring estate, would move to Downton and would live the rest of his life on Yew Tree Farm.
Edith would later marry the newly minted Marquess of Hexham, Herbert Pelham (Harry Haden-Paton), giving Marigold a new father. The enterprising Edith also owned the publishing company she had worked for, which had been willed to her by the late Michael (who had named her his heiress). Until her marriage to Bertie, as he was called, she also spent a lot of time at Michael's flat, which she also was bequeathed.
She more than amply proves her worth when, after she sacked her tyrannical first editor, she, along with her secretary, Audrey (Victoria Emslie) and Bertie, put out the first edition of her magazine, The Sketch.
She would later gain a close friend and confidante in her newly hired editor, Laura. The two instantly bonded due to their being the same age and also being very enterprising. Thanks to Edith, Laura becomes part of the family, and enjoys being with the Crawleys.
The next generation, Sybbie, George and Marigold
The three cousins, Sybbie, George and Marigold were all near the same age, and all three had lost one of their parents (George and Marigold had both lost their fathers, Matthew Crawley and Michael Gregson, respectively; and Sybbie had lost her mother, her namesake, Sybil). Their shared tragedy bonded the three cousins and made them as close as siblings.
It is interesting to note that the spread of age between the children was identical to the age spread of Mary, Edith and the late Sybil (Sybbie and George were a year apart in age, as were Mary and Edith, while Marigold was two years younger than George).
Within the family, Isobel, who was a cousin to the rest of the family, would be known and called "Grandmamma" to George (so Cora could be called Granny), while she would be known as Aunt Isobel to Sybbie and Marigold. As she said, she was not quite an aunt, but I almost am. Technically, Isobel was their great aunt (as Matthew was their uncle).
At first, it was only Sybbie and George who were prominently featured (both having been born in the third season); then Marigold was brought in at Season Five, and she would move into the Abbey later in the last episodes of the season. In the final season, all three were growing up in the nursery, and they would be broken up when Marigold would move with her mother and her new stepfather to his home, Brancaster Castle.
Thomas vs. Nanny West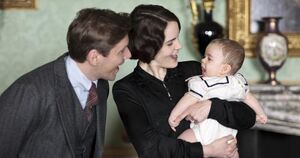 Main article: Nanny West
The children also had a friend in the under-butler Thomas Barrow, who loved them ever since they were babies (plus due to the close bond that Thomas had with Sybil and Mary). In fact, it was Thomas who had shown his hidden protective side when he had a particularly unpleasant woman called Nanny West (Di Botcher) sacked because of her nasty way of treating little Sybbie.
Thomas did not like Nanny West and made that point clear, but this time it was because he was more concerned for the welfare of the children, although he did not like her as a person either.
This battle began when Thomas was talking to Sybbie, and Nanny told him not to. He pointedly told the woman that he had known Sybil well (having worked with her when she was a nurse and Downton was being used as a convalescent home), and that Nanny West had not (as Sybil had been dead and gone by this time). She pointedly told him that she had her orders and not bandy words with the under-butler.
He would not take her instructions to the rest of the servants, and that caused her to get angry at him. She would tend to leave the children alone while she was doing other things, and that (plus her superior air and an implied notion that she was above him, which rankled Thomas) was enough for him to let Cora know what she was up to.
It was also implied, though not proven, that Nanny West had been also mistreating Sybbie by not feeding her properly, due to her not having scrambled eggs with her tea, while George was fed better, which would have also been just enough cause for Thomas to tell Cora what the nasty nanny was up to.
She clearly favored baby George and had no liking for Sybbie, due to the fact that she was the daughter of Tom, the former chauffeur (once again showing the resentment that some servants had for serving people who were once servants themselves). In fact, she had called the child a "wicked little cross-breed" (because she was half-Irish, on her father's side) and unfortunately for her, Cora overheard the whole cruel berating.
Nanny West is caught.......and SACKED!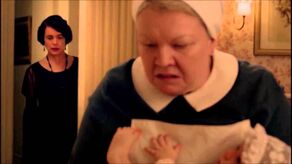 A furious Cora, who, because of her American upbringing, had been more of a hands-on mother when the girls were younger, and was presumed to be the same way with her grandchildren, immediately sacked her on the spot. She then asked Mrs. Hughes to get Ms. West a room, and install a maid to watch the children that night until a new Nanny, one who was more nicer, was engaged. The angry Cora then told the now fired Ms. West that her "values had no place in a civilized home!"
Cora later praised Thomas for his helpfulness. She would praise Thomas once more when he was instrumental in saving Edith from a fire in her bedroom in the fifth season, although she was angry at him before for using the knowledge of Ms. Baxter's past for his own selfish advantages. She had planned on sacking him, but his saving Lady Edith from the fire in her bedroom would restore him to her good graces.
Upon Marigold becoming part of the family, Thomas included her along with George and Sybbie.
Sybbie, Tom and Sybil's daughter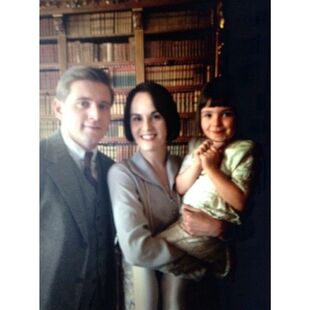 Main article: Sybbie Branson
Sybbie, the eldest of the three children (and the only one born at the Abbey itself; George being born at the village hospital, and Marigold being born in Geneva, Switzerland), was a little bit independent thinking (gaining that trait from both her parents). In spite of that, she was a very sweet little girl, much like her late mother. She also had quite an unusual nickname for her maternal grandfather, Robert.
She called him "Donk". The name came from when they played a game of Pin the Tail on the Donkey. Robert wasn't sure what to make of the nickname, wishing she would call him something more dignified, like "Grandpapa", but the rest of the family, even the Dowager Countess, found it amusing that Sybbie would call him, "Donk".
He would eventually get used to it and he would later embrace it, even going so far as to call himself "Donk". Later on, Marigold would begin to call him "Donk" as well, taking a cue from her older cousin and so would George, also taking a cue from his female cousins.
The sweet-natured Sybbie was as loving and compassionate as her late mother was, but was as precocious and curious as any ordinary little girl her age. Sybbie's favorite toy, which she carried with her whenever she could, was her stuffed bunny.
She also loved the personal time she spent with her father, Tom, who adored her and wanted to make a good life for her. Tom named her after her mother, because he wanted to remember Sybil every time he saw his daughter, although it was hard at first.
Sybbie was christened as a Catholic, like her father, and as was in accordance with Sybil's last requests, despite the protests of her grandfather. In this, they would be overruled by both Mary and Cora, and astonishingly, Violet. Although she wasn't sure of it, she was not against it either, as a dear friend of hers was, in her words, "more Catholic than the Pope". In fact, it was Sybil herself who had shared with Mary, on the day that she would die, that she had wanted Sybbie to be christened as a Catholic.
Sybbie also had an ally in her Aunt Mary (due to her closer bond with Sybil), and she would often encourage and dote on her young niece/goddaughter, whom she also called "darling" like she did with her sister. Besides Mary, her other godparent was her uncle Kieran, Tom's brother, whom her "Granny Violet" called a "drunken gorilla".
Sybbie also seemed to be concerned about things with her family, making her possibly being a peacemaker, like her late mother and her father. During a tea time where her father, and aunts were all out of the house, and she and her cousins were with Robert and Cora, she asked, worriedly, if "Granny Violet was a Red Indian?" Robert asked why she asked that, and George piped up that according to their nanny, "she was on the warpath!" This was due to the huge fight that Violet was waging with Cora, Lord Merton, Dr. Clarkson, their paternal great aunt Rosamund, and Isobel over the direction in regards to Downton Cottage Hospital.
George, the future 8th Earl of Grantham
Main article: George Crawley
George, the middle child (he was born a year after Sybbie was), sometimes called Georgie by his mummy, was a very sweet yet stubborn young lad who had quite a sharp wit on him, like his great granny Violet.
As was not uncommon in large houses, he would bond easily with Thomas (he considered "Mister Barrow" as he called him, his best friend and his favorite servant), who would gladly stop whatever work he was doing, even to the mild admonishment of Mary (although she understood their bond as she had a similar one with their butler, Carson), and give the young man a piggy back ride, or fly him around like an airplane. He had a favorite toy as well. He loved his favorite teddy bear.
Anna, his mother's lady's maid, jokingly noted to Mary that George ruled Thomas with an iron fist, but it was also clear to everyone that the little boy truly loved Thomas, and the usually scheming under-butler loved him as well.
George was one of the few people (George's cousin Sybbie and his late aunt, Sybil were the others) whom Thomas genuinely loved and cared about.
Despite his young age, though, the family, both upstairs and downstairs, also realized George's vast importance in the hierarchy as the little boy would later become the 8th Earl of Grantham.
Presumably, George would come of age in 1941 at about the time when the US would join in fighting World War II; more or less, he would fight in it (during that time, the Blitz was occurring and London would be damaged) and, barring any situations where he could have died, would perhaps become the 8th Earl of Grantham not long after the war ended, effective upon his grandfather, Robert's death.
When Thomas tried to commit suicide (after taking some medical treatments to make him straight, which were a total failure and a lot of stress which left him very unhappy), George, along with Mary, came to see him. The little boy gave Thomas an orange as a gift to help him feel better, which deeply touched him and made him realize that at the very least, he had one close friend, mainly George (To cover the suicide story and also to prevent scandal, it had been said that Thomas had the flu.).
Later in the series, George would gain a new stepfather in Henry Talbot, his mother's second husband. Henry took to George beautifully, and George took to him, considering him his father.
Marigold, Edith's shy daughter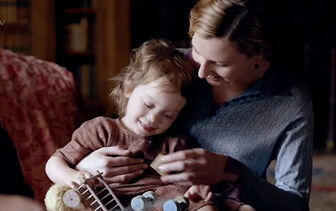 Main article: Marigold Gregson
Marigold, the youngest (she was born two years after George), was a shy violet little girl and was often more at peace when she was with her mother, Edith.
Born in Switzerland, Marigold was originally only known about by Edith's aunt Rosamond, but she would be known about by nearly everyone in the family. She had been adopted by one of the tenant farmers in Downton, and for the first few years, she grew up on Yew Tree Farm, one of the farms owned by the Earl of Grantham.
Her favorite toy was her teddy bear that she had since she was a baby. Upon hearing of the death of her paramour (and Marigold's father), Michael Gregson, Edith made clear her claims of Marigold. At first, the farmer's wife denied the claim, and tore up the birth certificate, but when she found out her husband was behind it, she gave up Marigold to her mother. For a short time, they lived in London, until Cora convinced Edith to have her come into the Abbey.
She was nearly kidnapped from the Crawleys by Margie Drewe, the aforementioned farmer's wife, who had thought that she could protect Marigold, and was angry at Edith for using her.
However, thanks to Margie's husband, Tim, the tenant farmer and chief of the Downton Fire Brigade, who had arranged with Edith the situation with Marigold, she was returned to the Crawleys, and they left Downton for good. A respectable story was told in which Marigold was the orphaned ward of the Crawley family. Only within the family was it known that Marigold was Edith's blood daughter.
Because her birth father (Michael Gregson) wasn't titled, little Marigold would not be considered "Lady Marigold" although her mother would later become a marchioness, because of her illegitimacy. She would always be known as Miss Marigold, although everyone knew she would be just as accepted as if she were. A lot of speculation flew about her last name, but she was known as Miss Marigold Crawley (since Edith proved her claims); although she would later take the last name of Pelham, after her mother's marriage to the Marquess of Hexham.
She loved her cousins, Sybbie and George, and would often play with them. Upon Edith's marriage to Bertie, she would move with them (along with a new nanny) to Brancaster Castle, where they would live. She would also bond with her step-grandmother, Mirada Pelham (Patricia Hodge).
Real-life people in the story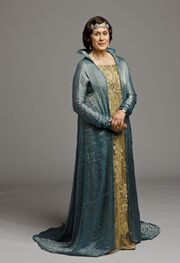 Some real life people were also featured in fictionalized form on Downton Abbey. Two of the most recognizable were real-life later prime Minister Neville Chamberlain and Australian Opera singer Dame Nellie Melba.
Dame Nellie was played here by Kiri Te Kanawa, a real-life opera soprano. During her concert at Downton, which everyone, both above and below stairs, attended (which she sang the famous song, Oh mio babbino caro); Anna would be raped by the evil valet, Alex Green, in the servant's quarters.
During a rather contentious dinner with real life health minister, Neville Chamberlain (played by Rupert Frazier), in which Violet was arguing with Cora, Isobel, Dr. Clarkson and Lord Merton over the merging of the Downton Hospital with the hospital in York, Robert had a medical situation where an ulcer he had, had burst, which had him go to the hospital. Meanwhile, Chamberlain (whose wife, Anne, was said to be the goddaughter of Violet's husband) would later become Prime Minister, during the first eight months of World War II.
Robert was unable to drink any more wine after his ulcer burst, and he also realized that he couldn't keep complete charge of the estate any more. As a result, he reluctantly allowed Mary and Tom to take full control. While Mary and Tom kept Robert in the loop on major decisions, he also knew that it was time for his daughter and son in-law to put their own imprint on the estate.
The Grand Finale
The final episode of the series, The Downton Abbey 2015 Christmas Special, showed many changes in the lives and fortunes of everyone, both above and below stairs. All stories ended happily for the Crawleys and their loyal servants.
Notable character deaths
Like its predecessor, Upstairs, Downstairs, several characters died in various ways over the show's six seasons. In the very first episode of the first season, James and Patrick Crawley, the two heirs presumptive of the estate, perished aboard the Titanic. The second death was of Lady Mary's forbidden lover, Kemal Pamuk, of a heart attack while in the former's bedroom.
In the second season, there were three deaths. The first death was Vera Bates, John Bates' estranged first wife, who would perish due to suicide (she ate a pie laced with arsenic), but callously had someone lie about the death and would frame him for the death (he would later be acquitted); the second was William Mason, the former footman who had married Daisy before he passed away due to his injuries he suffered in war; and the third one was Matthew's fiancée, Lavinia Swire, who would perish of the Spanish Flu.
The third season saw the deaths of two major and beloved characters. The first was Lady Sybil due to pre-eclampsia; and then, a year after Sybil's death, her brother in-law, Matthew Crawley in a car accident (what was ironic was both deaths occurred soon after the birth of their children, Sybbie and George, respectively).
The fourth season saw the death of Alex Green, the wicked valet to Lord Gillingham who had raped Anna.
The fifth season saw confirmation of the death of Edith's paramour, Michael Gregson, who perished at the hands of the Nazis during the Bier Hall Putsch (his death occurred before the birth of his illegitimate daughter, Marigold). He had wisely left Edith as power of attorney, allowing him to will everything he had to her. As a result of this, she became the head of his publishing company, and also gained a flat, which she presumably rented out after she married Bertie Pelham. This also allowed her to claim her daughter, Marigold, from the tenant farmer and, most especially, his wife, who hated her.
Last of all, the final season saw the death of Charlie Rogers, a friend of Atticus Aldridge and Henry Talbot, who died in a car racing accident, which led Henry to quit auto racing for good. He would, along with Tom, open a car business.
The "Redoubtable" Martha Levinson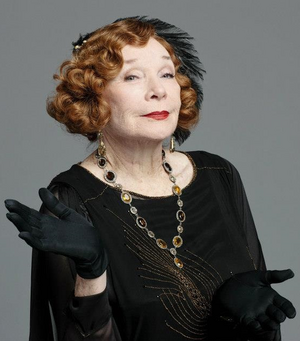 Main article: Martha Levinson
In the series' third season, veteran actress Shirley MacLaine (Steel Magnolias) joined the cast for the first two episodes as Martha Levinson, the widowed (and confidently outspoken American) mother of Cora. She was also Mary, Edith and Sybil's grandmamma.
Having homes in both New York City and a "Summer cottage" on Bellevue Avenue in Newport, Rhode Island, Martha was a clearly modern woman who knew how to get under the skin of the Dowager Countess and often rubbed it in about her modern life and would often tease Violet about being in the past. In a nod to tradition, though, she had a lady's maid named Reed, who gave her notice after being yelled at far too many times by Martha.
However, Martha, for all her modernity and joie de vivre, had a slightly reserved relationship with her daughter, who had been taken from her school rooms and was married off into the aristocracy in her early 20s. While Cora did love her mother, she could also get very annoyed with her constant outspokenness, especially when she went too far.
Martha was also meddlesome, especially in her family's lives and in their affairs. She and Robert had a strained relationship, as she tended to interfere in everything. One example was when she was comforting a broken-hearted Edith after Robert and Violet drove Sir Anthony Strallan away from Downton.
She was also known for several interesting quirks, including helping out when the family had a major dinner party coming up and in the face of the kitchen stove not working, came up with the idea of a picnic right inside Downton.
This was to put a stop to a disgraceful campaign by Mary and Violet to fleece Martha out of her fortune to shore up Downton again. While Cora and Isobel were excited by the prospect of something new and different, Robert, Violet, Carson and Mary were not so excited by the idea. The picnic ran very smoothly and was a success. Martha also sang the famous standard Let Me Call You Sweetheart to a rather rattled Violet.
In spite of Mary and Violet's best attempts, Martha would not loosen her fortune to help Downton, as her late husband, Isidore, tied the capital up very tightly, with the lions share going to Cora's brother. She attended Mary's wedding, shooting a barbed comment to Violet about how the future isn't reflected by the past.
She also made an appearance at Rose's coming out season, where she fended off the advances of a Lord Aysgarth who wanted to marry a wealthy widow for her money. Martha skillfully deflected his advances.
She also got one up on Violet when she told her that while her world was coming closer and closer, because she was not afraid of the future, Violet's world was slipping farther and farther away. After that exchange, Martha gave Violet a very terse good night.
Martha would be referred to in the final episode, when she sent a telegram to Edith after she married Bertie Pelham, the Marquis of Hexham. She referred to not being on the sea, as she was too old to be among them, but mainly meaning that she was pleased that Edith had finally achieved in finding the happiness that had eluded her for so long.
Harold, Cora's brother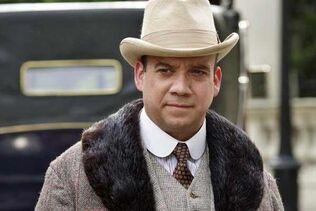 Main article: Harold Levinson
In the final episode of Season Four, MacLaine returned as Martha and American actor Paul Giamatti guest starred as Cora's brother, Harold Levinson, an irresponsible and hopeless playboy, whose "idee fixe", as Martha called it, was yachts of all kinds. He dated all sorts of girls, to his mother's dismay and mortification.
Harold had been mentioned at first when he had persuaded Robert to come to Washington to testify for him in the Teapot Dome Scandal. He had only received a warning.
Harold, a staunch American, hated to come to England, because he did not want to leave America. However, he came along with Martha to see Rose's season in London. He too had been ensnared by a fortune hunter named Madeleine Allsopp, while her father, Lord Aysgarth, would pursue Martha. Both failed in their money-grabbing ventures, although Harold and Madeleine would cultivate a real and lasting friendship.
While in London, he had become so enthralled with the assistant cook, Daisy's fantastic cooking, that he had wanted her to move to America to work for him as his cook.
Daisy, although quite flattered that her cooking was impressive enough that she could be hired away from Downton (and to be hired by an American no less), would decline the offer, because she was thinking of her "family", Mrs. Patmore and Mr. Mason, who would be sad and upset if she left them for good, and generously suggested Ivy, the kitchen maid, as her replacement.
As she had stated, Ivy knew how to cook as well, and Ivy would be the "English Cook" that Harold would want and nobody would really know the difference.
The offer was originally made by Harold's valet, Ethan Slade (Michael Benz), as he had fallen deeply in love with Daisy, but he was afraid he had pushed her away. Nevertheless, Ivy left Downton and moved to New York, where she worked as Harold's cook.
Trivia
Sophie McShera (Daisy Robinson Mason, the assistant cook) had once played sixth form student, Ros McCain, on the long-running BBC school drama, Waterloo Road. She left her role on Waterloo Road to join the Downton Abbey cast. During the run of Downton, McShera also worked with Lily James (Lady Rose) in a version of Cinderella, playing Drisellla Tremaine to James' Cinderella. McShera also showed her adeptness at singing on the ABC musical comedy, Galavant. Also making appearances on the show was Hugh Bonneville (Lord Grantham) as Peter the Pirate King.
Before she was cast as Lady Edith, Laura Carmichael worked as a secretary in a doctor's surgery. The role of Lady Edith was her first ever role.
Lesley Nicol (Mrs. Patmore), had guest starred on the US comedy, The Odd Couple, playing a housekeeper who did not do her job. She currently has a one-woman musical that she performs in.
In 2008, Hugh Bonneville and Elizabeth McGovern (Lady Grantham) worked together for the first time on the BBC Two comedy series, Freezing. Hugh played Matt, a publisher who had just lost his job, and Elizabeth played an actress named Elizabeth who was trying to find work after moving from Hollywood to live with her husband. This somewhat mirrored Elizabeth McGovern's real life, as she moved from America to London to live with her real life husband, Simon Curtis.
Veteran UK actress Sue Johnston (Gladys Denker, Violet's ungrateful and troublemaking Lady's maid) had once played Sheila Grant, one of the main characters in the cul-de-sac neighborhood of Brookside Close, on the British soap opera, Brookside. (During her time on the show, she turned in a bravura performance when Sheila was raped by a cabdriver) She also starred as matriarch Barbara Royle on the later UK comedy series, The Royle Family (She worked with UK actor Ricky Tomlinson, who played her husband on both Brookside and The Royle Family) and she later played Gloria Price on Coronation Street.
Penelope Wilton (Isobel Crawley Grey) had a recurring role of fictitious prime minister Harriet Jones on the BBC sci-fi series, Doctor Who, in 2008.
Phyllis Logan (Elsie Hughes Carson) is married in real-life to Kevin R. McNally, who guested on the show as the overbearing Horace Bryant, the grandfather of Ethel Park's son, Charlie.
Joanne Froggatt (Anna Bates) worked with Sue Johnston on an episode of The Royle Family as Saskia, the girlfriend of Barbara Royle's son; and she also played single mother Zoe Tattersall on the long-running ITV soap Coronation Street
Michelle Dockery (Lady Mary) and Elizabeth McGovern are also musicians, with them working together in Elizabeth's band, Sadie and the Hotheads. Elizabeth fronting the group with Michelle singing with them on occasion.
Awards, Reception and popularity
The series was shown on PBS as a part of the long-running anthology series, Masterpiece Classics, and, like its predecessor, Upstairs, Downstairs, was very well received in the States, having won several Golden Globe awards (including Best Miniseries - Television) in its airing in America and earning legions of fans, not just in America, but all over the world.
It was nominated 27 times for the Primetime Emmy after two seasons (the most of any International based show in Primetime Emmy history); and was the most critically acclaimed English television series in 2011, according to Guinness. It was considered the most watched series on both ITV and PBS, and by the beginning of the third season, it became one of the most widely watched shows in the world.
Dame Maggie Smith (Violet Crawley) also won two Emmy Awards, a Golden Globe Award and a Screen Actors Guild award for her role as the irrepressible Dowager Countess. Also winning awards for their roles was Joanne Froggatt and Brendan Coyle who played married servants, Anna and John Bates, respectively. (Joanne would win the Screen Actors Guild award three times) Michelle Dockery (Lady Mary); Hugh Bonneville (Robert Crawley); and Jim Carter (Charles Carson) had been nominated numerous times for various awards.
The show was unique as the lady of the house was an American-born heiress, known as an American Buccaneer, (unlike the British born Lady Marjorie Bellamy, the Welsh-born Lady Agnes Holland; or the Scottish-born Viscountess Virginia Hamilton Bellamy of Upstairs, Downstairs), who would marry into the British aristocracy to save the family's estates; and the setting was in the Northern Yorkshire region of England, as opposed to the oft-used locale of London, although some stories (most notably with Lady Rosamund and her home in London; or at their house called Grantham House) took place there.
Principal Cast and Characters
DAME MAGGIE SMITH -- Violet Crawley, the Dowager Countess of Grantham, the undisputed head of the family. Mother of Robert and Rosamund, frenemy of both Cora and Isobel; arch-rival of Martha Levinson. Can be argumentative and always angling for the last word on all things and usually gets her own way. 
HUGH BONNEVILLE -- Robert Crawley, the 7th Earl of Grantham, Violet's younger son. At first, the owner of Downton, until Matthew (and later Mary, upon Matthew's death) becomes half-owner. Known as "Donk" (a name he first did not like, but later adapted to) especially by his granddaughter, Sybbie. 
ELIZABETH MCGOVERN -- Cora Levinson Crawley, the Countess of Grantham, Robert's American-born wife whose dowry saved Downton from financial failure. More open to change in the ways of the world than her husband and mother in-law, and mother to Mary, Edith and Sybil.   
SAMANTHA BOND -- Lady Rosamond Crawley Painswick, Robert's widowed older sister who lives in London. Like her mother, has a tendency to interfere in people's lives, but she is also very much fun-loving and lives vicariously through her family. 
MICHELLE DOCKERY -- Lady Mary Crawley Talbot, Robert and Cora's oldest daughter, mother of George. Later half-owner of Downton after her husband's death. Very flint-hearted at times, but she is also very nice and pragmatic when she wants to be. 
LAURA CARMICHAEL -- Lady Edith Crawley Pelham, the Marchioness of Hexham, Robert and Cora's middle daughter, and somewhat considered to be the family failure and spinster. Mother of Marigold. Later becomes a marchioness when she married Herbert Pelham. Owner and operator of a London publishing house (which she inherited from a former paramour). She and Mary are bitter rivals (she has called Mary a slut and a bitch at various times).
JESSICA BROWN FINDLAY -- Lady Sybil Crawley Branson, Robert and Cora's rebellious but very sweet-natured younger daughter, Tom's wife and Sybbie's mother, who tragically died of Eclampsia. She and Mary were very close (with the latter calling her "darling") while she was friendly with Edith and not as close.
PENELOPE WILTON -- Isobel Turnbull Crawley Grey, Lady Merton, Matthew's widowed mother, Violet's frenemy; Lord Merton's second wife, a well-versed nurse who came from a medical family (her father, brothers and her late first husband were doctors). She had a tendency to be more liberal-minded than Violet. After Matthew died, she kind of took Tom under her wing. 
DOUGLAS REITH -- Richard "Dickie" Grey, Lord Merton, Isobel's second husband; Mary's godfather, father of snobbish Larry. 
ALLEN LEECH -- Tom Branson, Sybil's husband, former Crawley chauffeur, father of Sybbie.  He would become the new estate agent, which bonds him closer with the family. He gained a sort-of mother/son bond with Isobel after Matthew died. He would later go into business with his brother in-law, Henry Talbot and would be attracted to Edith's friend, Laura Edmunds. 
DAN STEVENS -- Matthew Crawley, the heir presumptive, Mary's first husband, a solicitor who died in a car crash. Father of George. Upon his death, Mary would become his heiress, and that would make her the half-owner of the estate. 
TOM CULLEN -- Anthony Foyle, Lord Gillingham, one of two men who vie for Mary's affections after Matthew's death.  
NIGEL HARMAN -- Alex Green, Lord Gillingham's valet who viciously raped Anna during a house party. He would later be killed by another of his victims.  
JULIAN OVENDEN -- Charles Blake, the second of two men who vie for Mary's affections after Matthew's death. 
ROBERT BATHURST -- Sir Anthony Strallan, a titled man who jilts Edith at the altar (with the vicious encouragement of Violet). 
MATTHEW GOODE -- Henry Talbot, former auto racer, Mary's second husband, George's stepfather. He and Tom would go into business together. 
HARRY HADEN-PATON -- Herbert "Bertie" Pelham, the Marquis of Hexham, Edith's husband, Marigold's stepfather. 
PATRICIA HODGE -- Mirada Pelham, Bertie's mother who is won over by Edith's honesty after revealing her secret. 
CHARLES EDWARDS -- Michael Gregson, Edith's late paramour and Marigold's birth father. Before his death in Munich, he makes Edith his heiress to his publishing house and wills her his former home.
JIM CARTER -- Charles Carson, Downton's long-time butler, having worked there since Violet's time.
PHYLLIS LOGAN -- Elsie Hughes Carson, the head housekeeper, Mr. Carson's later wife. An exacting, but mostly kind-hearted woman. 
LESLEY NICOL -- Beryl Patmore, Downton's cook, gains an assistant in her former kitchen maid, Daisy. She later opens a B&B in Haughton-le-Skerne. 
SOPHIE MCSHERA -- Daisy Robinson Mason, former kitchen maid, later Mrs. Patmore's second in command.
THOMAS HOWES -- William Mason, former footman, Daisy's late husband who died a half-hour after he married Daisy. 
PAUL COPLEY -- Albert Mason, William's father who takes Daisy in as his own. He also becomes enamored of Mrs. Patmore. 
ED SPELEERS -- James "Jimmy" Kent, William's replacement as footman. Used as a pawn by the conniving lady's maid of Cora to downfall Thomas. 
ROBERT JAMES-COLLER -- Thomas Barrow, scheming first footman, later under-butler and butler, who had a true friend in little George Crawley.  His reason for his animosity was because he was a gay man who couldn't live his own life, because homosexuality was a serious crime in the UK at that time. 
JOANNE FROGGATT -- Anna Smith Bates, head housemaid and Mrs. Hughes most trusted subordinate, later promoted to Lady Mary's lady's maid, Bates's wife. 
KEVIN DOYLE -- Joseph Molesley, Matthew's valet and butler, later becomes a footman at Downton and later leaves service to become a village school teacher. 
CARA THEOBOLD -- Ivy Stuart, Daisy's replacement as kitchen maid. Leaves England to go to America and work for Harold Levinson as his new cook. 
BRENDAN COYLE -- John Bates, Lord Grantham's former batman and his personal valet; Married to Anna. 
RAQUEL CASSIDY -- Phyllis Baxter, Cora's third lady's maid, and close friend of Molesley.  Retains her job, despite her criminal record. 
SIOBHAN FINNERAN -- Sarah O'Brien, Cora's scheming first lady's maid; once Thomas' friend, but later his most dangerous adversary. She leaves Downton for India.  
MATT MILNE -- Alfred Nugent, O'Brien's nephew; a footman who later became a chef in London. 
LUCILLE SHARP -- Reed, Martha Levinson's lady's maid. Gives her notice after Martha screams at her far too many times. 
DAISY LEWIS -- Sarah Bunting, a Downton Village school teacher, who charms Tom, aggravates Robert and teaches Daisy.
DAVID ROBB -- Dr. Richard Clarkson, the head of Downton Cottage Hospital
SHIRLEY MACLAINE -- Martha Levinson, Cora's very American mother, and arguably, Violet's most ferocious adversary, more so than Isobel. 
PAUL GIAMATTI -- Harold Levinson, Cora's brother who comes to England from America with his mother for Rose's season. He gains a new respect for British cooking and hires Ivy to become his new cook. 
ZOE BOYLE -- Lavinia Swire, Matthew's second fiancee who dies of Spanish Flu.
IAIN GLEN -- Sir Richard Carlisle, Mary's conniving newspaper owner fiancé before Matthew
MARIA DOYLE KENNEDY -- Vera Bates, John Bates' scheming and vindictive first wife who committed suicide
LILY JAMES -- Lady Rose MacClare Aldridge, Violet's great niece who marries a scion of a Jewish lord. Daughter of Shrimpie and Susan. Loves her father, but does not get along with her mother. 
THEO JAMES -- Kemal Pamuk, Mary's forbidden lover who died in her bed ruining her reputation.
MATT BARBER -- Ephraim Atticus Aldridge, Lady Rose's husband who comes from a Jewish background. 
JAMES FAULKNER -- Daniel Aldridge, Lord Sinderby, a leading figure in the Jewish community. Rose's father in law who accepts her after she protected his reputation from scandal. 
PENNY DOWNIE -- Rachel Aldridge, Lady Sinderby. Rose's mother in-law, who accepts her at the outset. 
MICHAEL C. FOX -- Andy Parker, the footman who replaces James. He finally catches the heart of assistant cook Daisy. 
ANTONIA BERNATH -- Laura Edmunds, Edith's new editor at her magazine and her new friend. Catches the eye of (and vice versa) Tom Branson. 
VICTORIA EMSLIE -- Audrey, Edith's secretary at her magazine
PETER EGAN -- Hugh "Shrimpie" MacClare, Lord Flintshire, Rose's father, a diplomat in the Foreign office, who is more caring than her mother. Gave the speeches at Edith's wedding in the series finale. 
PHOEBE NICHOLLS -- Susan MacClare, Lady Flintshire, hates Rose (the feeling is mutual), Shrimpie's ex-wife; manipulated O'Brien to leave Cora to become her lady's maid; and nearly sank Rose's wedding to Atticus, which allowed Rose to tell her off.
SUE JOHNSTON -- Gladys Denker, Violet's ungrateful, troublemaking lady's maid. She and butler Spratt are enemies. 
JEREMY SWIFT -- Septimus Spratt, Violet's aloof and somewhat snobbish butler. He and lady's maid Denker are arch-enemies. 
CHRISTINE LOHR -- Mrs. Bird, Isobel and Matthew's long-time cook. She came with them to Downton from Manchester. She left after having heard about Ethel Parks becoming the new servant, headed back to Manchester.
MYANNA BURING -- Edna Braithwaite, former housemaid and lady's maid who is sacked twice for trying to seduce Tom Branson. 
AMY NUTTALL -- Ethel Parks, Gwen's replacement as housemaid. She is sacked for an affair with a soldier. Later becomes temporary cook-housekeeper for Isobel, though her past as a prostitute nearly sinks the family. She later gains a job outside of Downton and is nearer to her son, Charlie. 
ROSE LESLIE -- Gwen Dawson Harding, former housemaid who leaves service (thanks to the help of Lady Sybil) to become a secretary and later marries. 
PHILIP BATTLEY -- John Harding, Gwen's husband, who finally met his wife's old friends and companions in service in the final season.
FIFI HART -- Miss Sybil "Sybbie" Branson, Tom and the late Sybil's charming daughter. As rebellious and sweet natured and peacemaking as her mom and dad.  Calls Robert "Donk" from a game of Pin the Tail on the Donkey. Cora dotes on her, as she is the most tangible link to the late Sybil. 
OLIVER and ZAC BARKER -- Master George Crawley, the future 8th Earl of Grantham, son of Mary and the late Matthew. He and servant Thomas Barrow are close friends.
EVA and KARINA SAMMS -- Miss Marigold Crawley Pelham, daughter of Edith and the late Michael Gregson. A shy violet girl who lived on a farm until she was brought back to her family.