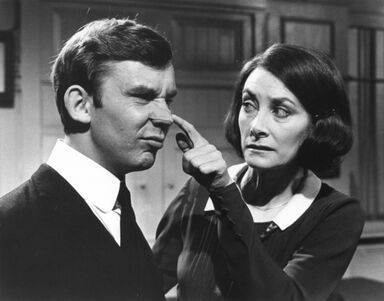 Edward Barnes was a character on the 1970s UK period drama, Upstairs, Downstairs. He was played by actor/comedian Christopher Beeny.
Cheeky Footman, later butler
Edward was the footman, later chauffeur, for the Bellamy family at 165 Eaton Place, a fashionable townhouse in the exclusively wealthy area of London called Belgravia. He replaced the former footman, Alfred Harris, after he had left the Bellamy's employ for Germany, with a spy named Baron von Rimmer.
The always cheerful, but very cheeky, Edward, came from Pultney, with questionable references, but he grew into his work, and did a very good job.
During his being a valet for James Bellamy at Sommerby House, he was witness to a Lord Gilmour having an affair with one Natalie Tewkesbury, a socialite. This almost caused him to be brought into court as a witness, and got him a scolding from his superior, Angus Hudson. However, Mr. Hudson helped him in the end, when he reported that he had been bribed, and gave the bribe to charity. After that, Edward went to the pub and got drunk and was tormented by an investigator for Sir Geoffrey Dillon, Tewkesbury's solicitor. Hudson put the blackguard in his place, and then Edward never went back to the pub again.
He fell in love with fellow servant, Daisy Peel Barnes, despite the stigma of households not having married servants. They were married, and Edward was called off to war. While in the war, he picked up a bad case of shell shock, after seeing his closest friend, who was his best man at his wedding, being killed. He was pulled out of the military, and put in a hospital.
Before that, however, he had to deal with Alfred, who had pulled a knife on him, and was terrorizing the household. Edward disarmed the mad former servant, and allowed the cops to arrest him.
At series' end, Edward and Daisy gained jobs as Butler and House maid, respectively, for the new Marquis and Marchioness of Stockbridge.
Ad blocker interference detected!
Wikia is a free-to-use site that makes money from advertising. We have a modified experience for viewers using ad blockers

Wikia is not accessible if you've made further modifications. Remove the custom ad blocker rule(s) and the page will load as expected.