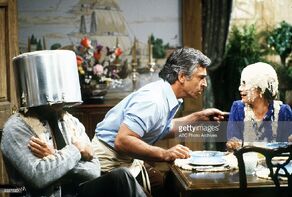 Eunice Leitner (nee Tate) is a character on the serial formatted situation comedy, Soap. She was played by former actress, Jennifer Salt.
Eunice is the natural born daughter of Jessica Tate and Chester Tate. She has two siblings, one of which, Corrine, is adopted. Her full-blood brother is Billy. She is a journalist, who underneath her ice-queen façade is also very diffident. She scorns sexuality, but yet has had affairs.
Her most notable affair was with a married congressman, Walter McCallum (Edward Winter), who broke it off after his wife, Marilyn (Judith-Marie Bergan) demanded he do so. The spineless milksop agreed to it, and Eunice never saw him again.
Not long after her father had been sentenced to prison for murder, his cell-mate, Dutch Leitner (Donnelly Rhodes) and Chester had escaped their cell, and were hiding in the Tate household. Dutch fell in love with Eunice, and she fell hopelessly in love with him.
Despite a few bumps and Dutch being returned to prison for his escape; Eunice still loves him and helps him become free after a deal he struck.
Until a new servant arrived, Dutch did a lot of the cooking (At this point, while Chester became even more antagonistic, Dutch became progressively stupid.)
Eunice cheated on him (it seemed that cheating ran rampant in the family!) and that caused jealousy to fester (one instance led Dutch to dumping a pot of porridge on Eunice's head and him putting the pot on her father's head and then ringing his bell with the spoon!) in their relationship. They broke up and Eunice was alone while Dutch dated and slept with her sister, Corrine.
However, Eunice and Dutch finally overcame things, and were eventually married. Eunice had another enemy in her former college roommate, Annie Selig (the late Nancy Doland), who had just married her father, Chester, after he had been divorced by her mother, Jessica.
Eunice had some issues with her aunt, Mary Campbell's son, Jodie, as he often stole some of her clothes. However, Eunice clearly loved her crazy family.
Ad blocker interference detected!
Wikia is a free-to-use site that makes money from advertising. We have a modified experience for viewers using ad blockers

Wikia is not accessible if you've made further modifications. Remove the custom ad blocker rule(s) and the page will load as expected.