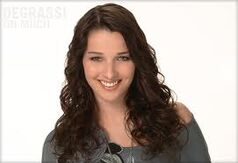 &nbsp
Fiona Coyne is a main character from the hit Canadian soap opera series, Degrassi. She made her first appearance as a main character in the 9th and final season of Degrassi: The Next Generation as a rich and spoiled fashionista, the twin sister of Declan and daughter of a politician father. She is originally from New York City, but she has lived all over the world, described as a child nomad. She has lived in places like Geneva, Paris, Rome, Madrid, and other places. She and her brother were both born in Japan. The biggest change for her is when she moves to Toronto during the second semester of 11th grade. She is quite shy there, and doesn't enjoy getting all of the attention from the "dirtbags" of Degrassi. She doesn't like the school very much, and greatly misses New York. In order to get these sleezy guys away from her, she made a deal with Declan: she'd keep his secrets (the ones she knows about) and he'd keep the guys away from her. She is known for being close to her brother. Fiona has always had problems in her relationships, and revealed that this was because she was trying to be like "normal girls". Fiona came out as a lesbian recently, and fell in love with Holly J. Despite this, they are best friends, and Fiona soon takes an interest in a female figure model named Charlie. Fiona is currently her senior year after the summer due to her various absences (with Bobby in court and such), resulting in her not getting enough credits. She also has become good friends with both Eli Goldsworthy and Anya MacPherson. Fiona is now dating Imogen Moreno.
Degrassi: TNG Season 9
Interview with Fiona and Declan: http://www.youtube.com/watch?v=XJpbC8TGzps&feature=related
Fiona Coyne is a regular in the season, but isn't shown nearly as much as her twin brother, Declan. She and her brother are shown as the stereotypical kids of teen dramas (who are always rich and "attractive"). She is a bit of a villain, and had quite a feud with anti-hero, Holly J. Sinclair.
In Just Can't Get Enough, Fiona and Declan make their first appearance when they exit their limo, and are interviewed by Chantay. She shows them around the school as they explain that they are travelers due to their dad being a diplomat. Mia and Peter are introduced to them, so Declan and Fiona tell them to come to their dad's diplomat posh party. At the party, Declan sets up Peter to be ridiculed, and Fiona shakes her head, knowing what her brother is capable of. Fiona goes to comfort an insecure Peter and chastises her cousin Victoria for giving him meth. She also tells Viki to shut up when Viki says that Fiona and Declan are "really close". She receives much unneeded attention from Fitz and Bruce the Moose.
In Shoot to Thrill, Dave keeps flirting with Fiona in fashion club. To get him to stop, she lies and says that she is seeing Riley, who asks her out when he hears the rumor. On the date, Riley's ex-fling Nathan shows up and asks Fiona for some information on Riley. Riley returns from getting drinks and tells Fiona that they should leave, because his Nathan is one of the many "druggies" around that area. Fiona initiates their relationship, though she is suspicious of his sexual orientation. She tells Declan that she believes Riley is gay, but Declan doesn't agree.
In Beat It, Riley gets aroused in lifeguard class to Sam, the teacher, when he performs CPR. When Fitz mentions it at lunch, Riley says that he was thinking of Fiona. Riley wants to sleep with Fiona to prove that he isn't gay, and invites her to his house. When he does this, he starts making out with her, btu she tells him to stop. She makes a remark about him being homosexual, so Riley gets mad and tells her to leave. Fiona confronts Riley the next day, telling him that something is wrong with him. Instead of accepting that he is gay, he gay bashes people. She dumps him because of his unaccepting behavior. A day later, Riley tells Fiona that he has found a "cure" for his "condition". Fiona tells him that curing homosexuality is impossible, and that she doesn't get why he can't just be himself. She starts to walk away when Riley says "too bad you can't cure a bitch!". Fiona tells him that she doesn't want to speak to him anymore.
Degrassi season 1:
Fiona does not end up transitioning to her new NYC school very well, and as such, re-attends Degrassi in the 2008-2009 school year. She is best friends with Holly J. and Anya MacPherson.
Degrassi season 2:
Fiona returns to Degrassi after spring break to finish up 12th grade, but she ends up having to repeat the year. She will also have a successful lesbian relationship, and becomes good friends with Eli.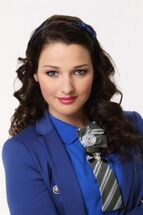 Relationships: 
Sebastian:
Start Up: Likely at the same time as Degrassi: TNG Season 8
Break Up: Likely in winter 2007
Reason: Fiona and Sebastian were more pen pals than a couple, and she moved away to Toronto to complete her junior year.
Riley Stavros:
Start Up: Shoot to Thrill
Break Up: Beat It
Reason: Riley was gay and Fiona knew it. He wanted to "cure" his sexuality, but when Fiona told him that it is impossible, he called her a bitch and she said she never wanted to speak to him again.
Bobby Beckonridge (a wealthy family friend from New York):
Start Up: Sometime in the summer of 2008
Break Up: Breakaway
Reason: Bobby cheated on Fiona and hit her several times when she found out about it. Fiona returned to Degrassi shortly after. It wasn't really love keeping them together because Fiona's mom arranged for them to be together. Fiona took Bobby to court and won her case (Bobby attends anger management and Fiona gets $250,000 from him)
Start Up: When Love Takes Over
Break Up: Chasing Pavements
Reason: Fiona and Adam had been using each other when she was drunk and she was mean to him. After she returned from rehab, they reconciled, but Fiona was still using him. Adam found out that she is lesbian (she loves Holly J. and has never liked a boy), and dumped her.
Start Up: In the Cold, Cold Night

Ad blocker interference detected!
Wikia is a free-to-use site that makes money from advertising. We have a modified experience for viewers using ad blockers

Wikia is not accessible if you've made further modifications. Remove the custom ad blocker rule(s) and the page will load as expected.