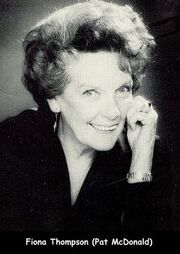 FIONA THOMPSON was a character in the 1980s soap opera, Sons and Daughters. She was played by the late Australian actress Pat McDonald.
A wise and understanding woman, in spite of her previous life as a madame and as a prostitute, Fiona had a heart that was as big as all get out.
In 1962, the former Madame and prostitute owned a boarding house in Sydney, Australia. At that time, a young couple named David Palmer (Tom Richards) and Patricia Dunne (Rowena Wallace) showed up on her doorstep. In desperate need of shelter, Fiona took the two young people in and gave them a room.
Patricia, who was pregnant, gave birth to twins, a boy and a girl. During the night, however, Patricia left David, taking her daughter with her.
David couldn't handle the loss of his daughter, so he left too, but knowing he could not take care of his son on his own, he had left him for Fiona to take care of, which she did. She raised him using the alias Scott Edwards, the name of Fiona's nephew; but he was really named John Palmer.
Several years later, Fiona had the opportunity to confront the selfish Patricia for what she had done to her family, and to her children.
Besides her nephew, Scott, she also had a niece named Janice Reid (Rima te Wiata), a rather ordinary woman, but later realized her strengths and her inner beauty, thanks to the support from her aunt.
Just as the show began with Fiona taking in a young couple (David and Patricia) in need of shelter, the series ended the same way. Fiona took in a young couple who desperately needed a place to stay, as the young woman was in the last stages of her pregnancy. Fiona thought back to 1962, when she had taken in David and Patricia. The young man asked if she was all right. Fiona smiled and said, "Yes, I am fine. You've just taken me back a long time."
The show's final scene showed Fiona coming out of the room wiping her hands on a towel, while two babies cries were being heard, and asking the young man, just as she asked David, "Which would you rather have? A boy or a girl?" The young man answered, "I don't care, as long as they are healthy." Fiona smiled at him, "You got both. Twins."
Although Fiona didn't have too many stories of her own, her role being mainly as a supportive friend, she was a linchpin of the show. The main storyline she had was when her boarding house was burned to the ground, and her house was replaced with a mansion that she received from her friend, Gordon Hamilton.
Ad blocker interference detected!
Wikia is a free-to-use site that makes money from advertising. We have a modified experience for viewers using ad blockers

Wikia is not accessible if you've made further modifications. Remove the custom ad blocker rule(s) and the page will load as expected.