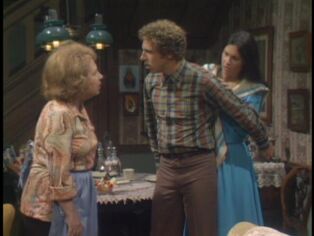 Flo Flotsky was a character in the second season of the soap sitcom, Soap. She was played by television veteran, Doris Roberts.
The woman was crazy!
Flo was the mother of Father Tim Flotsky (Sal Viscuso), a priest in the town of Dunn's River, Connecticut. She was so proud when her son, whom she was abnormally close to, became a priest, because she did not want him to be married at all.
She was like most mothers where no woman was good enough for her son. So, it was absolutely shocking for her when Tim announced that he would be leaving the priesthood for his long-time childhood girlfriend, Corrine Tate.
She was quite angry.  To the point where she would attempt to strangle Corrine for taking her son out of the priesthood. She would refuse to bless the marriage, instead, she CURSED it!
At the wedding itself, Flo made a complete fool of herself, by ranting and raving that Tim had promise as a Bishop or even a Cardinal, but because he had married the she-devil daughter of a murderer and a philanderer, his life was ruined.  She was ushered out by the groomsmen, and, pretending that he did not hear her ranting and raving; the presiding priest, married Tim and Corrine.
During their honeymoon, Flo tried to destroy that, by demanding that Tim come to her bedside. After he came, and she again cursed them, she died in her bed. 
In the next season, her curse took effect when Tim and Corrine's son, Timmy, was possessed by Satan. With the aid of Jessica, the demon was exorcised, and Timmy was a normal little boy. Tim would eventually annul the marriage and return to the Priesthood, and Corrine and Timmy would move to California to begin some semblance of a normal life, away from the craziness of Dunn's River. 
Ad blocker interference detected!
Wikia is a free-to-use site that makes money from advertising. We have a modified experience for viewers using ad blockers

Wikia is not accessible if you've made further modifications. Remove the custom ad blocker rule(s) and the page will load as expected.