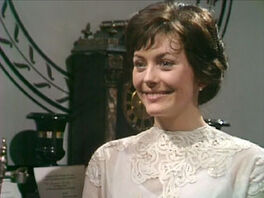 Georgina, the Marchioness of Stockbridge (nee Georgina Worsley) was a character on the 1970s period drama, Upstairs, Downstairs. She was played by actress Lesley-Anne Down, who became better known for her roles on American Soap Operas, such as Sunset Beach and her most well known role of Jacqueline Payne Marone on The Bold and the Beautiful.
Georgina Worsley is the daughter of the late Marian Worsley, who was married to Hugo Southwold, the brother of Lady Marjorie Bellamy. When her mother, her new stepfather, and her aunt all perished when the Titanic sank in 1912, Georgina, after a time of living with her step-grandmother, Lady Mabel Southwold, would later move into 165 Eaton Place, with her step-uncle, Richard Bellamy.
She would have an unadvised affair with her step-cousin, James Bellamy, whom she called "Jumbo". In spite of it, she was a very compassionate woman, much like her step-aunt. She gained a friend in housemaid Daisy Peel Barnes, since they were close to the same age. She offered to help her new friend over Christmas, but it failed, and nearly got Daisy sacked and her in trouble with her uncle and Lady Southwold. However, both forgave her, as her intentions were good.
Georgina would later become a member of a group called the Bright Young Things, who were only out for having a good time, which was a far cry from when she was a nurse during the war. One of her antics caused the death of a farmer. She was spared any real jail time, but the realization helped sober her very much.
She fell in love with Robert, the Marquis of Stockbridge, and very much wanted to marry him. His parents, however, sent him on a world cruise to have him see if she was worthy to marry him, but despite that, he fell in love with her, and they would eventually marry. When James died, she was named executor of his will, although there wasn't much left, except debts.
Her step-aunt, Virginia Hamilton Bellamy, would help with that. She invested 2000 pounds from her own holdings and investments to help Georgina be able to marry properly. She and Robert were married in a lavish ceremony and she and the Marquis retained Edward and Daisy as their butler and head house maid, respectively.
Ad blocker interference detected!
Wikia is a free-to-use site that makes money from advertising. We have a modified experience for viewers using ad blockers

Wikia is not accessible if you've made further modifications. Remove the custom ad blocker rule(s) and the page will load as expected.