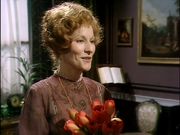 HAZEL BELLAMY (nee Hazel Patricia Forrest) is a character on the 1970s UK period drama, Upstairs, Downstairs. She was played by actress Meg Wynn Owen.
From Secretary to Socialite
We first meet Hazel Forrest as a secretary for Richard Bellamy, whom he has hired to work with him on his writing of his late father in-law's biography. She was more middle-class, who lived with her parents in Wimbledon. Her family had originally lived in Putney, and she had been married to an alcoholic man named Patrick Collins. She was the object of affection of James Bellamy, who had a tragic affinity for falling in love with women who were not of his class.
In fact, she had been treated to a luncheon by James, which annoyed the domestic staff, because of the fact that James had told the staff he would not be in for luncheon. What made matters even worse was that James insisted on a certain kind of Claret wine be drank, in spite of standing orders against it, set up by his father.
Eventually, Hazel did fall in love with James, and they did get married.
At first, Hazel was not too well liked among the servants, because of her being middle-class. She proved her worth by helping Maude Roberts after she kept holding on to Lady Marjorie's jewelry case and she convinced her to open it up.
However, although she did make friends with Rose Buck; she and Angus Hudson never got along, as he did not accept her, a middle-class woman, as being the lady of the house. Although he did try to get on with her, he was never able to reconcile with her being the lady of the house.
Hazel herself had her share of troubles in acclimating to the lifestyle of upper class. During a hunting party at Sommerby, Hazel was talked into a practical joke, where she rode a horse that she couldn't really control. James was infuriated by that, and they had their first row as a couple. Richard was infuriated by how James treated his wife.
After a miscarriage, Hazel was even more depressed, especially with James' treatment of her after that. She was a very compassionate woman who also helped the staff below stairs whenever she could, to the dismay of James.
She however died in the 1918 Spanish flu epidemic, just days before World War I ended.
Ad blocker interference detected!
Wikia is a free-to-use site that makes money from advertising. We have a modified experience for viewers using ad blockers

Wikia is not accessible if you've made further modifications. Remove the custom ad blocker rule(s) and the page will load as expected.