&nbsp
Holly Jeanette Sinclair is a former rich girl from the Lakehurst High School in Degrassi: The Next Generation. Currently, she is a senior attending DCS after her old school burned down in a fire. She is also a main character of the new arc in the Degrassi franchise, which is simply called Degrassi . She is known to be a queen bee, but after her money troubles started, she became more compassionate and nicer to other people.
Degrassi: TNG Season 7:
Holly J. arrives at Degrassi as the younger sister of former queen bee and enemy of Paige after Lakehurst burns down over the winter break of 2006-2007. She is the primary villain of the show, bullying the other kids of either her grade or those in grades below her, and hurling insults at the older kids. She is a sophomore.
Degrassi: TNG Season 8:
Holly J. comes back to Degrassi for 11th grade.
Degrassi: TNG Season 9:
Holly J. returns after winter break with a new set of goals in mind, including becoming popular by being nicer.

Degrassi Season 1: 
Holly J, starts her last year at Degrassi, determined to meet up with Declan at Yale after graduation.

Degrassi Season 2:
Holly J. comes back after spring break.
Relationships:
Blue Chessex:
Start Up: Didn't We Almost Have It All?
Break Up: Money for Nothing (because Blue thought Holly J. was too selfish after a misunderstanding)
Second relationship start up: Danger Zone
Break Up: Just Can't Get Enough (because Blue tried to change Holly J.)
Start Up: Love Games/Waiting for a Girl Like You
Break Up: Degrassi Takes Manhattan, The Heat is On (because Holly J. was tired of coming second to Fiona)
Second relationship:
Start Up: Degrassi Takes Manhattan, The Heat is On
Break Up: Try Honesty (because Holly J. thought that Declan was trying to buy her love. She sleeps with him later on, though.)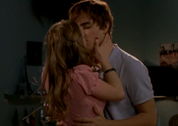 Start Up: You Don't Know My Name
Break Up: Halo (because Sav discovered that Holly J. cheated on him by having sex with Declan.)
Second relationship:
Start Up: Halo
Break Up: Drop the World (because Holly J. felt that they were just good friends and didn't have romantic feelings for each other.)

Ad blocker interference detected!
Wikia is a free-to-use site that makes money from advertising. We have a modified experience for viewers using ad blockers

Wikia is not accessible if you've made further modifications. Remove the custom ad blocker rule(s) and the page will load as expected.