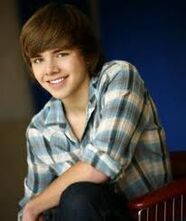 Kirk Cameron "K.C." Guthrie is a main character from the Canadian drama,
Degrassi. He was first introduced in the prequel series to this arc, Degrassi: The Next Generation, as a freshman in seasons 8 and 9. He quickly changed from being one of the show's protagonists to a primary villain.
Degrassi: TNG Season 8
Degrassi: TNG Season 9
Degrassi: Season 1
Relationships:
Start Up: Danger Zone
Break Up: Heart Like Mine
Reason: Clare and K.C. only made each other angry. Also, K.C. and Jenna were crushing on each other, no matter how hard they tried to ignore it.
Start Up: Heart Like Mine
Break Up: Tears Dry On Their Own
Reason: Jenna was pregnant and couldn't get an abortion (nor did she want to). K.C. didn't want to be involved with her or the baby.
Second relationship with Jenna:
Start Up: Halo
Break Up: Lose Yourself (because KC cheated on Jenna with Marisol and Tyson was really the only thing keeping them together)
Start Up: Dirt Off Your Shoulder
Break Up: Lose Yourself (because KC felt guilty for cheating on Jenna)
Ad blocker interference detected!
Wikia is a free-to-use site that makes money from advertising. We have a modified experience for viewers using ad blockers

Wikia is not accessible if you've made further modifications. Remove the custom ad blocker rule(s) and the page will load as expected.