&nbsp
Katie Matlin, portrayed by Chloe Rose, is a character on the Canadian teen soap, Degrassi. Katie works hard, whether it is bicycling, trying to make the National Women's Under-17 Soccer Team, or editing the Degrassi Daily Newspaper, and she expects other to manage their emotions, just as she does. Katie is an overachiever and prepared for many things...except love.
Degrassi Season 2:
It is strongly hinted that Katie and Adam will take a liking towards each other in a romantic way. Also, Katie is best friends with cheerleader Marisol. Katie is a junior in Now or Never and a senior for the second half of the season. Katie is an alpha girl and overachiever who wants to avoid Clare, whom she views as a drama queen.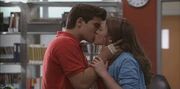 Relationships:
Ad blocker interference detected!
Wikia is a free-to-use site that makes money from advertising. We have a modified experience for viewers using ad blockers

Wikia is not accessible if you've made further modifications. Remove the custom ad blocker rule(s) and the page will load as expected.