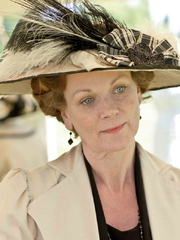 Lady Rosamund Painswick (nee Crawley) is a character on the UK-US period drama, Downton Abbey. She was played by UK actress Samantha Bond.
Violet's daughter
Rosamund is the daughter of Violet Crawley, the dowager countess of Grantham and her late husband, Patrick Crawley, the 6th Earl of Grantham. Her younger brother, Robert Crawley, is the current Earl of Grantham. When he passes on, barring any complications, her great-nephew, George Crawley, would become the 8th Earl of Grantham.
She was married for many years to a man named Lord Marmaduke Painswick, and lived in a ritzy part of London.
At first, she lived in Eaton Square, but she later moved to 35 Belgrade Square. She and Lord Marmaduke never had any children, so she felt compelled to live vicariously through her nieces, Lady Mary Crawley (George's mother); Lady Edith Pelham; and Lady Sybil Branson. She had a more gracious relationship with her brother's wife, Cora Crawley, than her mother did.
During the show's final two seasons, Rosamund became a more recurring role, as she became a bigger part of the family. She and her mother scrapped a bit of the time, as both of them could be stubborn.
She got on well with her nephew in-law, Tom Branson, who had been married to the late Sybil, and would be escorted by him at times. She also adored Tom's young daughter, Sybbie.
Rosamund was originally the only one who knew that Lady Edith had been pregnant and was with her when she gave birth to her daughter, Marigold. She had wanted Edith to give her up, but understood, much later on, when Edith wanted to get her back. In fact, Rosamund had met Marigold.
However, more people learned about the child's existence, including Violet, and eventually Cora. Eventually, Cora would berate her in-laws for not letting her know about Edith and Marigold, but she forgave them.
When Mary destroyed Edith's engagement after letting it be known about Marigold, Rosamund was one of those, (Tom and Edith were the others) who confronted Mary on her selfishness. Rosamund was invited to Edith's wedding and the series ended with her and her mother talking about what a British happy ending was like.
Ad blocker interference detected!
Wikia is a free-to-use site that makes money from advertising. We have a modified experience for viewers using ad blockers

Wikia is not accessible if you've made further modifications. Remove the custom ad blocker rule(s) and the page will load as expected.