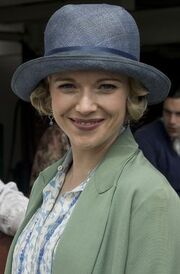 Laura Edmunds was a character on the series, Downton Abbey. She was played in the series final season by actress Antonia Bernath.
Edith's editor and close friend
Laura Edmunds was introduced as the newly hired editor of Lady Edith Pelham's magazine, The Sketch. She replaced former editor, Mr. Skinner, because he hated the idea of working for a woman, especially on a woman's magazine. Because they were the same age, she and Edith would become very good friends.
Laura was a rarity, as she was one of the few women (as had previous character, Sarah O'Brien) who smoked cigarettes, which was often frowned upon, in that time, especially since smoking was a mainly male domain.
During a trip to Brooklands, to watch racing, Laura was introduced to the entire family, who accepted her outright. She also would catch the eye of Edith's brother in-law, Tom Branson, who would be equally entranced by her.
The two chatted a lot after that. She was also introduced to Edith's aunt, Lady Rosamund Painswick, who found her working for Fleet Street very impressive.
At Edith's wedding to Herbert "Bertie" Pelham, she would be seated near the family, and would be assured by Tom that he would love to see her again, as the Crawley family would welcome another strong woman into the fold. She spent time with the family and she and Tom bonded along with Henry Talbot, Mary's husband. She would also catch the bridal bouquet, a fact which truly pleased Edith.
It was presumed that since Edith was now married and was the new Marchioness of Hexham, Laura would take on more of the responsibilities of running the magazine, as she was now Edith's second in command. Edith would still oversee the publishing house, and she would have rented out the flat she gained from Michael as well (possibly to Laura herself). Laura would also not be averse to seeing more of Tom, and she presumably got to know and to love Tom's daughter, Sybbie Branson.
Ad blocker interference detected!
Wikia is a free-to-use site that makes money from advertising. We have a modified experience for viewers using ad blockers

Wikia is not accessible if you've made further modifications. Remove the custom ad blocker rule(s) and the page will load as expected.