Leyla Mir
is a
fictional character
that premiered on the
SOAPnet
drama series,
General Hospital: Night Shift
, and has crossed over into the parent series
General Hospital
. She is portrayed by
Nazanin Boniadi
.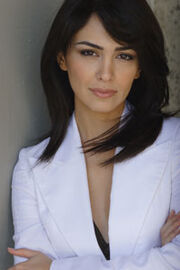 Character history
Leyla begins her job as a student nurse at General Hospital, and hopes one day to become a doctor. When Dr. Patrick Drake ends his relationship with Dr. Robin Scorpio, Leyla begins a romantic relationship with him. As their relationship progresses from purely physical, she accompanies him to a black and white ball thrown by Nikolas Cassadine in honor of his engagement to Emily Quartermaine. Homicidal mob boss Anthony Zacchara, who is obsessed with his son Johnny, terrorizes many of the guests. Upon seeing Leyla, who bears a remarkable resemblance to the wife killed, forces the nurse to choose between the lives of Patrick and Robin. Leyla chooses for anthony to shoot Patrick, but steps in front of the bullet at the last moment. The doctors are able to save her life, but despite her sacrifice, Patrick and Robin reconcile. When Farah Mir, Leyla's domineering mother, comes to Port Charles, Leyla pretends she is in a serious relationship with Dr. Leo Julian. When Leo is unable to attend a family wedding with her, Damian Spinelli steps in, and the two share a romantic attraction. Maxie Jones, who Spinelli is secretly in love with, warns the nurse not to pursue her best friend if she is going to hurt him, but the nurse hints at Spinelli's attraction to Maxie and makes no promises about a future relationship with him.
External links
Ad blocker interference detected!
Wikia is a free-to-use site that makes money from advertising. We have a modified experience for viewers using ad blockers

Wikia is not accessible if you've made further modifications. Remove the custom ad blocker rule(s) and the page will load as expected.