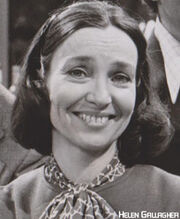 Maeve Ryan (nee Colleary) was one of the principal characters on the now-defunct soap opera, Ryan's Hope. She was played by Tony-award winning actress, Helen Gallagher.
The Ryan Matriarch
Maeve Ryan is the co-owner, along with her husband, Johnny, of Ryan's Bar, a bar and grill located in Riverside (the real-life Washington Heights area) a neighborhood located in the Upper West Side of Manhattan in New York City. She also has a sister, Annie, who still lives in Ireland, with their widowed father.
She met and married Johnny in the 1920s and they moved to New York from Ireland. They have five children, Francis (called Frank) a former police officer turned attorney; Patrick (Pat, sometimes called Paddy), a doctor at nearby Riverside Hospital; Mary, a journalist who was killed by the mob; Cathleen, a housewife who lives in Pittsburgh, Pennsylvania; and Siobhan, a police officer.
She is also the grandmother of John Reid Ryan (the son of Frank and his first wife, Delia Reid Ryan); Ryan Fenelli (the daughter of Mary and Jack Fenelli); Edmund (the son of Frank and his later wife, Jillian Coleridge); Mary (also the daughter of Frank and Jill); Maura and Dierdre (the daughters of Cathleen and her husband, Art Thompson); and Sean Novak (the son of Siobhan and her husband, Joe Novak).
She is a very loving and kind mother, but she also has a very Irish temper. She can be very harsh when she scolds people, but if you are on her good side, she is someone who will go to the mat for you and love you with a love and gentleness that seems to be a part of her life.
Her closeness to Jill Coleridge is famous. While she loves all the Coleridges (her husband, Johnny and their father, Ed, were old friends), she seems to have a special fondness for Jill. She thinks that she should have married Frank and he shouldn't have married Delia.
Her most well-known trait was her yearly singing of "Danny Boy" every St. Patrick's Day. In the series finale, she would sing it at the wedding of Jack Fenelli and Leigh Kirkland, and everyone in their lives would join in.
Ad blocker interference detected!
Wikia is a free-to-use site that makes money from advertising. We have a modified experience for viewers using ad blockers

Wikia is not accessible if you've made further modifications. Remove the custom ad blocker rule(s) and the page will load as expected.