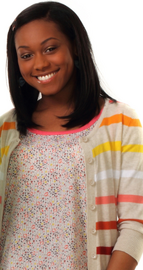 &nbsp
Marisol Lewis is a character on Canadian teen telenovela, Degrassi. From the looks of the promos, she will be a boyfriend stealer-type villainess. She is played by Canadian actress Shanice Banton.
Degrassi Season 1:
Marisol is introduced as a bubbly cheerleader in 11th grade (2008-2009 school year) who is known to date jocks. Marisol is depicted as a follower and does whatever anyone else wants.
In 99 Problems, she is seen at a Powersquad lunch meeting and also looking at the list of who got into the Powersquad for the year. Later, Riley brings Marisol as a date to the football team barbeque as a cover that he is gay. He calls her Marilyn by accident, so Marisol gets annoyed and leaves. Marisol develops a crush on K.C. and starts to text and flirt with him. Jenna is annoyed by this and thinks that K.C. is having an affair with her because his phone is always ringing and Marisol is borrowing his notes all the time. However, Jenna goes snooping and finds out that K.C.'s mom is the one who is always calling him.
In You Don't Know My Name, Drew asks out Marisol to get over his problems with Alli, only to realize that she is a boring follower on their date at The Dot. Drew realizes that he likes Alli and makes it quite clear to Marisol at the Hoedown Dance, which causes Marisol to, as she had done with Riley, storm off.
In Love Lockdown, Marisol and Anya enter The Dot to meet Chantay when Chantay wants to get the Powersquad back on track. Marisol leaves later to meet up with her new beau.
Degrassi Season 2:
Marisol is a main character this season, along with her athletic BFF Katie Matlin. She ends up having a fling with KC, even though he is in a relationship with Jenna Middleton.
Relationships:
Start Up: Dirt Off Your Shoulder
Break Up: Lose Yourself (because KC felt guilty for cheating on Jenna)
Ad blocker interference detected!
Wikia is a free-to-use site that makes money from advertising. We have a modified experience for viewers using ad blockers

Wikia is not accessible if you've made further modifications. Remove the custom ad blocker rule(s) and the page will load as expected.