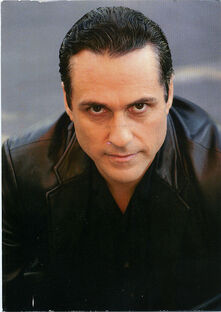 |Maurice Benard (born Mauricio Jose Morales on March 1, 1963) is an American actor of Nicaraguan and Salvadoran ethnicity.
Benard started his soap career as Nico Kelly on All My Children from 1987 to 1989. Today he is known primarily for his Daytime Emmy Award-winning portrayal of romantic mobster Michael "Sonny" Corinthos, Jr. on the ABC soap opera, General Hospital, a role he has portrayed since 1993. Benard won a Daytime Emmy for his work as Sonny in 2003.
Benard portrayed Desi Arnaz in the TV movie Lucy & Desi : Before the Laughter, which aired on CBS in 1991.
Personal life
Benard and his wife Paula have four children (one is adopted), daughters,Heather Smith-Benard, Cailey Sofia (September 18 1994), Cassidy Rose (April 8 1999) and son, Joshua James (December 5 2004). His cousin, Marvin Benard, plays professional baseball.
He is best friends with General Hospital co-star Steve Burton.
Benard was diagnosed with bipolar disorder at age 22. He has since become a spokesperson for treatment of the disorder with Mental Health America.[1]
He and his wife adopted his wife's niece, Heather Smith-Benard, after her mother's death
Television
Filmography
External links
References
Template:Daytime Emmy Award Outstanding Lead Actor 2000-2009
Ad blocker interference detected!
Wikia is a free-to-use site that makes money from advertising. We have a modified experience for viewers using ad blockers

Wikia is not accessible if you've made further modifications. Remove the custom ad blocker rule(s) and the page will load as expected.