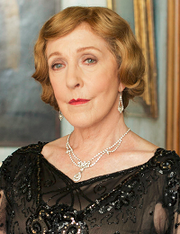 Mirada Pelham is a guest character who appeared in the series finale of the UK-US period drama, Downton Abbey. She was played by the UK actress, Patricia Hodge.
Lady Edith's mother in-law
Mirada is the mother of Herbert "Bertie" Pelham, the recently minted Marquis of Hexham. She was described by her son as kind of "cock-a-loop", but for the most part, she was a fair-minded and loving woman.
She lives in a flat nearby Brancaster Castle, the ancestral seat of the Marquis. When it was announced that her son was engaged to Lady Edith Crawley, she was a bit taken aback. She wanted Brancaster to be a moral center for the area, as she had no liking for how the previous Marquis (Bertie's third cousin, who had died in Tangiers) was. It was presumed, although never obliquely mentioned that Peter, the previous Marquis, was gay.
Edith, realizing that she had nothing to lose, told Mirada the whole story about her relationship with Michael Gregson, the father of her daughter, Marigold Gregson and everything that entailed.
At first, Mirada was appalled, and she confronted Bertie about it, saying that Edith was damaged goods, but he put his mother in her place. She had planned to say something nasty about Edith at dinner, but Bertie stopped it. Then she announced the engagement and shocking everyone, including herself, proposed it would be a good thing.
She then realized that Edith had won her over by being unimpeachably honest. She applauded the fact that Edith would willingly risk giving up her own happiness to lay bare her deepest secret. She would then declare the marriage a success.
When Edith and Bertie would return from their honeymoon, Edith's mother, Cora Crawley would arrange with Mirada to have Marigold be at Brancaster when her mother and new stepfather returned. From there on, Marigold would be set for her future and Mirada would take to her new step-granddaughter very well.
Ad blocker interference detected!
Wikia is a free-to-use site that makes money from advertising. We have a modified experience for viewers using ad blockers

Wikia is not accessible if you've made further modifications. Remove the custom ad blocker rule(s) and the page will load as expected.