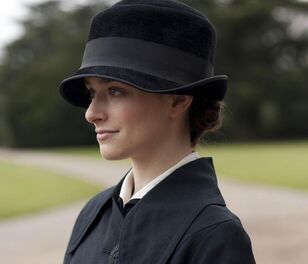 Miss Reed (no first name was ever revealed) was a character on the long running UK-US period drama, Downton Abbey. She was played by actress Lucille Sharp.
Reed, as she was known upstairs, was the long-time lady's maid to Martha Levinson, the mother of Cora Crawley, the Countess of Grantham. She was a notably cheerful woman, but she was also quite forward, as was not unusual for an American.
When she arrived, along with her mistress, to great fanfare to Downton, she was taken in hand by Elsie Hughes, the head housekeeper. While there, she gained a crush on Alfred Nugent, the footman, which slightly annoyed Daisy Mason, the newly appointed assistant cook, who had a crush on him.
She would be dragged into the battles between Alfred's aunt, Sarah O'Brien, and her arch-enemy (and former friend), Thomas Barrow, the valet (at that time) of Robert Crawley, the Earl of Grantham (his usual valet, John Bates, was in prison for a crime he didn't commit). She had spied O'Brien taking Robert's evening shirts and hoping to get Thomas in trouble.
Reed found the shirts, and gave them to Alfred. A rattled Thomas confronted O'Brien, who told him to quit making like Tom Mix and lay out Robert's pajamas!
Reed would also give Alfred his first kiss.
After her two episodes in the third season, Reed was never seen again. It was revealed at the finale of the fourth season that Reed had finally quit her job as lady's maid after "having her head bitten off one too many times" by Martha. This was told by her son, Harold Levinson's valet, Ethan Slade.
Ad blocker interference detected!
Wikia is a free-to-use site that makes money from advertising. We have a modified experience for viewers using ad blockers

Wikia is not accessible if you've made further modifications. Remove the custom ad blocker rule(s) and the page will load as expected.