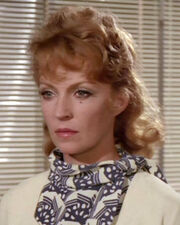 Mrs. Van Groeben (no first name or maiden name revealed) was a guest role on the 1970s UK period drama Upstairs, Downstairs. She was played by the late South African/UK actress Yolande Turner.
A social climbing colonial of Dutch descent, Mrs. Van Groeben is a haughty and very unpleasant nouveau riche woman who had just arrived in London from Cape Town, South Africa.
Her husband's connections to some very important people in the Conservative party is one of the only reasons that the Bellamys have any social contact with her and her family at all.
She is married and has a daughter named Wilhelmina, who claims to be 'great, great friends' with Lady Prudence Fairfax's daughter, Agatha, even though they only just met at a previous night's function.
Mrs. Van Groeben is an acquaintance of Lady Marjorie Bellamy, Lady Prudence and another nearby woman, Lady Templeton who works with them on a domestic servants aid committee, but her snobbery and condescending attitude result in her being deeply disliked by all three women, especially the elderly and very acerbic Lady Templeton.
So conceited is she, that she believes that she is a subject of envy in London society. Her snobbery and her high opinion of herself doesn't endear her with anyone.
Mrs. Van Groeben employs a young footman named William (Tom Marshall), whom she adopted from an orphanage (while she was still in South Africa) and appears to be overly fond of.
In the episode I Dies from Love, set during the summer of 1907, the Bellamy's scullery maid, Emily, falls in love with William and the two spend most of their days off together.
When Mrs. Van Groeben discovers the relationship, she becomes jealous and forbids William from ever having any more to do with Emily, and bribes him with a new uniform and a promotion. When William cruelly drops Emily like a stone, Emily is so devastated that she hangs herself. When Lady Marjorie reveals the news about Emily, Mrs. Van Groeben is uncaring about what happened.
In the subsequent episode Why is Her Door Locked?, she is mentioned only once more when Lady Marjorie states how much she liked a dinner that Mrs. Bridges had made. After that, it is perhaps apparent that due to the snobbishness of Mrs. Van Groeben, Lady Marjorie drops all social contact with them, due to her snobby nature.
Ad blocker interference detected!
Wikia is a free-to-use site that makes money from advertising. We have a modified experience for viewers using ad blockers

Wikia is not accessible if you've made further modifications. Remove the custom ad blocker rule(s) and the page will load as expected.