One Life to Live

One Life to Live title card, circa 2013-present
Created by
Agnes Nixon
Written by
Ron Carlivati
Country of origin
United States
Original language(s)
English
No. of episodes
11,096 on ABC
Production
Executive

producer(s)

Doris Quinlan (1968–77)
Joseph Stuart (1977–83)
Jean Arley (1983-84)
Paul Rauch (1984–91)
Linda Gottlieb (1991–94)
Susan Bedsow Horgan (1994–96)
Maxine Levinson (1996–97)
Jill Farren Phelps (1997–2001)
Gary Tomlin (2001–02)
Frank Valentini (2003–12)
Jennifer Pepperman (2013–present)
Location(s)
New York City , New York (1968-2012)
Stamford, Connecticut (2013-present)
Running time
30 minutes (1968–1976; 2013-present)
45 minutes (1976–1978)
60 minutes (1978–2012)
Broadcast
Original channel
ABC (1968-2012)
TOLN (2013-present)
Original run
ABC Television
July 15, 1968 – January 13, 2012
TOLN/Prospect Park
April 29, 2013 - present
Template:Italic title
One Life to Live (OLTL) is an American television soap opera that aired on ABC from July 15, 1968 to January 13, 2012 and has aired on TOLN since April 29, 2013. The show was created by Agnes Nixon. It takes place in a town called Llanview, Pennsylvania. One Life to Live was very different from all other soap operas. It shows a lot of diversity; the rich and the middle class, black and white, Jewish and Catholics. One Life to Live was the first soap opera to have a black couple. The main families are the Mannings, Lords, Cramers, and Buchanans. Very popular storylines that are associated with One Life to Live are Dissociative Identity Disorder (DID), prostitute housewife (played by Emmy award winning Judith Light), teen homosexuality, drugs, and sexual transmitted disease (stds).
It still aired on ABC at 2 pm eastern, and 9 pm eastern on SOAPNET.
On April 14, 2011, ABC announced that it canceled One Life to Live because of low ratings. The show taped its finale scenes for ABC on November 18, 2011, and its final episode on the network aired on January 13, 2012 with a cliffhanger. A year later, One Life to Live taped its first scenes for Prospect Park on March 11, 2013, and aired its first TOLN episode aired on April 29, 2013.
Opening Title Cards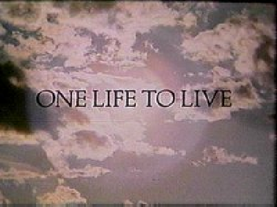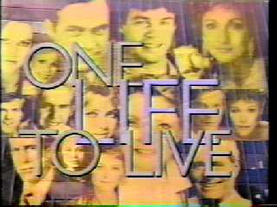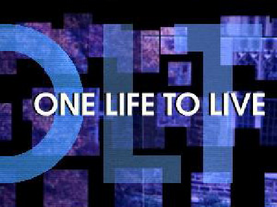 Cast
Current contract cast members
| Actor | Character | Status |
| --- | --- | --- |
| Melissa Archer [1] | Natalie Buchanan | 2001-2012, 2013- |
| Corbin Bleu [2] | Jeffrey King | 2013- |
| Kassie DePaiva [1] | Blair Cramer | 1993-2012, 2013- |
| Robert Gorrie [1] | Matthew Buchanan | 2013- |
| Laura Harrier [1] | Destiny Evans | 2013- |
| Josh Kelly [1] | Cutter Wentworth | 2010-2011, 2013- |
| Florencia Lozano [1] | Téa Delgado | 1997-2000, 2002, 2008-2012, 2013- |
| Kelley Missal [1] | Danielle Manning | 2009-2012, 2013- |
| Ron Raines | Carl Petersen | 2013- |
| Paolo Seganti | Arturo Bandini | 2013- |
| Erika Slezak [1] | Victoria Lord | 1971-2012, 2013- |
| Hillary B. Smith [1] | Nora Buchanan | 1992-2012, 2013- |
| Robin Strasser [1] | Dr. Dorian Lord | 1979-1987, 1993-2000, 2003-2011, 2013- |
| Shenaz Treasury [1] | Rama Patel | 2011-2012, 2013- |
| Andrew Trischitta [1] | Jack Manning | 2011-2012, 2013- |
| Jerry verDorn [1] | Clint Buchanan | 2005-2012, 2013- |
| Tuc Watkins [1] | David Vickers | 1994-1996, 2001, 2002, 2003-2006, 2007-2012, 2013- |
| Robert S. Woods [1] | Bo Buchanan | 1979-1986, 1988-2012, 2013- |
Recurring cast members
Before they were stars
Celebrity guests
Deceased cast members
Actor
Character
Date of Death
Gerald Anthony
Marco Dane
May 28, 2004
Jonathan Brandis
Kevin Buchanan
November 12, 2003
Phil Carey
Asa Buchanan
February 6, 2009[17][18]
Keith Charles
Ted Clayton
July 1, 2008
Jack Crowder
Lt. Jack Neil
October 9, 1991
Augusta Dabney
Helena Ashley
February 4, 2008
Ted Demers
Daniel Wolek
January 1, 2001
Avril Gentles
DuAnn Demerest
November 21, 2001
Anthony George
Will Vernon
March 16, 2005
Bernard Grant
Steve Burke
June 30, 2004
Ernest Graves
Victor Lord
June 1, 1983
Lillian Hayman
Sadie Gray
October 25, 1994
Dorrie Kavanaugh
Cathy Craig Lord
December 31, 1983
Lee Patterson
Joe Riley
Tom Dennison
February 14, 2007
Nat Polen
Dr. Jim Craig
May 3, 1981
Clint Ritchie
Clint Buchanan
January 31, 2009[19][20]
Esther Rolle
Sadie Gray
November 17, 1998
Byron Sanders
Talbot Huddleston
November 12, 2001
Rebecca Schaeffer
Annie Barnes
July 18, 1989
Jeremy Slate
Chuck Wilson Sr.
November 19, 2006
Shepperd Strudwick
Victor Lord
January 15, 1983
Kellie Waymire
Emily Haynes
November 13, 2003
Michael Zaslow
David Renaldi
December 6, 1998
Gallery
References