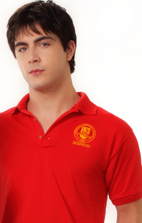 &nbsp
Owen Milligan is a character from the hit soap, Degrassi. He is known for his playboy ways, and is a primary villain of the soap. Owen, currently in 11th grade, is friends with fellow antagonists Bianca and Fitz. He is portrayed by Daniel Kelly.
Degrassi season 1:
Even though he is a major character in The Boiling Point, Owen only becomes a main character for the second half of the first season (though his role here is very minor).
Degrassi season 2:
Owen comes back to Degrassi after spring break to finish up his junior year.
Relationships:

Ad blocker interference detected!
Wikia is a free-to-use site that makes money from advertising. We have a modified experience for viewers using ad blockers

Wikia is not accessible if you've made further modifications. Remove the custom ad blocker rule(s) and the page will load as expected.