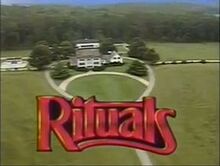 Rituals was a syndicated soap opera that was aired on various local stations in 1984-1985. The series was created by Gene Palumbo, Ken Corday (later of Days of Our Lives) and author Charlene Keel who wrote a novel called Rituals, but the series was very loosely based on the novel. It ran for 260 episodes which ran for 25 minutes.
The plot
Set in Wingfield, Virginia, a fictional college community, the series focused on the lives of the Chapin, Robertson and Gallagher families.
The town's wealthiest family was that of the Chapin family. They were the owners of Wingfield Mills and Chapin Industries. Also founded by the Chapin family was Haddon Hall, the community's local woman's college.
Headed by widower Patrick Chapin, his family included his irresponsible playboy son, Brady; his flamboyant (and crassly materialistic) daughter, Taylor; and his granddaughter, Julia Field. Julia, Taylor's daughter by one of her husbands, wealthy Carson "C.J." Field, had a lot of resentment towards her absentee mother. Julia at first lived with her grandparents, but would later live with her father, C.J.
The story begins with the death of Patrick's wife, Katherine, and her will reading, which sets off a lot of explosions within the family and outside of the family as well.
Taylor, who made a dramatic appearance via helicopter, holding a racehorse's victory wreath, is named head of the board of directors at Haddon Hall with a salary of $100,000 a year, which aggravates the money-mad Taylor. What makes it worse for her is that her former lover, Logan WIlliams, is the executor of her mother's will, and if she doesn't do a good job as head of the Board, she will leave Wingfield as she came in, penniless!
Julia discovers that she has to stay in Wingfield and graduate from Haddon Hall in order to gain possession of her grandmother's jewels. Carter Robinson, the head of Haddon Hall, and the son of the Chapin family butler, was infuriated to find out that all he got for his pains was $25,000! "Which was more than you deserve!" according to her.
However, Carter's wife, Christina, who had been one of Katherine's closest friends, fared much better than her husband, by getting the priceless Chapin Diamond! An infuriated Carter vows to contest the will, despite Christina's attempts to calm him down.
On the other side of town lived the Gallagher family. Eddie, a former mill worker at Wingfield Mills, his wife, Sara (she and Christina Robertson were sisters), his son Tom, and his daughter, Noel. Tom returns from a Latin American nation called San Rafael, with a beautiful young woman named Diandra Santiago, the daughter of a San Rafaelian politician.
However, Eddie, who was very perverted, was caught spying on Diandra. This brought father and son to blows and ended up with Eddie throwing Tom and Diandra out of the house. It is revealed that Eddie had driven Tom out two years previously.
Eddie's half-brother, Mike, an art teacher at Haddon Hall and his girlfriend, Lacey Jarrett, who teaches physical education at the same school are in love and want to get married, but there comes a problem, Lacey is pregnant and for health reasons, she may want to get an abortion. When Tom and Diandra go with his uncle and soon-to-be aunt to the posh Hunt Club, she is kidnapped by two men in black.
After making love, Brady Chapin and Noel Gallagher are talking, but Brady can't get the image of a girl riding over the Virginia hills, naked. That woman was actress Dakota Lane, who was playing the role of Lady Godiva.
Later on, among other things, Carter is shot (revealed to have been done by Christina); Eddie is murdered, by his own daughter, Noel, because he was physically and sexually abusive towards her; Patrick Chapin himself dies, which sets off yet ANOTHER will and inheritance fight! However, what made it worse, was Carter would discover that Patrick Chapin, not the Chapins' butler, was his father! That did not change his views of the Chapins, he STILL hated them!
Also featured heavily in the show were various friends of Noel from Haddon Hall, including Patty Dupunt, who would marry a man named Bernhardt Kraus, a German businessman; the Chapin housekeeper, Maddie Washington; and her troublesome son, Lucky; plus manipulative villainess Marissa Mallory. Marissa and her villainy made Christina Robertson and Taylor Chapin, the show's other villains, look like Girl Scouts!
This and many other issues bedevil the folk of Wingfield.
Alumni
Some of the actors have found fame in later shows, and most of the actors were already well-established. The most notable faces on this show included veteran movie actress Jo Ann Pflug as the first Taylor Chapin. When her Christian beliefs precluded her from playing racy love scenes with her on-screen paramour, Logan Williams, she asked to leave the show. She was replaced by Tina Louise, best known as Ginger Grant on Gilligan's Island, and later known as Julie Grey on Dallas. Other veteran performers included George Lazenby (Logan Williams), the James Bond from "On Her Majesty's Secret Service"; Lawrence Hilton-Jacobs (Randy Washington #2), best known as Freddie "Boom-Boom" Washington from the sitcom, Welcome Back, Kotter;  Winifred Freedman (Patty DuPunt Kraus) who starred alongside Erin Moran and Scott Baio in the short-lived sitcom, ​Joanie Loves Chachi​; Claire Yarlett (Dakota Lane #1) would later go on and join the cast of The Colbys, playing youngest daughter, Bliss Colby; Greg Mullavey (best known from his role of Tom Hartman on the soap spoof, Mary Hartman, Mary Hartman), played dangerous and perverted former mill worker turned diner owner, Eddie Gallagher; Kin Shriner (Mike Gallagher) was best known for his role of Scott Baldwin on General Hospital; Philece Sampler (Lacey Jarrett Gallagher) was best known for her role of Renee Dumonde Banning on Days of Our Lives. Her co-stars, Mary Beth Evans (Dakota Lane #2) and Kevin Spiritas (Tom Gallagher) would later join that show playing Kayla Brady and Dr. Craig Wesley, respectively. Monte Markham, best known for his role on The New Perry Mason played devious Carter; while soap veteran, Christine Jones, played his wife, Christina. Patti Davis, the daughter of Ronald and Nancy Reagan, was the originator of the Marissa Mallory role, until General Hospital actress, Janice Heiden took over the role. Jon Lindstrom, the second Brady Chapin, would later play Kevin Collins on General Hospital. Gina Gallego, who played Diandra Santiago Gallagher, had various roles on TV shows since Rituals, and was perhaps best known for her role of Santana Andrade on Santa Barbara.
Cast
MONTE MARKHAM -- Carter Robertson
CHRISTINE JONES -- Christina Thompson Robertson
DENNIS PATRICK -- Patrick Chapin
MARC POPPEL -- Brady Chapin #1
JON LINDSTROM -- Brady Chapin #2
JO ANN PFLUG -- Taylor Chapin Field von Platen #1
TINA LOUISE -- Taylor Chapin Field von Platen #2
PETER HASKELL -- Carson "C.J." Field
ANDREA MOAR -- Julia Field
GREG MULLAVEY -- Eddie Gallagher
KEVIN SPIRITAS -- Tom Gallagher
KIN SHRINER -- Mike Gallagher
GINA GALLEGO -- Diandra Santiago Gallagher
PHILECE SAMPLER -- Lacey Jarrett Gallagher
LORRINE VOZOFF -- Sara Thompson Gallagher #1
LAURIE BURTON -- Sara Thompson Gallagher #2
KAREN KELLY -- Noel Gallagher
TIM MAIER -- Jeff Gallagher
KETTY LESTER -- Maddie Washington #1
LYNN HAMILTON -- Maddie Washington #2
RANDY BROOKS -- Lucky Washington #1
LAWRENCE HILTON-JACOBS -- Lucky Washington #2
CLAIRE YARLETT -- Dakota Lane #1
MARY BETH EVANS -- Dakota Lane #2
SHARON FARRELL -- Cherry Lane
GEORGE LAZENBY -- Logan Williams
PATTI DAVIS -- Marissa Mallory #1
JANICE HEIDEN -- Marissa Mallory #2
CAMERON SMITH -- Bernhardt Kraus
KELLY BENNETT -- Michelle Davenport
WESLEY ANN PFENNING -- Lisa Thompson
WINIFRED FREEDMAN -- Patty Dupunt Kraus
Ad blocker interference detected!
Wikia is a free-to-use site that makes money from advertising. We have a modified experience for viewers using ad blockers

Wikia is not accessible if you've made further modifications. Remove the custom ad blocker rule(s) and the page will load as expected.