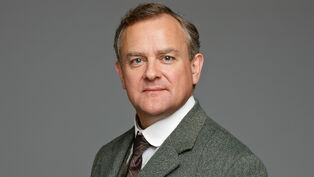 Robert Crawley, the Seventh Earl of Grantham, is a character on the UK-US period drama, Downton Abbey. He was played by actor Hugh Bonneville.
The Seventh Earl of Grantham
Robert Crawley was the Seventh Earl of Grantham, the head and owner of Downton Abbey, a country estate and park located in the Northern Yorkshires of England. He was married to an American heiress named Cora Levinson, whom he married to save the estate from going under. At first, he had married her for her money, but would later fall in love with her.
They had three daughters from their marriage, Lady Mary Crawley; Lady Edith Pelham and Lady Sybil Branson. He also has an older sister named Lady Rosamund Painswick. His mother, Violet Crawley, the Dowager Countess of Grantham lived nearby in the Dower House.
Robert was a traditionalist, who although he wished life would remain as he had always known it, was open to change (something unusual for someone of that time, and of his position). He would give token resistance to some of the things the girls would do, but deep down, he was proud of them of making a name for themselves.
One of his biggest flaws was he would think that he would know the best for everyone about everything, even when he was wrong. This, as well as his attempts to resist things, would cause some friction with Cora.
When his cousin, James and his son, Patrick, died on the Titanic, he found out that the next in line of succession was his third cousin, once-removed, a man named Matthew Crawley, a middle class solicitor from Manchester. He and his mother, Isobel Crawley Grey would move to Downton and settle into live in a small village.
While he got on well with Isobel, he would only get angry with her once, when he felt that she was dragging his family into scandal when a former maid, who had become a prostitute after the war, cooked for her. He would also get himself into a scrape when he kissed a housemaid during a time of estrangement from Cora, when she was working at the Abbey, when it was a wartime convalescent home.
He would have his issues with everything and sometimes with everyone. However, he was very loving with his family, and he was a beneficent landlord. He adored his grandchildren, Sybbie (whom she called "Donk"); George; who would succeed him as the Earl of Grantham (after the death of his father, Matthew); and Marigold, the daughter of Edith.
He also would be a good employer to his servants, and would consider them to be a part of his family.
Ad blocker interference detected!
Wikia is a free-to-use site that makes money from advertising. We have a modified experience for viewers using ad blockers

Wikia is not accessible if you've made further modifications. Remove the custom ad blocker rule(s) and the page will load as expected.