Roger Howarth (born September 13, 1968) is an American actor. Howarth is best known for his portrayals of Todd Manning on One Life to Live and General Hospital, and Paul Ryan on As the World Turns.
Career
Howarth's first role on daytime soap opera came as Jory Andros on CBS's Guiding Light for a short period in 1992. In December 1992, Howarth debuted in the role of Todd Manning on the now defunct ABC soap opera One Life to Live, remaining with the series until December 1, 1998. Following a brief appearance from February to March 2000, Howarth returned on June 16, 2000 and remained with the show until March 14, 2003.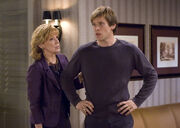 On July 7, 2003, Howarth joined the cast of the now defunct CBS soap opera
As the World Turns
in the role of
Paul Ryan
, becoming the character's eighth portrayer overall. Howarth remained with the series until its final episode on September 17, 2010. On May 13, 2011, Howarth returned to
One Life to Live
following an eight-year absence. Must speculation was made of who Howarth would portray, as the role of Todd was being portrayed by
Trevor St. John
, who joined the cast in May 2003. In August 2011, it was revealed that Howarth's character was in fact Todd, and that the man whom characters (and audiences) had come to know as Todd in the interim was in fact Todd's twin brother,
Victor Lord, Jr.
, who had been conditioned to believe that he was Todd by their mother,
Irene Manning
. Howarth remained with the series until
One Life to Live
aired its final episode on January 13, 2012.
In January 2012, just prior to One Life to Live airing its final episode, it was announced that Howarth would reprise his role as Todd on ABC's sole remaining soap opera General Hospital. Howarth made his debut on March 5, 2012.
Ad blocker interference detected!
Wikia is a free-to-use site that makes money from advertising. We have a modified experience for viewers using ad blockers

Wikia is not accessible if you've made further modifications. Remove the custom ad blocker rule(s) and the page will load as expected.