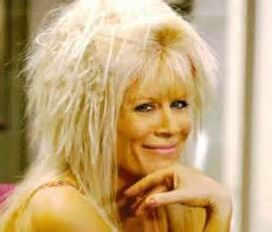 Roxanne Balsom (nee Lipshitz, previously Holden) was a character on the ABC soap, One Life to Live. She was played by soap veteran, Ilene Kristen.
Wild and wacky mother
Roxy was the wife of Dr. Walter Balsom, and was, supposedly, the mother of Rex Balsom and Natalie Balsom. Although it was later revealed that she wasn't the mother of either one of them (Rex was the son of Clint Buchanan and Echo DiSavoy; and Natalie was the daughter of Clint and Viki Buchanan), she still figured heavily in their lives as a mother figure. So loved and accepted was Roxy that she was also considered to be a part of the lives of Natalie's twin sister, Jessica Brennan.
At one time, married to Max Holden, Roxy had divorced him, and with the money she gained from his divorce, she opened a beauty shop called "Foxy Roxy's Hair Haven". She would also begin a relationship with Nigel Bartholomew-Smythe, the butler of the Buchanan family.
Although she could annoy her, Victoria Lord often considered her to be a huge part of her family's life. She accepted her as a part of Natalie's life (as she had thought that Roxy was her mother) and considered her to be part of her family.
She was at first, rather scheming, but would later mellow out and become a vital (and funny) part of everyone's lives. She was known for her many and varied malapropisms, which most of the others would either ignore, or find amusing.
She and Nigel were huge fans of the OLTL show-within-a-show, Fraternity Row. When it was cancelled, Roxy and Nigel would go into mourning.
The role of Roxy would become the second role that Ilene Kristen would be best known for, aside from her role of Delia on Ryan's Hope. While at first, she was as conniving as Delia, Roxy would mellow out and become a well-loved part of the Llanview community.
Ad blocker interference detected!
Wikia is a free-to-use site that makes money from advertising. We have a modified experience for viewers using ad blockers

Wikia is not accessible if you've made further modifications. Remove the custom ad blocker rule(s) and the page will load as expected.