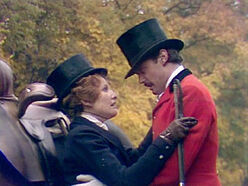 THE BOLTER is the eighth episode of the third season of the ITV period drama Upstairs, Downstairs. It was written by John Hawkesworth and directed by Cyril Coke.
This episode focused on Hazel Forrest Bellamy's first real exposure to the high society class she had married into and finding out the hard way that she did not seem to fit in; and also discovering that her husband's friends (with two exceptions) had nothing but scorn and ridicule for her, due to her middle class background.
PLOT
Hazel is learning the vernacular for fox hunting as she is accompanying her husband, James Bellamy for a hunting weekend at Sommerby Park, which was owned by James's friend, Bunny, the Marquis of Newbury, and his wife (and James' former girlfriend) Diana Newbury. Also in attendance was Major and Mrs. Cochrane-Danby (the Major nicknamed "Cocky"); Diana's friend, Natalie Tewkesbury; and a Tory politician named Lord Charles Gilmour, who was an especial friend and protégé of Richard.
Accompanying the newlyweds were Edward and Rose Buck. Edward was valeting James, while Rose was Hazel's lady's maid. Lord Gilmour and Natalie were often having secret rendezvous all over the house; and at one point, Edward, without realizing it, noticed it (which gets him in trouble in the subsequent episode What the Footman Saw).
Some of the guests decide to play a practical joke on James. They decide to have Hazel dress in a hunting outfit and riding a tame horse. However, the spiteful and jealous Lady Diana, to show Hazel that she was far superior to her, switches horses so she is riding a very spirited mare.
For her first time on a horse, Hazel rode extremely well, but was still in shock after it was done. James ferociously berates her publically for humiliating him in front of his friends, but Bunny comforts the shaken and weeping Hazel.
Then, later on, Cocky takes a shine to Hazel and tries to put the move on her. This was overheard by Cecile, Diana's lady's maid; and she lets the fact be known to her mistress. Disgusted by the doings of James' friends, Hazel and Rose leave the house and go back to London.
A half hour later, James and Edward do the same thing. Bunny was truly disgusted with the antics of his wife and their friends, and he aimed to confront Cocky after their dinner.
When James returns to London, he himself is berated by his father for his callous behavior towards Hazel, but later on, James realizes just how childish his friends really were, and the three share a laugh afterwards.
Ad blocker interference detected!
Wikia is a free-to-use site that makes money from advertising. We have a modified experience for viewers using ad blockers

Wikia is not accessible if you've made further modifications. Remove the custom ad blocker rule(s) and the page will load as expected.