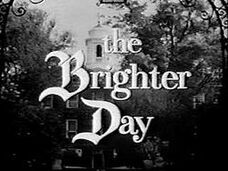 THE BRIGHTER DAY was a soap opera that ran from 1954-1962 on the CBS television network.  Like the Guiding Light, The Brighter Day was also a radio show that ran from 1948-1956.
The story focused on the Dennis family who were originally from the town of Three Rivers, but moved to the nearby town of New Hope after Three Rivers was destroyed by a flood.  Later in the series run, the Dennis family moved to Columbus, a college town. 
The title came from the opening words used in every episode, "Our years are as the falling leaves. We live, we love, we dream, and then we go. But somehow we keep hoping, don't we, that our dreams come true on that brighter day?"
The Dennis family consisted of widower Reverend Richard Dennis; his sister, Emily Potter, the mother figure for the family; Liz, the oldest daughter, she was married and out of the fold when the show went to television; Grayling, the Dennis' alcoholic son; Althea, the most neurotic of the siblings; Patsy, a teenager who marries Dr. Randy Hamilton; and Barbara (called Babby), the youngest.
Althea was interesting in that she was wanting to become a star. However, she was often squelched in those dreams, especially after a sandbag decked her while she was on stage. She was also quite neurotic having some wild mood swings. She sought counseling with her brother in-law, Dr. Hamilton, who told her that she would be happiest as a housewife.  Althea, undaunted by her brother in-law's words, told him to stuff it, and she left New Hope to become an actress.
The show spawned many alumni during its time on the air. The most notable of these were Hal Holbrook (Grayling Dennis #1, who actually used one of Grayling's drunk scenes for a successful audition to the Actor's Studio); James Noble (Grayling Dennis #2); Forrest Compton (Grayling Dennis #3); Patty Duke; Lois Nettleton (Patsy Dennis Hamilton); Lanna Saunders; Bennye Gatteys and Gloria Hoye among many others.
Of the many soaps on Radio, The Brighter Day and the Guiding Light were the only two that make the successful transfer from Radio to Television.
Ad blocker interference detected!
Wikia is a free-to-use site that makes money from advertising. We have a modified experience for viewers using ad blockers

Wikia is not accessible if you've made further modifications. Remove the custom ad blocker rule(s) and the page will load as expected.