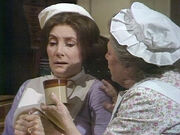 THE GLORIOUS DEAD is the eighth episode of the fourth series (fourth season) of the 1970s UK period drama, Upstairs, Downstairs. It was written by Elizabeth Jane Howard (although it was rewritten by Alfred Shaughnessy) and directed by Raymond Menmuir. The episode focuses on the death of Rose's fiancé, Gregory Wilmot, and the death of Jack Dyson, a friend and paramour of Hazel Forrest Bellamy's.
Plot
The day begins rather ordinarily at 165 Eaton Place, when a telegram disrupts the day's routine. Rose is totally devastated when she finds out about the death of her fiancé, Gregory Wilmot. He was killed by a sniper and was dead instantly. She passes out in shock, and she is inconsolable, despite the efforts of the servants to help her.
Daisy's attempts to cheer her up doesn't help and it only succeeds to make Rose even more upset. An angry Mrs. Bridges orders Daisy to her room, while she tells Rose about a story from her past.
Meanwhile, upstairs, another soldier, a Lt. Jack Dyson, a friend and a former paramour of Hazel's is also killed. She and Rose commiserate over the deaths of the people they are close to.
James Bellamy, comes home after seeing the deaths, and realizing how much death repulses him, he takes a walk with Hazel and tells her how much he hates the death and senseless killing of good people.
However, he tells those same lies he hated himself to Rose, to help soothe her shock and pain and gives her his condolences.
Ad blocker interference detected!
Wikia is a free-to-use site that makes money from advertising. We have a modified experience for viewers using ad blockers

Wikia is not accessible if you've made further modifications. Remove the custom ad blocker rule(s) and the page will load as expected.