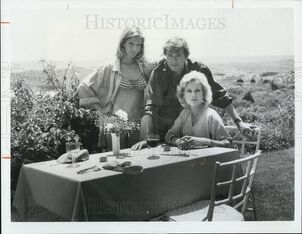 THE HAMPTONS was a 1983 prime time soap opera that aired on the ABC television network. It was produced by Gloria Monty of General Hospital fame, and it focused on the feuding and rivalry between two powerful and wealthy families who lived in The Hamptons, an extremely affluent area of Eastern Long Island.
The Chadways comprise of Peter (Michael Goodwin); his wife, Lee (Leigh Taylor-Young) and their son, Brian (Craig Sheffer). The Duncan-Mortimers comprise of Adrienne Duncan-Mortimer (Bibi Besch); her daughter, from a previous marriage, Tracy Duncan (Holly Roberts) and Adrienne's second husband, Jay Mortimer (John Reilly).
The two families jointly own Duncan-Chadway; a high-end New York City Department Store chain, similar to what Saks Fifth Avenue; Bloomingdales and Lord & Taylor would be.
According to the show, the Chadways are the more noble family, while the Duncan-Mortimers, Jay most notably, were the more devious bunch. Evidence of this was Jay's committing incest with his step-daughter, Tracy, while the alcoholic Adrienne, was blissfully unaware of it.
The final episodes show the trial of Peter Chadway for the murder of Penny Drake (Jada Rowland of The Secret Storm and The Doctors fame); businessman Nick Atwater (Daniel Pilon, later Max Dubujak of Ryan's Hope) insinuating himself into Lee's life while Peter was on trial; and the aforementioned incestuous relationship of Jay and Tracy which was finally discovered by Adrienne, who was truly infuriated with Jay.
After the 1983 season, the show was never seen again.
Primary Cast
MICHAEL GOODWIN -- Peter Chadway
LEIGH TAYLOR-YOUNG -- Lee Chadway
CRAIG SHEFFER -- Brian Chadway
BIBI BESCH -- Adrienne Duncan-Mortimer
JOHN REILLY -- Jay Mortimer
HOLLY ROBERTS --Tracy Duncan
KATE DEZINA -- Cheryl Ashcroft
DANIEL PILON -- Nick Atwater
JADA ROWLAND -- Penny Drake
FRAN CARLON -- Ada (the Duncan-Mortimer's housekeeper)
PHILIP CASNOFF -- David Landau
KATHLEEN BUSE -- Karen Harper
Cast
Much of the cast were long time soap opera veterans. Pre-eminent among those were John Reilly (the devious Jay Mortimer) who was famous for his role of Dr. Dan Stewart on As the World Turns and would later join the cast of General Hospital as former con-man later detective Sean Donely; Bibi Besch (Jay's alcoholic wife, Adrienne Duncan-Mortimer) had roles on Love is a Many Splendored Thing (as the second Iris Donnelly Garrison) as well as Somerset as Eve Lawrence; Jada Rowland (Penny Drake) was famous for her role of nurse Carolee Simpson Aldrich on the long running series, The Doctors and her earlier role of heroine Amy Ames on the long-running The Secret Storm; Kate Dezina (Cheryl Ashcroft) was featured on All My Children as former prostitute Estelle LaTour Tuggle; and Leigh Taylor-Young was known for her role as Rachel Welles on the prime-time drama, Peyton Place and would later play Elaine Stevens on the NBC soap, Sunset Beach and the role of Katherine Barrett Crane on the soap Passions.
Ad blocker interference detected!
Wikia is a free-to-use site that makes money from advertising. We have a modified experience for viewers using ad blockers

Wikia is not accessible if you've made further modifications. Remove the custom ad blocker rule(s) and the page will load as expected.