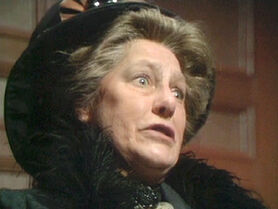 WHY IS HER DOOR LOCKED? is the ninth episode of the first season of the period drama Upstairs, Downstairs. This episode deals with Mrs. Bridges' having a guilt ridden breakdown over the death of the kitchen maid, Emily.
Plot
Mrs. Bridges has had a tough time of things after Emily's death. She was replaced by a girl named Doris who was a hard-worker, but wasn't as close to Mrs. Bridges as Emily had been. The previous day had been the cook's day off, and went to visit her friend in Pimlico. However, the next morning, Rose tried to rouse her, twice, but failed as her door was locked, which was against the house rules, set up by Lady Marjorie.
After confronting her about breaking the house rules, Lady Marjorie asks why she was so unhappy. Meanwhile, Angus Hudson and Alice, the new under house parlor maid, is stunned to discover a baby in Mrs. Bridges room.
As a result, Richard Bellamy is called from his duties in the House of Commons to find out what happened. Mrs. Bridges on her day off, stopped off and, in the midst of a guilt ridden breakdown, took a baby from its pram outside of a greengrocer on a nearby street in Belgravia.
While the servants are caring for the infant, Richard and Marjorie discuss the next plan of action. Hudson volunteers to go to speak to a friend of his, Sgt. McKay from the nearby Gerald Row police station to find out the particulars. It was revealed that the child was named Johnny Webber, whose parents Arthur and Lily Webber lived on nearby Vauxhall Bridge Road.
Despite the Bellamys bringing the child back unharmed and well cared for, Arthur Webber presses charges against Mrs. Bridges. She is taken into custody by a very aggressive inspector named Cape, who almost is wanting to have Richard arrested as an accessory after the fact, but he thinks better of it.
Mrs. Bridges is taken in front of the magistrates, where, to Richard's astonishment, Hudson offers to testify for Mrs. Bridges, and gives testimony of her good character, and an offer of marriage when they retire from service. The judge, convinced of the situation, finds her not guilty due to a lapse in judgment, and is released to the custody of the house.
After that, Mrs. Bridges is back to normal and is back at work.
Ad blocker interference detected!
Wikia is a free-to-use site that makes money from advertising. We have a modified experience for viewers using ad blockers

Wikia is not accessible if you've made further modifications. Remove the custom ad blocker rule(s) and the page will load as expected.